Vladimir Putin's adult daughters are in the crosshairs of the western sanctions. Mariya Putina or (presumably Maria Vorontsova) (36) and Katerina Putina (presumably Katerina Tikhonova) (35) are daughters of the Russian president from his first wife, Lyudmila Shkrebneva, a former Aeroflot stewardess. Information about them is only scattered details and never confirmed by the Kremlin, which treats the president's private life as a state secret. The two young women hardly ever appear in public; they changed their surname for privacy reasons, and their physical appearance is barely known.
"We have reason to believe that Putin and many of his acolytes and oligarchs are hiding their wealth, their assets from family members who have deposits in the U.S. financial system and many other parts of the world," a U.S. administration official said. About the adult daughters of Vladimir Putin, Mariya Putina and Katerina Tikhonova, the spox said, "We believe that many of Putin's assets are hidden with his family members, and for this reason, we are targeting them."
The European Union is also evaluating the possibility of including the Russian president's daughters among the sanctions. It was disclosed by diplomats quoted by the Wall Street Journal: the names of the president's daughters would thus add to the list of hundreds of Russian oligarchs and political figures who were hit in response to the Russian invasion of Ukraine. The Biden administration is also evaluating the possibility of extending sanctions against Sberbank – the largest Russian financial institution – and Alfa Bank.
Russia said it will respond to the sanctions imposed by the United States on the daughters of Vladimir Putin "as it sees fit." Dmitry Peskov, a spokesman for the President of the Russian Federation said, "the application of sanctions to family members is difficult to understand and explain."
Vladimir Putin's family
On 6th June 2013, Vladimir Putin and his wife Lyudmila Putina announced their divorce in an interview with the Russia-24 channel. 
Explaining his divorce, Putin said, "All my activities, all my work is connected with the public sphere, with absolute publicity. Some like it, some don't, but there are people who are completely incompatible with this… Lyudmila Aleksandrovna stood to watch for eight years."
Putin said the divorce was mutual and civilized. 
Lyudmila Putina agreed with her husband, "I do not like publicity, and flights are difficult for me… We will forever remain very close people. I am grateful to Vladimir Vladimirovich for supporting me." 
Putin's daughters
The parting spouses emphasized that they were proud of their children, and Putin noted that "they received their education in Russia and lived in Russia permanently."
Maria Putina was born in Leningrad in April 1985, and Katerina Putina was born in August 1986 in Dresden, East Germany.
The eldest daughter, Maria, is a geneticist expert in childhood diseases. She is married (but some say she is also divorced) to Dutch manager Jorrit Faassen. She may be living in Switzerland. According to investigative journalist Serghei Kanev, Maria owns an important stake in a mega-project for the construction of a large clinic near St. Petersburg, intended to attract patients from Europe and the Persian Gulf, a project now endangered by sanctions. Faassen worked extensively in Russia at Gazprombank-Invest and Stroytransgaz, and his father is a former colonel in the Dutch army. The couple has two children who make Putin a grandfather. 
In 2017, Putin said that he had two grandchildren but did not give details, except that thefirst one was "already in kindergarten" and the other was "recently" born.
The youngest, Katerina, is a mathematician and also an acrobatic rock'n'roll dancer. Two years ago, she was appointed to head a new institute dedicated to the study of artificial intelligence at Moscow State University, which would receive public funding worth an estimated two billion dollars, according to media reports.
She has held top positions in Russian academia for several years and leads major state-funded projects. Nine years ago, she would have married the son of an oligarch close to her father, Kirill Shamalov, but according to various rumours, they would have divorced as early as 2018.
Putin does not talk much about his family. "I never discuss issues related to my family… Everyone has the right to their own destiny… They just live their lives and do it very well," Putin said at his annual press conference in late 2015.
Putin has spoken of the two daughters perhaps once or twice in his entire political career: "They are taking their first steps in their careers, but they are making good progress", he declared in a press conference years ago, "they are not involved in business or in politics.
They have never been little 'stars'; they have never enjoyed having the spotlight on them. They simply live their lives. They live in Russia. They have never been educated anywhere except in Russia. They speak three European languages ​​fluently."
Katerina Tikhonova and Maria Vorontsova are widely assumed to be the eldest daughters of Putin. Putin and the Kremlin have repeatedly refused to confirm or deny these reports, citing confidentiality concerns.
Secret children of Putin
Even before the divorce, there were persistent rumours about Putin of an extra-marital relationship.
In 2020, the website 'Proekt' published a report claiming that Putin had another daughter from a relationship with a woman named Svetlana Krivonogikh. Her name is Elizaveta, and she was born in 2003.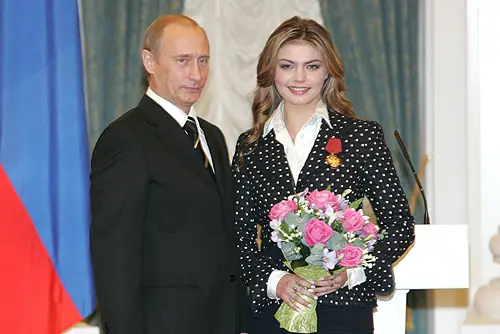 According to Russian media reports, Putin also has a daughter (born in 2015) and twin sons (born in 2019) with Alina Kabaeva, a former State Duma deputy gymnast. Putin has not confirmed long-standing rumours about a relationship with Kabaeva.