Mauritania's natural gas reserves and the potential for green energy afforded by its vast desert terrain and strategic placement on the Atlantic Ocean coast have come to the forefront of the "geostrategic fight" for the country in light of recent events.
Samuel Ramani, Fellow at the Royal United Services Institute in London and author of "Russia in Africa," published an article titled "Why Is Everyone Courting Mauritania?" in the American magazine "Foreign Policy." He argues that a stable West African nation rich in energy resources and situated geographically advantageously is being courted by NATO, China, Russia, and regional countries.
The author begins his analysis by mentioning that Xi Jinping and Mohamed Ould Cheikh El Ghazouani, the president of China and Mauritanian, met in Chengdu, China, on June 28. Their first meeting was during the China-Arab States Summit in Saudi Arabia at the end of last year, making this their second meeting in eight months.
Despite its relatively tiny population, Mauritania is one of the largest countries in West Africa due to its abundance of fish, iron, oil, gold, and other resources.
The researcher notes that the World Bank has estimated Mauritania's wealth to be between 50 and 60 billion US dollars, significantly less than the wealth of countries with a comparable lower-middle income status. About two-thirds of its natural wealth comprises renewable resources, with fisheries alone accounting for almost a quarter of its natural wealth.
The expanding Chinese relationship with Mauritania parallels initiatives by major global and regional powers in the Middle East. If the Economic Community of West African States (ECOWAS) decides to intervene militarily in Niger, efforts ranging from counterterrorism initiatives to developing renewable hydrogen will likely increase.
Despite its history of coups and ongoing issues with enslavement, the author argues that the counterterrorism campaign and democratic transition in Mauritania are among the few success stories in the Sahel region. He notes that a mid-2010 counterterrorism law allowed trained combat units called "Special Intervention Groups" to attack armed groups, thereby neutralising these groups along the country's northern borders.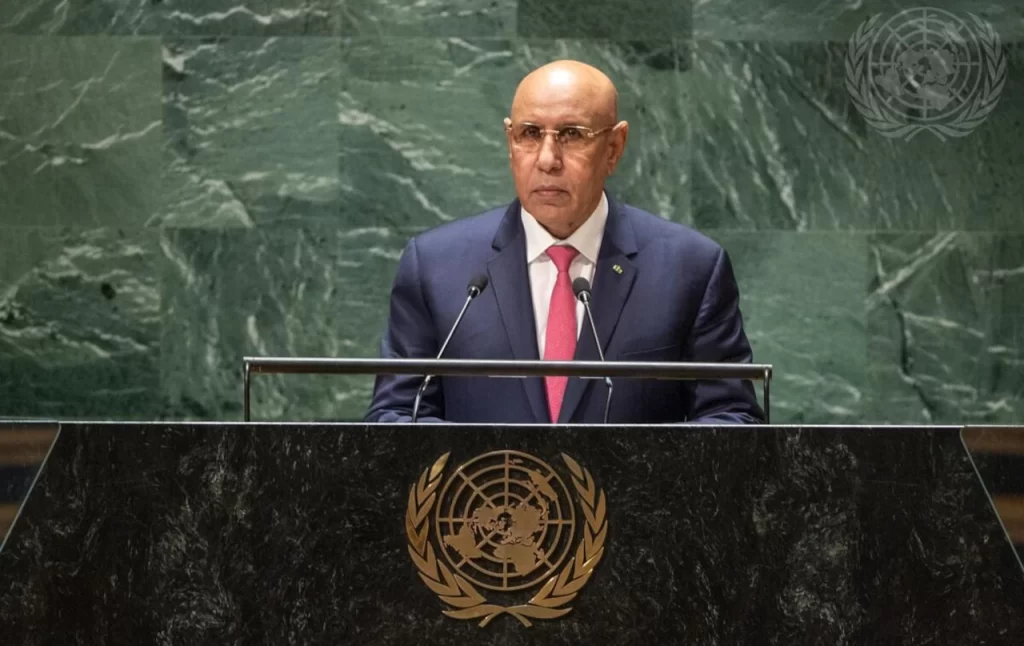 The report says that thanks to its relatively stable security situation, Mauritania has become a prized location for international rivalry in the hazardous Sahel region.
Despite Mauritania's membership in NATO's Mediterranean Dialogue Partnership Programme since 1995, coups hampered collaboration with the West.
The United States and France cut off all non-humanitarian aid to Mauritania after the 2008 coup that brought Mohamed Ould Abdel Aziz, Ghazouani's predecessor, to power.
With the stabilisation of the security situation in Mauritania and the country's transition to a semi-democratic political system, Mauritania's ties with NATO have been significantly strengthened.
In turn, NATO has trained Mauritanian military personnel and established four crisis management centres in the country, enhancing its capacity to combat security threats and public health concerns.
The author notes that Ghazouani became the first Mauritanian president to visit NATO headquarters at the start of 2021, where NATO Secretary-General Jens Stoltenberg enthusiastically welcomed him. Stoltenberg lauded Mauritania, characterising it as a "leader in the group of Sahel countries" in the fight against terrorism, and vowed to strengthen security cooperation along its borders.
The invitation extended to Mauritania to attend the Madrid Summit as an external partner in June 2022 sparked speculation about the possibility of establishing a NATO base on its strategically important Atlantic coast.
The author also notes that the expansion of security cooperation between NATO and Mauritania appears to be motivated by the desire of European nations to curtail illegal migration from the Sahel region. Mauritania is a well-known transit point for African migrants who wish to access Europe via the Canary Islands.
In November of 2022, Spain and Mauritania reached an agreement enabling Spain to aid in the latter country's fight against illegal immigration by providing logistical support.
The researcher emphasises Mauritania's strategic significance has increased as European nations seek alternative energy suppliers.
By the end of 2023, with the completion of the first phase of the Greater Tortue Ahmeyim project headed by British Petroleum and Kosmos Energy, Mauritania is anticipated to become a gas supplier to Europe.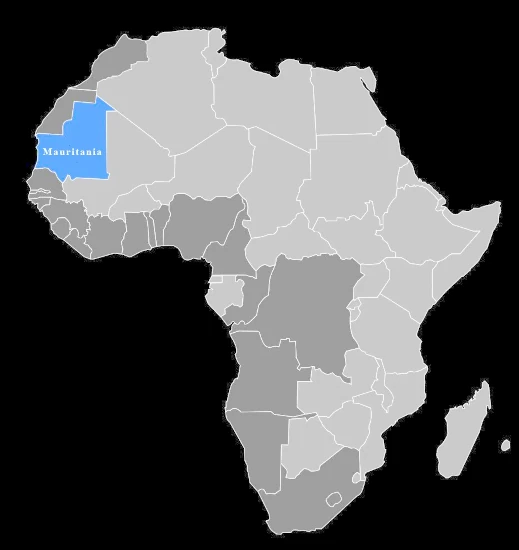 The author believes that Mauritania, with its 700,000 square kilometres of available land for solar panels and wind turbines, could become a centre for renewable energy in West Africa.
In March 2023, the German corporation for project development signed a memorandum of understanding with "Infinity" of Egypt and "Masdar" of the United Arab Emirates for a $34 billion green hydrogen project in Mauritania. This initiative is anticipated to generate up to 8 million metric tonnes per year of green hydrogen.
Regarding Russia, the author suggests that Mauritania could impede Russia's attempts to use energy as leverage against Europe and provide NATO with a foothold closer to the Wagner Group's operations in Mali. Due to this, the Kremlin has increased its relations with Nouakchott.
Despite traditionally being led by Deputy Foreign Minister Mikhail Bogdanov, Foreign Minister Sergey Lavrov made a historic visit to Nouakchott, Mauritania, in February of 2023.
Lavrov's meeting with Ghazouani was to improve working conditions for Russian fishermen in Mauritania's exclusive economic zone. However, Lavrov also offered Mauritania support in its struggle against terrorism in the Gulf of Guinea.
The author suggests the close security relations between Russia and Mauritania could strengthen the Wagner Group's presence in this strategically significant region.
According to the author, Lavrov's proposal to train Mauritanian physicians demonstrates Russia's resolve to overcome Mauritania's voting record in favour of Ukraine in the United Nations General Assembly and strengthen Russia's soft power.
In contrast, the researcher believes that China's investments in Mauritania align with European interests. In December 2016, the government of Mauritanian awarded the Chinese company Poly Technologies a $325 million contract to develop the Port of Ndiago.
The Ndiago project is anticipated to become a hub for energy exports to Europe and connect Mauritania to Senegal, a key target for German gas projects in Africa.
However, Western policymakers have expressed concern about allegations of corruption surrounding the Ndiago Port project since its inception and violations of US sanctions against the Iranian ballistic missile programme by the Chinese company Poly Technologies.
The author emphasises that Mauritania's multidirectional foreign policy extends to the Middle East, where the late Saudi King Faisal bin Abdulaziz Al Saud's pivotal role in facilitating the migration of numerous Mauritanian Muslim scholars to Mecca over decades has laid a solid foundation for cooperation between Mauritania and Saudi Arabia. Mauritania inked a training agreement with Saudi Arabia.
During Ghazouani's visit to Abu Dhabi in February 2020, the United Arab Emirates pledged a $2 billion investment, equivalent to 40% of Mauritania's GDP and a key component of Ghazouani's social and infrastructure-focused "Priorities" initiative.
On the other hand, the author observes that the January 2021 Al-Ula Agreement, which ended Qatar's blockade, allowed Mauritania to strengthen its ties with Doha. In April last year, Qatar Energy acquired a 40% stake in Mauritania's C10 offshore exploration block, which contains significant hydrocarbon reserves.
In May, Turkey and Mauritania opened a "House of Commerce " to strengthen trade ties, following Turkish President Recep Tayyip Erdoan's February 2018 visit to Nouakchott and years of development assistance to Mauritania.
The researcher notes that Mauritania's history of human rights violations and contentious civil-military relations make its long-term stability uncertain. However, it has become an attractive location for foreign powers to invest in this volatile region, particularly after the Niger coup.
According to the author's analysis, the military councils in Niger, Mali, and Burkina Faso are trying to improve relations with their neighbouring countries, and Mauritania wants to mediate between them. This is demonstrated by the fact that Burkina Faso plays a pivotal part in a $900 million energy transmission line across the Sahel, which will pass through the country.