Cochin Shipyard Ltd. delivered MV Sindhu to the Andaman & Nicobar Island Administration on 27 March. Captain Ashutosh Pandey, the Director Of Shipping Services, signed the documents on behalf of the A&N administration. The modern ship is being touted as a boon in the shipping service of the far-flung islands. Shipping Corporation of India will operate this ship.
MV Sindhu and  MV Nalanda
MV Sindhu is a 500 pax cum 150 MT Cargo Vessel built for Andaman & Nicobar Island administration. The vessel is manned by a crew of 61. The ship has deluxe, first & second class cabins, bunks & seating for passengers. The vessel is powered by a diesel electric azimuth propulsion and is categorized  IMS Class V Special Trade Passenger Vessel, under dual class of IRS (Indian Register of Shipping or IRClass) and ABS (American Bureau of Shipping). The Vessel is provided with a cargo hold at the aft capable of carrying about 150 ton cargo, or 10 TEU containers distributed in the hold and on hatch cover/main deck with suitable lashing arrangements. In addition, the vessel has a provision to carry about 10 ton non-perishable cargo, about 10 ton Perishable cargo, and about 20 ton refrigerated cargo. The ship has an overall length of 100 meters, breadth of 17.5 meters, 4.3 meter draft and is capable of 16 knots.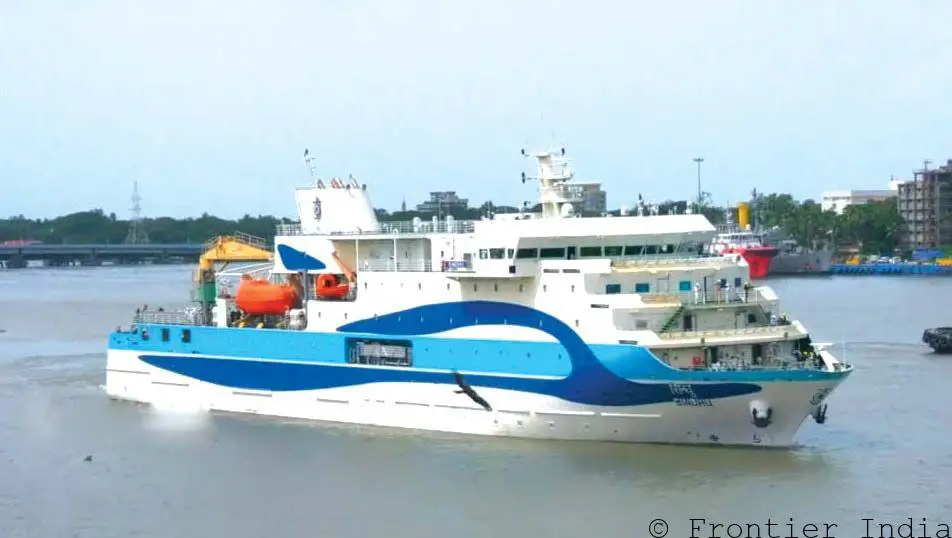 MV Nalanda, the second 500 Pax sister vessel, is under advanced stage of construction and is also expected to join the fleet in the current year.
MV Atal and MV Ashoka  
MV Atal and MV Ashoka are the larger design of the MV Sindhu capable of carrying 1200 passengers and 1000 ton cargo. The vessels have an aft cargo area of 2500m3 divided in hold and deck space for 40 number of 20 feet containers, 6 number 20 feet reefer container, 2 trucks or 4 cars for a maximum capacity of 1000 MT (Metric ton).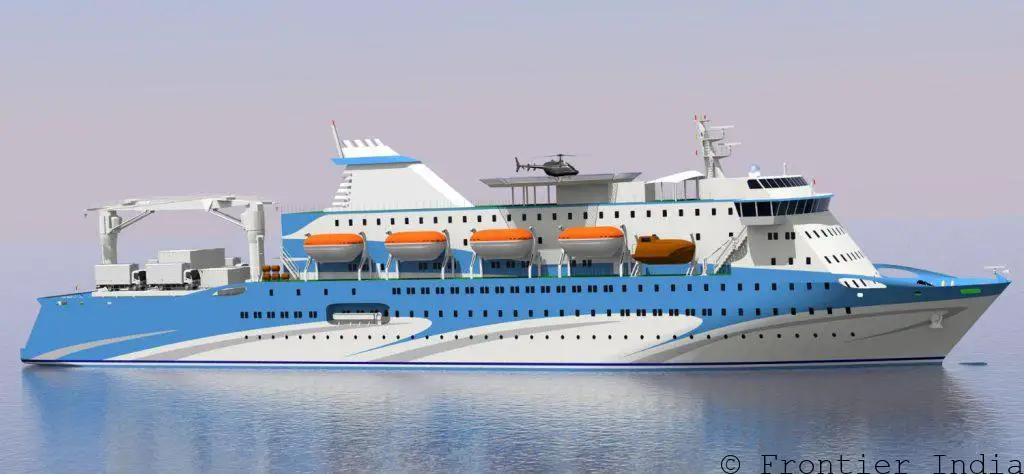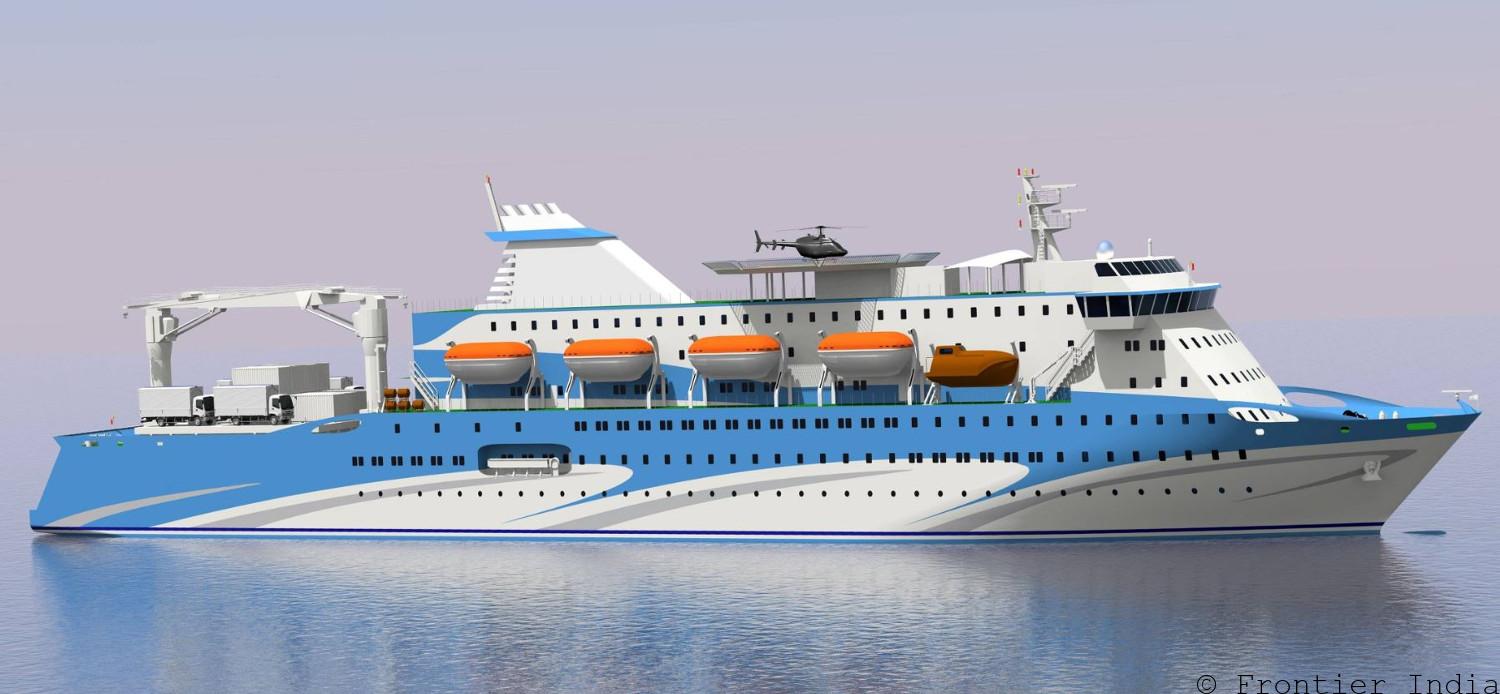 These vessels are designed as an ocean going passenger-cum-cargo vessel for all weather operations as IMS Class III special trade passenger ship engaged on international voyages.
These ships have an overall length of 157 meters, breadth of 21.3 meters, 6.1 meter draft and is capable of 18 knots. It is manned by a crew of 104.
Travelling between A&N and Mainland
The shipping between the A&N and the Indian mainland is being done by MV NICOBAR and MV NANCOWRY which were built in 1991 and 1992 respectively. With a service life expectancy of around 25 to 30 years, these ships are on the verge of retirement. Another ship MV Swaraj Dweep connects Port Blair and Ports at Kolkata, Chennai and Visakhapatnam. This ship was built in 1999 and is undergoing repairs. Both MV NICOBAR and MV NANCOWRY have outlived their service life owing to ageing, deteriorated condition of hull and machinery. This has reduced the ship speed and the shabby bunks have become unattractive.  
Traveling by ship in bunk class ticket costs about Rs.1130/- and is the cheapest method to travel. The delux bunk costs about Rs 8000/-. The air fare between Port Blair to Chennai/Kolkata sector ranges from Rs.8,000/- to Rs.12,000/-. During the tourist season, September to January, the air fares shoots up beyond Rs.20,000/- for flight of just 2 hours duration. By ship it takes between 56 hours to 66 hours depending upon the destination.
The A&N Administration has ordered 2 ships for connecting to the Indian mainland and two ships for interisland connectivity. The larger two ships to connect to the Indian mainland have a passenger capacity of 1200 and carrying up to 1000t of mixed cargo. The smaller vessels were to be employed in the Northern/Southern group of the Islands, or running an interisland service and is designed to carry 500 passengers and 150t of mixed cargo.  
The larger ships have been named MV Atal and MV Ashoka and are being transferred to the Indian Navy raising protests.
A&N locals have reported an issue with finding suitable crew for manning MV Sindhu. In addition, MV NANCOWRY, which is on the verge of retirement has no suitable replacement ship as the status of MV Atal and MV Ashoka is not clear.  
There were two other ships MV Akbar and MV Harshavardhana in the past. MV Akbar was built in 1971 and was acquired by the A&N administration in 1991. It was sent to Alang for scrapping in 2019. The ship remained idle since 2014. MV Harshavardhana was built in 1974. In 2016, the vessel developed technical problems with spares being available only in Sweden. The vessel regularly broke down. The vessel was sent to Alang to be scrapped in 2018.
An interesting fact is that in1950s, SS Maharaja was the only public mode of transportation to Port Blair from mainland.
The Interisland Shipping is currently handled by MV Kalighat,  MV Strait Island, MV Chouldari, MV Wandoor, MV North Passage, MV Bambooka, MV Jolly Buoy, MV Ranilakshmi, MV Shompen, MV Austin III, MV Bulbul, MV Lapathy, MV Mus, MV Tapi, MV Campbell Bay, MV Chowra, MV Coral Queen, MV Lawrence and MT Andaman. Most of these ships have an age above 15 years. 
The design
The basic design of the larger 1200 passenger vessels, MV Atal and MV Ashoka, is from the Denmark Naval Architects, KNUD E. HANSEN (KEH) of Denmark. The company has teamed up with the Indian marine consultancy Smart Engineering & Design Solutions (India) Private Limited (SEDS).  KEH is responsible for forming the initial concept for both vessels. KEH made the design, with critical review and evaluation from SEDS
For the smaller vessels, MV Nalanda and MV Sindhu, SEDS has further developed the design through the contract and basic design stages. Throughout this process KEH has been responsible for conducting design reviews and providing additional ideas and inspiration.