Parineeti Chopra is on a family vacation to the Maldives. The actress has been constantly sharing pictures of her vacay fun. It seems like Parineeti is thoroughly enjoying her vacation with her family. She has switched on her adventure mode and will live on a boat for the next seven days with her brother, Shivang Chopra. She shared a picture on her Instagram account in a scuba diving outfit. Parineeti asked her fans to wish them luck as she will do what she loves the most- scuba diving along with her brother.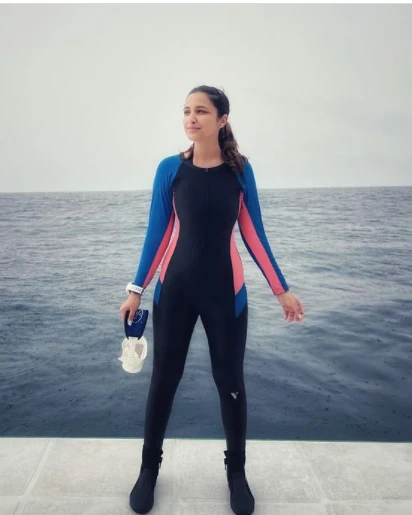 She captioned the picture, "For the next 7 days, Shivang and I are gonna live on a boat; doing what we love the most – scuba diving. There are 14 other shark chasers here. The phone network is really weak, but I'll try taking you on the ride with me.. Wish us luck! #Liveaboard #Scuba Diving"
In the picture, Parineeti seems thrilled as she is having her best time in the Maldives.
Arjun Kapoor commented on the post, and wrote, "Shivang and Parineeti Farar". Seems like Arjun was in a mood for a filmy banter.
Parineeti has been constantly updating her fans with her pictures from the Maldives.
Previously, she had shared a picture in a red bikini in which she looked super hot. 
She captioned the picture, "Sunburnt🌶️" 
Indeed, Parineeti was not looking less than a fiery hot red chilli.