The Polish Ministry of Defense (MON) recently revealed an ambitious proposal to acquire 500 M142 HIMARS (High Mobility Artillery Rocket System) rocket launchers from the United States. However, plans have altered. Poland will acquire "just" 200 HIMARS missile launchers but 300 K239 Chunmoo rocket launchers from South Korea. Minister of Defense of Poland, Mariusz Blaszczak, released details on the procurement of South Korean missile launchers. 
This is yet another of Poland's ambitious purchases of South Korean military equipment; thus far, Warsaw has placed a firm order for 180 K2 tanks, 212 K9A1 self-propelled howitzers, and 48 FA-50 light jets. In a few months, the Polish army will also acquire several hundred 40mm AGL K4 automatic grenade launchers from South Korea.
Today, Blaszczak will start a multi-day trip to South Korea. The Polish 16th Mechanized Division will get ten K2 tanks and twenty-four K9A1 howitzers this year. Concurrently, the head of MoD will sign a framework agreement to deliver about 300 Chunmoo missile launchers.
The stated justification for the acquisition of South Korean rocket launchers is the inability of American industry to provide 500 HIMARS timely. Other plausible explanations include the Koreans' desire to share expertise and knowledge, the relocation of manufacturing to Poland, and the Koreans' willingness to use Polish technologies and components. In any event, Americans lack such adaptability and responsiveness.
Try comparing the first acquisition of Polish HIMARS missile launchers. Already in 2018, Poland spent $414 million to acquire one detachment of HIMARS rocket launchers (36 rocket launchers) and two training rocket launchers. These three batteries will be supplied on the American FMTV (Family of Medium Tactical Vehicles) chassis and equipped with the American fire control system (SP) AFATDS (Advanced Field Artillery Tactical Data System). The first portion will be delivered by the end of 2023. The purchase is nonetheless portrayed as a Polish homage to the United States.
At the end of May, Poland issued the United States a Letter of Request (LoR) for the acquisition of 486 HIMARS rocket launchers. This time, the Poles requested a substantial degree of Polonization and the transfer of technology and know-how. There is currently a discussion of purchasing "just" 200 HIMARS. It is unclear what stage the discussions are at and whether or not the United States is prepared to trade technology. In any event, Koreans are unparalleled in their adaptability.
According to Polish Armaments Agency spokesperson Krzysztof Platek, Poland will get K239 Chunmoo superstructures placed on Polish Jelcz 88 trucks and the Polish Topaz SP (combat). Seoul will offer cruise missiles with ranges between 70 and 290 kilometres and a technology transfer. In Poland, the first rocket launchers will arrive in 2023! Thus, simultaneously with the American HIMARS ordered five years ago.
South Korea's incredible time flexibility in arms deliveries, supported by a very efficient Korean arms industry (due to the necessity of constant arming against China, North Korea and partly Japan), is the main advantage of buying Korean arms. South Korea can deliver weapons many years faster than Western companies.
The technology transfer will include the acquisition of complete production, servicing, and modernization capabilities of launchers and missiles with a range between 70 and 290 kilometres for Polish industrial entities, Plateka wrote on Twitter, adding: GMLRS is still on the plan, as are M142s and more than 200 HIMARS launchers, and together with approximately 300 K239 Chunmoo launchers, we want to acquire the ability to produce two types of Korean missiles, i.e. with a range of 70 and 290 km.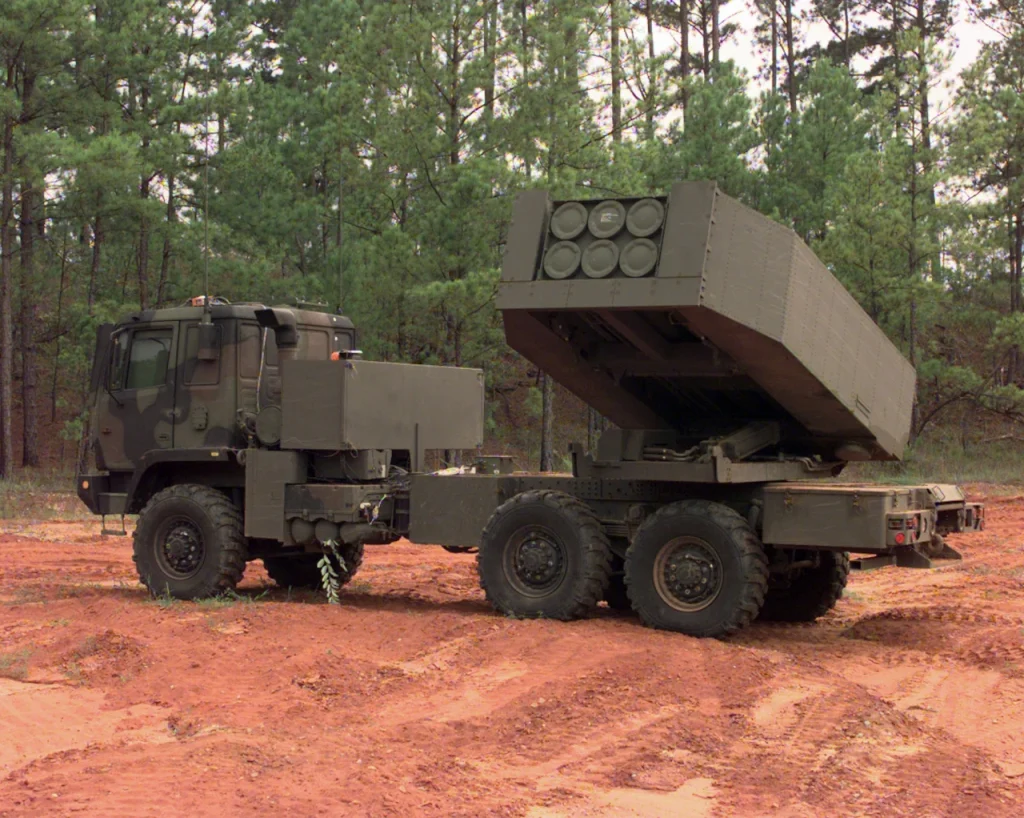 The K239 Chunmoo can use 227mm Guided Multiple Launch Rocket System (GMLRS) missiles from HIMARS rocket launchers in addition to South Korean 131mm, 230mm, 239mm, 400mm, and 600mm missiles. It is feasible to incorporate more missile types developed in the future. 
Poland will also get very potent KTSSM (Korean Tactical Surface-to-Surface Missile) missiles capable of delivering a 500 kilogramme payload 290 kilometres away.
The primary difference between the Polish HIMARS and the Chunmoo is the chassis platform and the amount of ready-to-fire missiles. Six GMLRS satellite-guided missiles with a range of 70 kilometres or one ATAMCS (Army Tactical Missile System) missile with a range of 300 kilometres may be carried in a single HIMARS rocket launcher mounted on a Jelcz 66 chassis. On the other hand, in its two missile bays, the eight-wheeled Chunmoo can carry up to 40 130 mm missiles (range: 36 kilometres), 12 GMLRS missiles (range: 70 kilometres), or two KTSSM missiles.
Lockheed Martin wants to boost its yearly GMLRS missile output. The Camden, Arkansas, manufacturing plant can currently generate 10,000 GMLRS yearly. Lockheed Martin has previously conducted tests on the GMLRS-ER (GMLRS-Extended Range) variant with a range of 150 kilometres. Chunmoo is capable of firing GMLRS missiles, including the more modern GMLRS-ER.
Even if Poland purchases missile launchers from South Korea, it cannot survive without American technology. Modern rocket launchers require satellite navigation, ideally also satellite communication, satellite reconnaissance means (optical, radar, radio-electronic), and a command and control centre that can process reconnaissance data (ideally with AI) and prepare to fire tasks (when, with what and what to shoot at). This generally applies to strikes against static and vital targets deep inside the enemy's territory, such as barracks, headquarters, VIP meeting spots, major infrastructure components, ammo depots, equipment marshalling yards, air defence positions, radars, etc.
On the other hand, the Ukrainians are beginning to utilize HIMARS directly on the battlefield to destroy armoured vehicles, objects, and personnel. In this instance, the kill chain includes detecting the target, identifying it, picking the effector (rocket launcher, howitzer, drone, etc.), targeting, authorizing fire, hitting the target, and assessing the attack. It is drastically different and shorter. 
The rocket launchers (vehicle and missile launcher) are a comparatively small component of the reconnaissance-strike missile complex. Everything else that enables rocket launchers to strike targets correctly, preferably every day and on demand within a few minutes, over tens or hundreds of kilometres is required, which is far more costly, technically more complicated, and personnel-intensive.
The missile systems are referred to as the primary military means capable of bringing long-term strategic/political stability to Ukraine and Central and Eastern Europe in relation to Russia. It is openly discussed in Poland and Ukraine. Only a massive reconnaissance-strike complex, using mainly ballistic missiles as effectors and fully controlled by Poland and Ukraine, capable of hitting any targets in Russia up to the Urals, will be a sufficient deterrent to balance Russia's military potential.
Acquiring missiles with a range of 300 kilometres is only the first stage in expanding Poland's missile capabilities (and, by extension, Ukraine). The second stage will be a greater deployment of Ukrainian Hrim-2 rocket launchers (Hrіm-2, Grim, Grom or OTRK Sapsan, also known as Operational-Tactical Missile System Hrim) with a range of at least 500 kilometres inside Ukraine, particularly after the end of the conflict.