Iranian engineers are working to increase the range of the Bavar-373 long-range road-mobile surface-to-air missile system to 300 km, a senior Iranian Army commander said on Sunday. That would be enough to blanket most major US military bases near the Islamic Republic.
Military officials say that Iran has created the necessary air defence coverage at all levels and layers. They have been able to test the Bavar-373 system at a range of 200 km. Iran has also started testing this system at 300 km, said Amir Alireza Sabahifard, the commander of the Air Defense Force of the Army.
The commander said that Iran is monitoring the enemies at their bases. The range of its radars is thousands of kilometres. He added that Iran's Air Defence Force troops have aerial, aerial, intelligence, interception and combat equipment. Sabahifard assured that the Iranian military knows what's going on at "enemy" bases in the region.
Iran is holding exercises using the best domestic equipment on the cutting edge of global military technology, Sabahifard says. He says that Iran faced limitations in weapons and systems in past years, using systems from the Era of Sacred Defense. He says Iranian enemies know that today his country is the absolute regional defence power.
Bavar-373 Air Defence System
Iran initiated the development of the Bavar-373 missile system in 2010, soon after former Russian President Dmitry Medvedev banned the delivery of S-300PMU-1 air defence systems to the nation, citing United Nations sanctions. The last S-300s were delivered in 2015 and 2016. The Bavar-373 was launched at a ceremony in the Middle of 2016 and put into service in 2019. In March, a variant for export was shown at a military exposition in Doha.
The Bavar-373, like the S-300, employs a phased array radar to detect airborne targets and ballistic missiles at medium to long ranges. The Iranian military claims the system can identify airborne targets at more than 300 kilometres, lock on at 250 kilometres, and hit them at a range of 200 kilometres and a height of up to 30 kilometres. Active electronically scanned array (AESA) S-band/X-band acquisition and targeting radars supplement the phased array tracking radar of the system. The basic system can concurrently monitor 60 targets and engage six of them. Iranian media reported in 2016 that the Bavar-373 is compatible with a long-range phased array radar known as Me'raj-4, which can detect airborne objects and projectiles up to 450 kilometres and concurrently track up to 200 of them.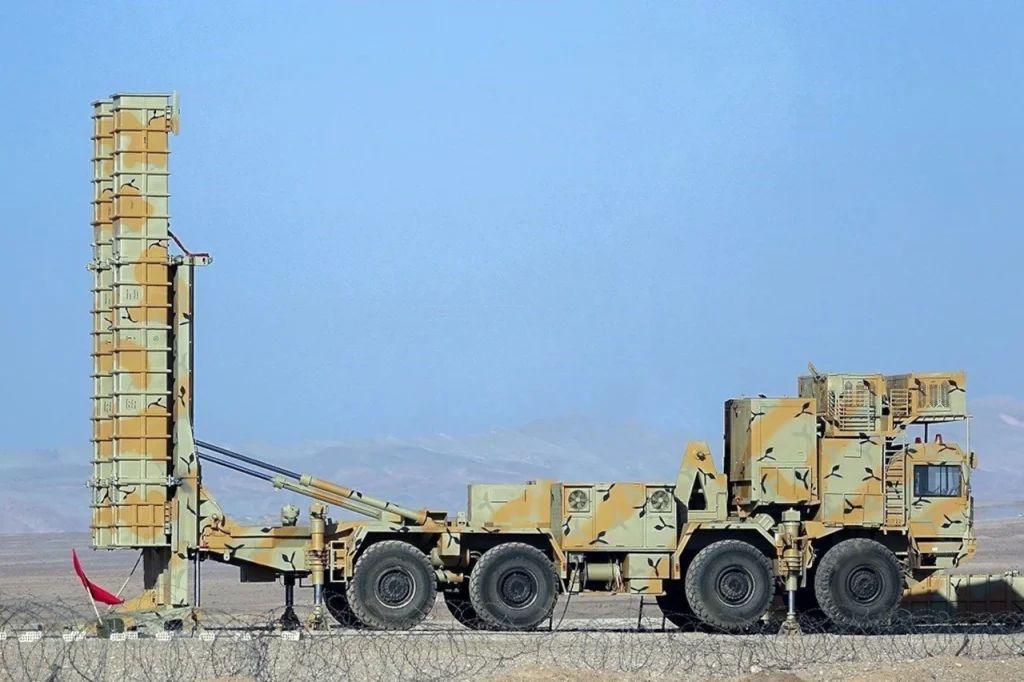 Better than US Patriot, THAAD and Russian S-400 systems
In 2019, Iranian Brigadier General Shahrokh Shahram, then-head of the Defense Ministry's Organisation of Electronic Industries, stated that the Bavar-373 exceeded the capabilities of the United States Patriot air defence system and even the Terminal High Altitude Area Defense (THAAD), although he did not specify which version of the Patriot its performance surpassed.
Another Iranian military official in 2021 said the newest version of the Bavar-373 is an even more effective air defence system than the Russian-made S-400 Triumf. In a televised interview, Iranian Deputy Defense Minister Brigadier General Mahdi Farahi indicated that new versions of the Bavar-373 are forthcoming, and a new version that may be on par with or maybe surpass the S400 would be presented shortly.
It is known that the Bavar-373's projectile, the Sayyad-4 missile, is an enhanced version of a reverse-engineered Standard Missile-1 (SM-1) provided to Iran by the United States before the 1979 Islamic Revolution, which toppled the Western-backed shah and brought the current administration to power. It has a range of up to 210 kilometres and is capable of approaching hypersonic speeds.
Using ultra-long-range 40N6E missiles, the system, according to him, is able to strike targets 400 kilometres away. Iran might have a weapon capable of intercepting low-altitude satellites or midcourse ballistic missiles if it is able to achieve this feat.
Iran's interest in S-400
Iran is reportedly interested in acquiring two S-400 Triumf missile systems from Russia. Iran is concerned that its S-300 systems would be ineffective against the expanding stealth aircraft, sophisticated missiles, and unmanned aerial vehicles of the United States and Israel and hence needs the S-400 system to oppose them.
Iran's Air Defence Network
Iran possesses some of the densest and most advanced air defences in the Middle East, with its range of ultra-long, long, medium, and short-range stationary and mobile radar systems complemented by several layers of mobile and stationary surface-to-air missile (SAM) systems, including the Khordad 3 – a medium-range system that shot down a $220 million US spy drone over the Strait of Hormuz in 2019.
Iran's Noor-2 spy satellite recently captured a high-resolution image of the United States Fifth Fleet's headquarters in Manama, Bahrain, earlier this year, to the Pentagon's astonishment. Two years earlier, the Noor-1 revealed comprehensive photographs of Al-Udeid Air Base — the Qatar-based HQ of the US Central Command.
With soldiers stationed in Oman, the United Arab Emirates, Bahrain, Saudi Arabia, Kuwait, and Iraq, the United States maintains close to two dozen military outposts immediately next to Iran. US Naval Forces Central Command, the combatant command in charge of US operations in the Middle East, operates out of Naval Support Activity Bahrain, a site with around 9,000 US military troops and civilian contractors. This installation is fewer than 250 kilometres away from Iran across the Persian Gulf. CENTCOM's forward headquarters are located at the Al Udeid Air Base in Doha, Qatar, together with roughly 11,000 personnel and contractors and more than 100 aircraft. It is around 270 kilometres from Iran's coast.