Pushpa was released in December 2021, and its Hindi version began airing in January 2022 across the country. The film swiftly surpassed Bahubali: The Beginning as one of the highest-grossing films in India.
The Telugu film Pushpa: The Rise not only depicts some brutal on-the-ground realities but also serves as an urgent cry to critically examine how society supports the supremacy of a specific sort of masculinity as the defining trait of a traditional hero.
The titular character, Pushpa Raj, is an illegitimate son of a deceased father whose sons would do whatever to disgrace and degrade him and his mother. This is his one flaw, and he is always on the verge of snapping when his ancestry is called into question.
There has been nothing more thrilling for the audience in Indian cinema for years than seeing a hero destroy his opponents, save his sweetheart, and live happily ever after. However, it is 2022, and we can surely expect better entertainment that does not revolve around a macho hero rescuing a helpless damsel in distress.
The film begins with the protagonist Pushpa Raj, played by Allu Arjun, talking with his landlord, which could be considered classist. The landlord demands that Pushpa either become his slave or leave the job. Pushpa opts for the latter option. This represents the hierarchy of labour as well as the dignity afforded to labourers in our culture, where normal physical labour is regarded as less worthy or lower in status, and the workers who perform it are regarded as inferior and unable to command respect. This is also due to the repressive caste-based hierarchical structures that still exist in our culture.
Meanwhile, landowners demand unquestioning respect, service, and slavery from those lower in the caste system because of their caste-based advantages and upper-class status. The hero battles throughout the film, refusing to bend down and attempting to achieve respect by earning money, regardless of means. As stated in Indian Constitution, everyone has the right to live a dignified life. However, for many of our nation's marginalised communities, especially those who are systematically consigned to the fringes by virtue of their class, caste, gender, place of birth, type of employment, and other factors, this remains an unrealised goal.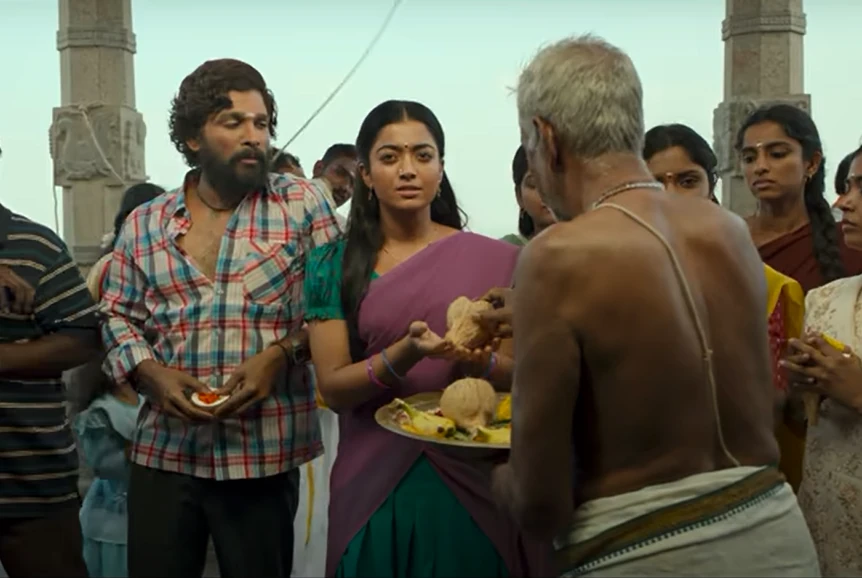 The primary character, Pushpa Raj, is a man unlike any other — flawless in every way save his ancestry, of course. With a hero whose main flaw is his illegitimacy, something must be done to overcome it. Hyper-masculinity is the manifestation of this something.
He must be physically inhumanly strong, not flinching even when heavily battered and fighting back against the bad guys. All of this, in a sense, becomes the prescription for becoming the ideal movie hero. With increased discussions about the impact of art on real life, we are becoming more aware of the negative effects that such depictions may have on the mental health of those who see them. These antics, in real life, set unattainable ideals for guys and make them feel inferior for not being able to display such machismo. There's a superiority complex associated with the concept of a hero as someone unbeatable, someone who's always right, whose plans never fail, and who has to win in the end, whether it's a fight or a battle.
From the beginning to the end, the hero and his mother are denied respect and resources due to their lack of a respectable man's name. The value of having a man's name attached has been glorified and used as a token for security in everything from refusing him admission to destroying his marriage. By making the hero own and preserve his mother's name, the film may have taken a subversive and progressive turn, questioning the need for the father's name to be suffixed to theirs. Instead, every time his father's name is brought up, Pushpa erupts in wrath while his mother weeps with embarrassment.
Every woman in Pushpa is defined in some manner by her body. Pushpa Raj's mother is depicted as the mistress of a wealthy man, while Srivalli is merely a source of fascination for both the hero and the villain. Keep in mind that none of them is treating her any better. The villain, Jolly Reddy, blackmails Srivalli into sleeping with him, while the hero, Pushpa Raj, attempts to "purchase" her kiss and is upset when she declines. The worst thing is that Srivalli internalises this behaviour and even requests that Pushpa "deflower" her before Jolly Reddy rapes her. It's truly unpleasant to see something like this portrayed in film and even liked by the general public in this day and age.
Throughout the film, we see landlords rapping women from lower socioeconomic strata with little to no repercussions. It has become commonplace that no one notices the heinous act being committed. For millions of individuals, this imaginary scene of males rapping and exploiting women and lower-class labourers aren't fiction. Art has an impact on people's lives, and the continual depiction of violence in the media only serves to normalise it in real life. This has permeated the culture to the point where 84 per cent of Telangana women believe there is nothing wrong with their husbands abusing their wives.
Pushpa is a work of art that is significantly influenced by patriarchal norms and goes on to normalise them. Women can be seen making meaning of their life from the acts of the men around them throughout the film, whether it's the protagonist's mother or the heroine herself.
The film did hint at the possibility of showcasing the marginalised labour class's collective might if they banded together to combat oppression in some scenes, but this aspect was mostly ignored as the focus remained on the hero and his solo battles.
In terms of cinema, star worship is never used as a justification to take the audience for granted. Miroslaw Brozek's camera moves find ways to impress even within the visual grammar of a commercial film. The vertical tracking shot of the bark of a tree on the verge of being cut is particularly memorable. The editing of Antony L. Ruben and Karthika Srinivas shines in unexpected spots as well, such as the songs and beautifully-choreographed action moments.