The German concern Rheinmetall presented the new 50-ton KF51 Panther tank at the Eurosatory-2022 exhibition in Le Bourget. Panther incorporates entirely digitized NATO Generic Vehicle Architecture (NGVA) technologies reducing the crew size and paving the way for Human-Machine Teaming and unmanned turret choices.
It is also not indicated whether it is an independent project of the company or developed as part of the joint program of Germany and France MGCS (Main Ground Combat System) meant to replace the Leopard 2 and Leclerc tanks starting in 2035. It is speculated that the tank is totally a German design.
130 mm Smoothbore gun with autoloader and weapons
The main weapon of the Kf-51 is a 130 mm smoothbore barrel capable of -9° to 20° elevation. It is capable of firing Next-generation KE munitions and Programmable multi-purpose HE munitions. The Future Gun System (FGS) has optimized sensor-to-shooter links. As per the tank maker, Panther's core capability is to dominate and destroy. Rheinmetall's Future Gun System is a fully automated ammunition handling system with additional shell options of Uvision's HERO 120 loitering ammunition, an anti-tank or other target munition with a 4.5 kg warhead and can endure an extended flight time of 60 minutes. Panther is capable of concentrated firepower for long-range strikes in multi-target situations.
| | |
| --- | --- |
| Feature | Value |
| Gun | 13omm Smoothbore |
| Combat Weight | 59 Tons |
| Crew | 3 + 1 (optional) |
| Protection | Active/Passive/Remote |
Key Features
Compared to 120mm guns, the Future Gun System allows a 50 per cent longer kill range with a superior rate of fire aided by autoloader performance. The autoloader stores 20 ready rounds. A 12.7 mm co-axial machine gun complements the main gun. It stores 250 ready rounds and has external access. Multiple Remote Controlled Weapon Station (RCWS) integration options give flexibility in proximity and drone defense.
Panther's weapon systems are integrated with the targeting sights and the fire control computer due to digitized architecture. It means the tank has hunter-killer and killer-killer capabilities. In the future, AI decision support will also be added.
Multiple Remote Controlled Weapon Station (RCWS) integration options enable 'proximity and drone defense'. The Natter RCWS also has a fully automated 7.62 mm RMG with 2,500 ready rounds with -15° to 85° elevation for full hemispheric coverage.
Active and Passive protection
The digitisation allows Panther to be equipped with active and passive protection. 
The Panther incorporates a pre-shot detection capability which enables it to strike first. Rheinmetall TAPS (Top Attack Protection System) helps to defeat of threats from above. The ROSY smoke obscurance system is present in the tank. The active KE protection increases protection levels without affecting the system weight. Panther is meant to operate in a contested electromagnetic spectrum as the tank is fully cyber hardened.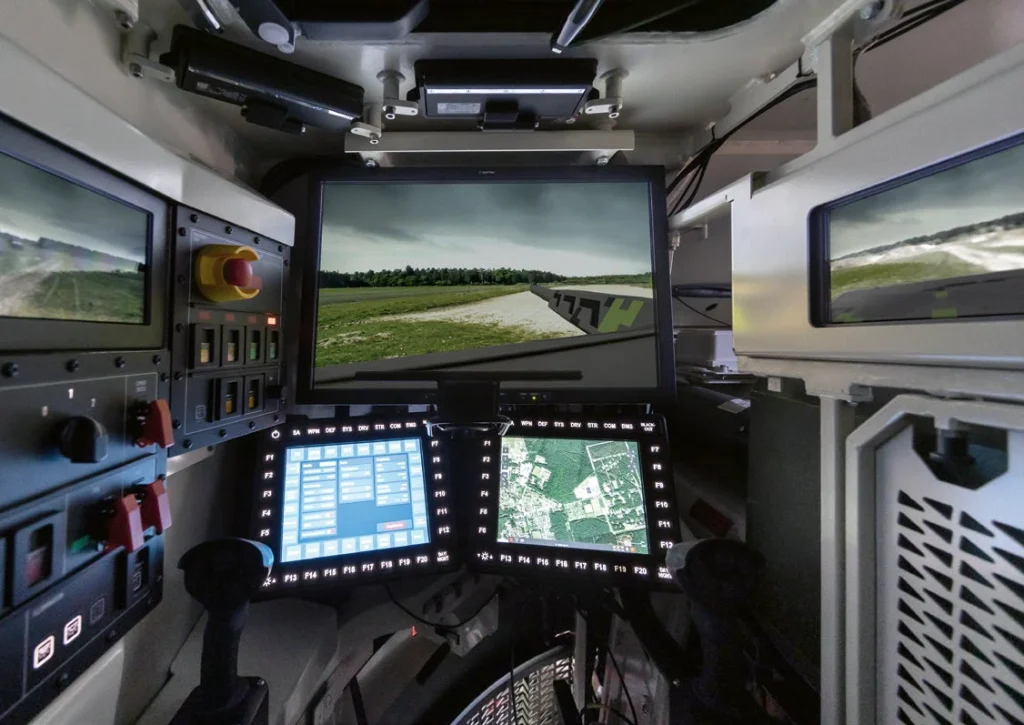 The Reactive and passive protection includes a Sensor-based reactive system and Passive protection.
The active protection includes protection against large-calibre KE (Kinetic Energy) and protection against anti-tank guided munitions (ATGM).
Mine protection and Rheinmetall drones are also a part of the system.
Panther has off-platform sensors, which include unmanned vehicles.
Mobility
Panther has a combat weight of just 59 tons compared to Leopard 2A6M's 62.5 tons. The dimensions allow it to fit into a tunnel profile AMovP-4L without preparation, a requirement that no current MBT upgrade fulfils. The combat range of the Panther Tank is more than 500 km. 
Unmanned vehicles
 Panther Tank has controls for unmanned aerial vehicles like on-board or off-board drones and loitering ammunition. It also has a range of unmanned ground vehicles. The details are not yet available. 
Crewed and uncrewed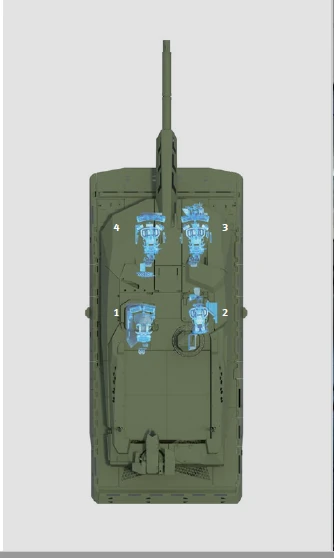 Unlike Leopard 2, Panther is crewed by three personnel. Two crew stations, including the driver, are within the chassis. It has one optional station for the company commander, a drone operator or a wingman pilot. Sensor and weapon control assignments can be passed between the crew instantly. Every workstation can hand over and take over tasks and roles from the other with no reduction in the functionality. The turret and weapons control is integrated into the chassis-based work stations; the future upgrades may include unmanned turrets and remotely operated Panthers.
Panther Leap – LEOBEN concept to be adapted
KMW's LEOBEN program, which allowed industrial and economic cooperation to sell battle tanks, is also being adopted for Panther Tank and is called Panther Leap.
Under LEOBEN, the Rheinmetall rival Krauss-Maffei Wegmann (KMW) created worldwide product supply chains and engaged with user nations in order to provide substantial national industrial content and sovereign capability. Rheinmetall already has similar programs with other products.