The new Russian S-13B aircraft missile, which combines the capabilities of two previously developed products, the C-13T and the S-13OF, will be displayed for the first time at the MAKS-2021 air show, said a representative of the rocket manufacturer, the Novosibirsk Artificial Fiber Plant (NZIV), said in an interview with RIA Novosti.
The rocket is capable of piercing through and through up to six meters of soil or one meter of reinforced concrete, covered with soil to a thickness of two to three meters. The S-13B is capable of destroying up to 20 square meters of the runway explained  Gleb Varenitsa, a director of the company.
The S-13 is a conventional 122mm caliber unguided rocket with a solid-propellant motor and fitted with folding fins for ballistic stability.  The 122mm S-13B unguided rocket is slightly longer (2.63m) and has an increased warhead weight (23kg/1.92kg).
The family of 122mm S-13 rockets includes S-13B armour-piercing high-explosive (APHE), S-13-T with two-module concrete-piercing HE warhead, S-13-OF with HE fragmentation warhead, S-13 D and S-13DF with an enhanced FAE warhead.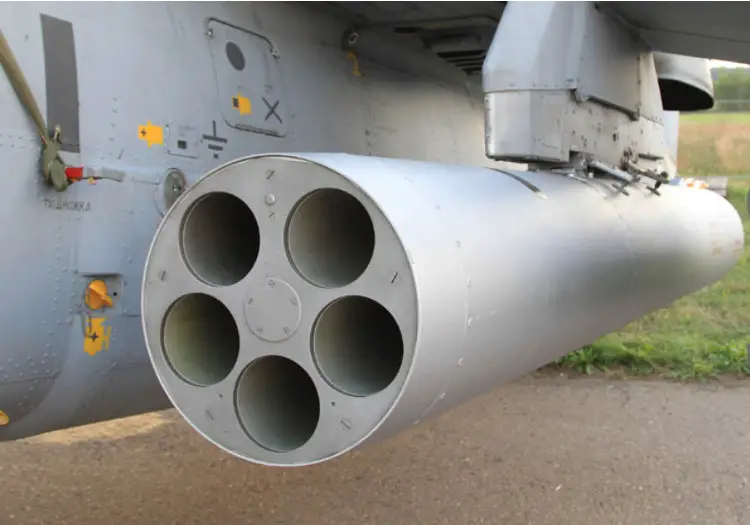 Ammunition of 122 mm caliber strikes lightly vulnerable military equipment located in the folds of the terrain, placers of stones, caves, forests, and open fortifications.  The air-to-ground rockets are meant for launching from either fixed- or rotary-wing aircraft fired from 5 barrel multiple rocket launchers.
NZIV (part of the Tekhmash concern under the management of the Technodinamika holding) is an enterprise specializing in the production of unguided aircraft missiles, ammunition for MLRS, as well as industrial explosives used in seismic exploration.