Rospotrebnadzor, the Russian Directorate for Surveillance on Consumer Rights Protection and Human Wellbeing, has announced it will investigate consumer complaints regarding "strange" Coca-Cola offered in many stores in Moscow and the Moscow region.
During the last week, telegram channels reported extensively on a potentially tainted Coca-Cola drink offered at multiple outlets in Moscow and the surrounding area. Rospotrebnadzor stated that various media outlets had reported that a counterfeit beverage might already be available. Rospotrebnadzor offices in Moscow and the surrounding area allegedly received complaints about "items of unknown origin," according to the department.
A Russian newspaper RBC reported that on December 4, stores in Moscow and the surrounding area had begun stocking new beverages in bottles that resembled those used by the original Coca-Cola brand. These bottles have what is considered to be a "fresh" bottling date of either October or November.
The Coca-Cola Company decided in March to cease operations in Russia due to the ongoing conflict in Ukraine. Coca-Cola HBC Russia factories have begun producing Russian beverages, including Dobry, Rich, and Moya Semya. In September, genuine Coca-Cola manufactured in Iran and Ukraine was discovered in a St. Petersburg supermarket.
Bottled with permission
According to RBC, a beverage with a recent bottling date was discovered for sale at multiple Moscow-area retail establishments. This beverage's bottle and label are replicas of the original Russian Coca-Cola bottle and label. Two outlets of the Svetofor bargain chain in northern Moscow were found to carry two-litre bottles with labels that resembled the original Coca-Cola label. These retail establishments were situated on the Varshavskoye shosse and Cherepanovykh routes. The bottle release dates were October 5 and November 3, 2022.
Coca-Cola HBC Eurasia LLC, the company's Russian bottler, manufactured the beverage "with the agreement of The Coca-Cola Company" at a production plant in Moscow. The production address is the same as the location of the plant where Coca-Cola beverages were manufactured; this plant is owned by Multon Partners, formerly known as Coca-Cola HBC.
A freshly produced Coca-Cola beverage with a release date of November 17 and a volume of 1 litre was spotted for sale in the Sokolino Gora neighbourhood of Moscow at a non-chain store called "Products." The bottle states that the soda was manufactured on November 17 this year. According to the label on the bottle, this beverage was produced in the Rostov region at a facility whose address corresponds to the location of one of the previous Coca-Cola HBC production facilities in Russia.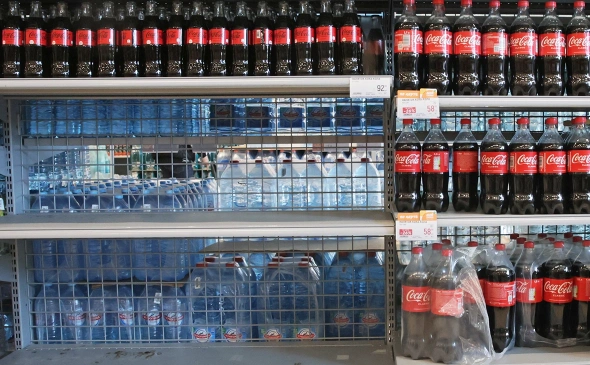 The fact that newly produced Coca-Cola is currently being offered in Russian stores contradicts what the American company and its Russian bottler have stated, namely that they are shutting down their operations in Russia. Along with several other Western corporations, the American Coca-Cola Company, the owner of the popular beverage brand Coca-Cola, announced in March 2022 that it would halt its business operations in Russia. This proclamation was made in the context of the commencement of a special military operation in Ukraine.
Coca-Cola Hellenic Bottling Company, a partner of The Coca-Cola Company responsible for the production and marketing of its beverages worldwide, has discontinued production and sales of global beverage brands in Russia as a result of this decision. Included in these brands are Coca-Cola, Sprite, Fanta, and Schweppes.
Coca-Cola HBC Russia's facilities in Russia are mostly dedicated to the production of local brands such as Dobry, Rich, and Moya Semya.
Not Original Coca-Cola
An RBC correspondent dialled the toll-free number printed on the back of the bottle of Coca-Cola purchased from Svetofor, and a Multon Partners employee assured the correspondent that a Coca-Cola with a manufacture date in November 2022 could not be an authentic product because the company ceased production of these beverages in April 2022. 
According to him, the United States previously supplied Russian factories with the flavour concentrate and syrup required to produce classic Coca-Cola soda. However, as a result of sanctions, the supply of these items was cut off, and the factories shifted their focus to producing local brands. Around the middle of December, the corporation will cease shipping Coca-Cola and other worldwide brands in official bottles. He stated that official Coca-Cola and other major brands of bottled soda are nearly depleted.
It was announced in June that the bottler would cease producing and selling The Coca-Cola Company's products in Russia once existing supplies run out. After discovering that the supplies would not be replaced, this decision was reached. In July, a government spokeswoman in Krasnoyarsk told RBC that numerous Russian Coca-Cola HBC factories still have concentrate supplies – for example, in the Krasnoyarsk Territory, there should have been plenty until August. The factory in Krasnoyarsk offered this information.
Coca-Cola HBC's press service responded to RBC's inquiry about the availability of soda produced in October and November in Russian retail locations by stating that it had ceased production and sale of all Coca-Cola Company brands in Russia and had no plans to produce these products or brands in any format.
The former legal address of Coca-Cola HBC Eurasia LLC in Nizhny Novgorod is printed on the labels of November-produced Coca-Cola bottles. In the meanwhile, following the company's rebranding to Multon Partners, Multon Partners LLC relocated its registered office to Moscow, Russia's capital city.
Boon for local cola manufacturers
After the largest manufacturers – The Coca-Cola Company and PepsiCo – which produced Pepsi, 7Up, Mirinda, etc. – announced the cessation of production and sale on the Russian market of their most popular soda brands, manufacturers in Russia and neighbouring countries began to offer a variety of drinks. According to NielsenIQ, cola-flavoured beverage brands increased from 169 to 186 in the first seven months of 2022.