South Korea on Friday unveiled the KAI KF-21 Boramae prototype which is the country's first indigenous fighter jet. The gray-colored stealth plane took more than five years to complete. South Korea began the 8.8 trillion-won (US$7.9 billion) program to replace the Air Force's aging fleet of F-4 and F-5 jets in late 2015. South Korean President Moon Jae-in and a delegation from Indonesia, headed by Defense Minister Prabowo Subianto attended the event at the Korea Aerospace Industries (KAI) headquarters in the southern city of Sacheon.  The program in general is called KAI KF-X and KF-21 is the designation of the Korean version.
Jakarta has a 20% stake in the KF-21 program, but its commitment has been questioned amid economic troubles and a delay in payments to the program. Turkey had previously showed interest in the program but dropped out later due to production sharing issues.
The jet looks similar to the Lockheed Martin F-35 Joint Strike Fighter in appearance, but with a second engine and external hardpoints. As per KAI, the KF-21 will be superior to the F-35 in speed, but inferior in stealth capabilities. KAI also plans to build a two-seater version.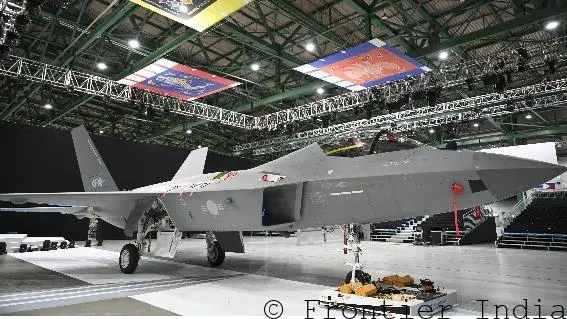 South Korea's state arms procurement organization Defense Acquisition Program Administration (DAPA) said the target localisation rate of 65% is set for the first mass production aircraft. The The KAI T-50 Golden Eagle trainer aircraft localisation is currently at 59%. "The latest AESA radar and integrated electronic warfare systems are planned to be integrated into KF-21 by localization of major avionics equipment with high development difficulty.
"If the KF-21 development is successful, the Korean Air Force has an important meaning that the Korean Air Force plays a role in self-defense with domestic aircraft, from training (trainer) to airspace defense (fighter), and provides a foothold to leap to a strong force in the world. The Republic of Korea will become the 8th country in the world to develop advanced supersonic fighter aircraft of 4.5 generations or higher. In addition, the KF-21 development is expected to secure international competitiveness in domestic aviation technology, provide a foundation for participation in overseas fighter aircraft development and performance improvement projects, and participate in the advanced ranks of the future aerospace market.," stated the DAPA release.
The prototype is scheduled to complete the system development by conducting the first flight in 2022 after going through a process such as ground test in the future, and then conducting test evaluation by 2026, as per DAPA.
"We plan to deploy 40 jets by 2028 and a total of 120 by 2032," said President Moon Jae-in during the ceremony.