After many years of being on the back foot over its Muslim leanings, the Samajwadi Party (SP) has set the tone of the Uttar Pradesh elections in 2022. The BJP, which is facing a rebellion of more than a dozen non-Yadav backward class leaders just after announcing the assembly elections in Uttar Pradesh, has caved into caste equations, the tone set by SP's Akhilesh Yadav. BJP has fielded 60% OBC and Dalit in the first list. It has also kept Chief Minister Yogi Adityanath to the safety of Gorakhpur and Deputy Chief Minister Keshav Prasad Maurya in Sirathu. BJP has fielded a Dalit candidate from a general seat after SP's continuous attacks.
The impact of SP is so much that BJP has put a full stop to its earlier plan to change a large number of faces. It is done in order to stop the anti-BJP government atmosphere. Many of its prominent leaders, who were facing the danger of being ejected, have got tickets again. Leaders representing the same community have fielded for replacing MLAs whose tickets have been denied. Generally, the party has rejected the tickets of 25 to 30 per cent of the sitting MLAs, but it is not so this time.
The central and state schemes, like electricity in every house, gas cylinders, Ayushman scheme, free food grains to the poor during the Corona period, sending money to small farmers and women accounts, which directly benefit most of the backward and Dalit community have been retained.
Yogi Adityanath back to Gorakhpur
The plan for religious polarisation by making Yogi Adityanath contest in the holy city of Ayodhya has been shelved given the Dalit anger. 
Keshav Prasad Maurya in familiar territory
With the announcement of Deputy CM and prominent Dalit Face Keshav Prasad Maurya to contest from Sirathu seat of his home district Kaushambi, speculations about contesting from Allahabad North or Phaphamau seat of Prayagraj came to an end.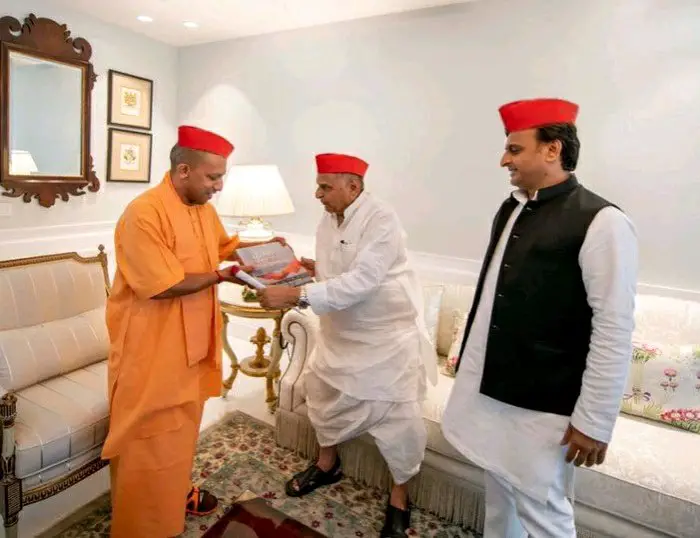 Caste wise allotment of seats by the BJP in the first list?
Forty-three seats have been given to the general category candidates in the first list. There are 18 Kshatriyas, 10 Brahmins and 8 Vaishya community candidates. There are about 16 candidates from the Jat community. Out of the Scheduled Castes candidates, 13 are from the Jatav community, which is considered the base vote of BSP. One of the party's efforts is that when the Bahujan Samaj Party (BSP) is looking weak, its supporters can be brought to BJP. Valmiki samaj has received two seats and one each from Banjara, Sonkar, Dhobi and Pasi castes. Rajput's dominance is visible in the general category as they have been given eighteen seats. Apart from this, Brahmin 10, Vaishya eight, Punjabi two, Kayastha two and Tyagi got two tickets. At the same time, BJP has also given a ticket to a Sikh in its first list.