Akhilesh Yadav, the chief of the Samajwadi Party (SP), has stitched the fabric of socio-caste equations by bringing a lot of satraps with him. It is being seen as an attempt to defeat the Bharatiya Janta Party (BJP) in style. Whether the SP alliance will succeed in its plans with this strategy will be known on March 10. But it is certain that this alliance is gearing up to fight the BJP campaign of 80 vs 20 with a battle of 15 vs 85. 
It is not that the SP is not worried about the remaining 15, i.e. upper caste votes. The answer was given by Swami Prasad Maurya, who wore a red turban with Akhilesh on Friday. He said that 85 is ours, and the remaining 15 are also divided. Patron Mulayam Singh Yadav had earlier formed an alliance with Kanshi Ram to prevent BJP from coming to power again in 1993 and became Chief Minister with the support of the Bahujan Samajwadi Party (BSP). Akhilesh Yadav allied with Congress in the last election, but things did not work out. Then he took a lesson from the BJP and formed an alliance in the same style. The SP has inducted leaders of small parties to make a dent in the non-Yadav backward castes.
Western UP
In the western UP, SP has taken Rashtriya Lok Dal (RLD) along. With this, SP is expected to get the support of Jats, Muslims, Gujjars, Dalits and other backward castes. In this area, Akhilesh has also tied up with Keshav Dev Maurya of Mahan Dal, who has an impact in some places. Chandrashekhar Azad, president of Azad Samaj Party (Kanshi Ram), has a good influence among Dalits and Muslims in and around Saharanpur. 
The Purvanchal strategy
SP has tied up with Om Prakash Rajbhar of SubhaSP, who has an impact on Rajbhar, Kahar and other OBC voters. This party had proved helpful to the BJP in the last elections. There is a significant number of Rajbhar and other castes in Awadh and Purvanchal. The Janvadi Party (Socialist), the party of Dr Sanjay Singh Chauhan, has a special impact on the Nonia community. Its influence is felt in districts like Deoria, Kushinagar, Azamgarh, Mau, Ballia, Ghazipur and Chandauli. Describing Apna Dal (Kamarawadi) chief Krishna Patel as Rajmata, Akhilesh included her in his SP alliance. Apna Dal has influence from Prayagraj to Varanasi, Mirzapur. 
Central UP 
SP has associated many leaders from BSP with it. Many leaders like Lalji Verma, Ram Achal Rajbhar, who have infiltrated the Kurmi community, have joined the SP. SubhaSP and Pragatisheel Samajwadi Party (Lohia) have influence in this area. Apart from this, the Samajwadi Party, the pivot of the alliance, has a good influence in this area.
Akhilesh Yadav has come here twice with his Vijay Rath Yatra in Bundelkhand and is trying to increase the influence among the backward Dalit castes. Many leaders of other parties have been included here. Akhilesh has also visited Chitrakoot Dham and has also made a religious pilgrimage. His emphasis is on bringing castes together through alliances and also on creating an image of Hinduism to neutralize the Hindutva weapon of BJP.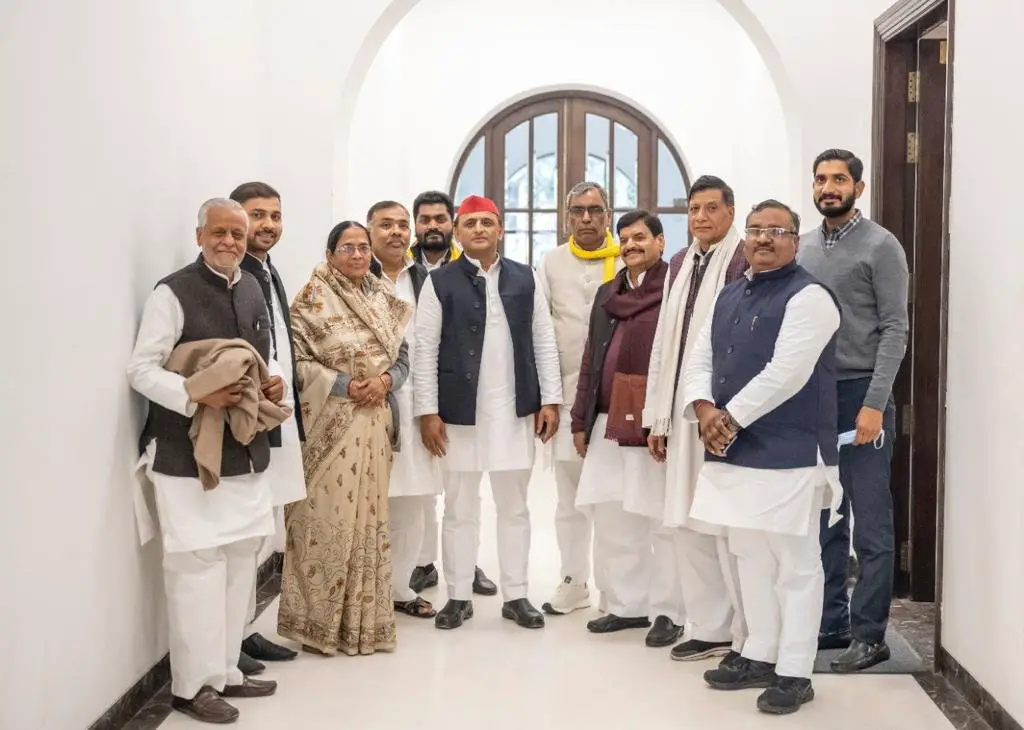 Akhilesh to unite Yadav through Shivpal
Akhilesh has ensured the unity of the SP family outside as well as within his own family. He has made an alliance with his uncle and President of Progressive Samajwadi Party, Lohia, Shivpal. The threat of vote split in the Yadav belt has reduced considerably. 
Alliance with the parties of Maharashtra, West Bengal 
The leaders of both NCP of Maharashtra and TMC of Bengal, respectively, Sharad Pawar and Mamta Banerjee, are preparing to settle the account with the BJP. Their support base in UP is considered negligible. With the joining of these two big leaders in the SP alliance, it is recognized at the national level as well as the spectrum is also wider. SP will give two to three seats to these two parties. Similarly, preparations are being made to bring together Dalit and tribal voters of Sonbhadra and Mirzapur through Gondwana Gantantra Party. 
Yadav is busy making a new equation of Muslim Brahmin
The importance of Muslim and Brahmin vote banks in the politics of Uttar Pradesh is well known to all the leaders. Akhilesh Yadav has also started setting up his equations. 
Congress leader of western Uttar Pradesh Imran Masood has joined the Samajwadi Party. Imran Masood said that 'My colleagues have given permission for this that we should go and meet Akhilesh ji to form the government of Samajwadi Party.'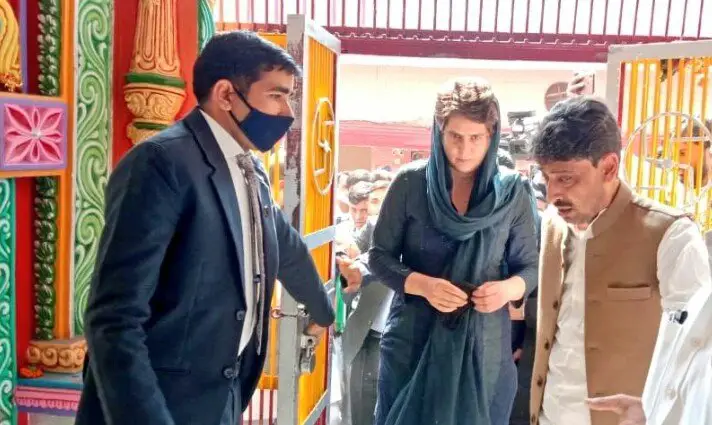 Imran Masood is a big face of Congress in western Uttar Pradesh. He has contested the 2007 assembly elections from the Muzaffarabad seat of UP and was elected an independent MLA from here. He contested the Lok Sabha elections in 2014 and 2019 but had to face defeat.
BJP MLA RK Sharma from Bilsi seat of Badaun district also joined Samajwadi Party. Earlier, Rakesh Pandey, one of the big Brahmin leaders of eastern UP, had also joined the Samajwadi Party. There are 12 per cent Brahmin and about 20 per cent Muslim votes in UP, which Akhilesh Yadav is busy cultivating.
Also read: UP Elections 2022: Expanding alliances is a challenge for Akhilesh Yadav; how will the Samajwadi Party allocate seats?