The German manufacturer Rheinmetall has delivered the first KF41 Lynx infantry fighting vehicle (IFV) to the Hungarian armed forces at Petöfi Sándor Barracks in Budapest. Budapest purchased 218 IFV Lynx for a total of two billion euros.
Hungary is the first client of IFV Lynx. The United States (Optimally Manned Fighting Vehicle programme), Australia (LAND 400 Phase 3) and Greece are possible customers. Over many decades, the United States plans to launch up to 6,200 new IFVs (and variants), Australia 300 (originally 450), and Greece 500 vehicles.
The German-Hungarian company Rheinmetall Hungary and its Zalaegerszeg, Hungary manufacturing facility, a part of the ZALAZone industrial complex, are eligible to participate in these orders. The initial 46 Hungarian KF41s will be manufactured in Germany, but by the end of the next year, the Hungarian plant will begin producing IFV Lynx.
The Hungarian military will receive 209 combat Lynxes and nine specialized vehicles for driver training. The IFV, mobile command post, reconnaissance vehicle, fire control vehicle, self-propelled mortar, and casualty evacuation vehicles will be issued to combat units.
It is worthy of note that the Hungarian Lynx was acquired for a comparatively low price. The procurement of 210 Czech IFV CV90s is anticipated to cost at least 50% more than anticipated since the vehicles themselves account for just a quarter of the overall cost during a 30-year life cycle (25% of the vehicle, 25% of the items surrounding, and 50% of the operational expenses). Currently, the procurement of Czech CV90s is estimated to cost at least 80 billion Czech crowns or about 3.25 billion euros.
With the Hungarian purchase, however, it is hard to determine what precisely is concealed in the sum of "two billion" and what further expenditures are required for the "Hungarian Lynx" programme.
However, according to a press release issued by Rheinmetall a few days ago, the two billion euros also include ammunition and logistics as well as nine modern Buffalo armoured recovery vehicles, nine bridge tanks, and sixteen trucks as well as other Rheinmetall products and services including simulators, training and briefing, as well as an initial supply of spare parts and maintenance support.
Budapest ordered IFV in 2020, before the collapse of supply chains and the soaring energy and input materials costs. Alternatively, the acquisition of Czech CV90s is coordinated with Slovakia. The combined purchase and operation of over 350 CV90s will undoubtedly impact the acquisition and operational costs.
In recent years, Budapest has been building an army from scratch. The Hungarian army used only the wheeled IFV BTR-80A for armoured infantry transport and fire support. There were no tracked IFVs in the service.
Therefore, the IFV KF41 Lynx will greatly reinforce and bring the Hungarian military into the 21st century. In addition, by acquiring Lynxes, Hungary satisfies NATO's pledge to construct one heavy brigade per alliance standards by 2025. In the case of Hungary, the 25th brigade (MH 25. Klapka Gyorgy Lovészdandár) will be tasked. In addition to 209 Lynxes, one battalion of Leopard 2A7+ tanks (44 tanks) and one squad of 24 German PzH 2000 self-propelled howitzers will be assigned to the brigade.
Hungarian KF41 Lynx infantry fighting vehicle
In addition to its crew of three, the Hungarian Lynx can carry up to eight paratroopers. The vehicle weighs 45 tonnes (it is unclear if this is combat weight or empty weight) and is propelled by a six-cylinder Liebherr D9612 diesel engine producing 1,050 kW. According to the official website of the Hungarian Ministry of Defense, this is the case. However, a news site 'Portfolio' observed that a banner put on a truck at Budapest's Hősök Square, where the Lynx was on exhibit, suggested an 800/850 kW engine, which corresponds to a Liebherr D976 engine.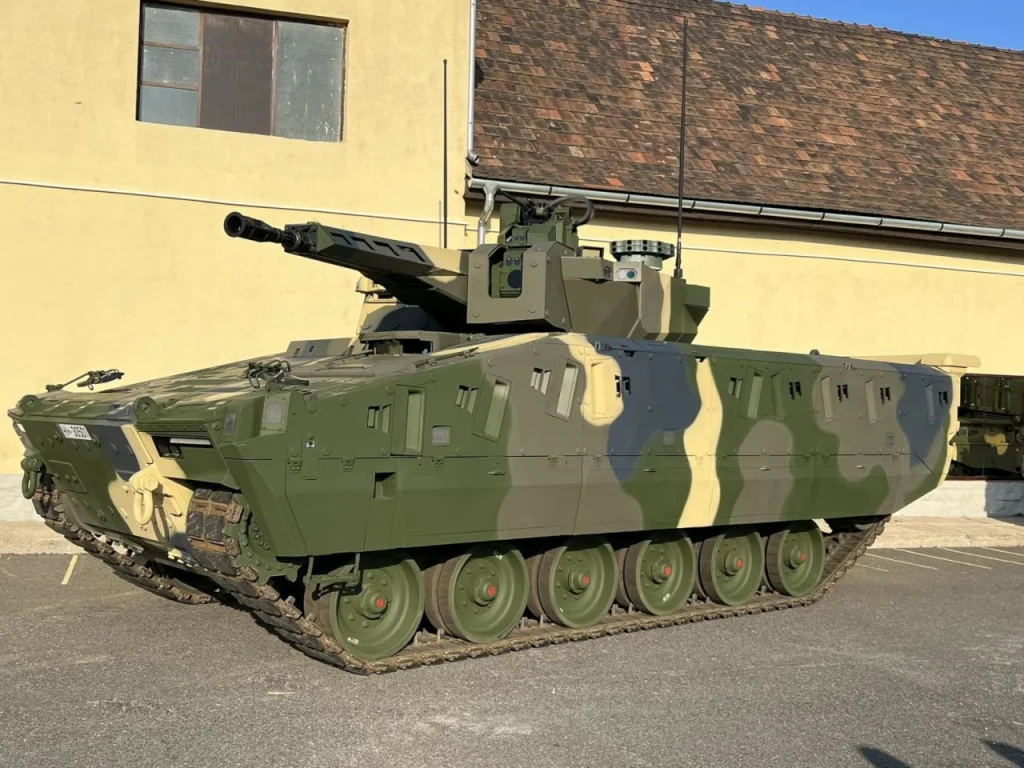 Nonetheless, the engine will definitely be known eventually. The difficulty in installing powerful power units in armoured vehicles is the structural inability of the transmission to deliver a massive amount of torque to the track and track driving gears.
The frontal armour of the Lynx can take 30 mm armour-piercing bullets (Level 6, STANAG 4569), while the sides can withstand 14.5 mm calibre bullets and artillery shell pieces that burst at least 30 metres away (Level 4). However, the vehicle is fitted with modular armour, enhancing the armour protection; the chassis can bear up to 50 tonnes of weight.
The StrikeShield system combines sensors and effectors (directional charges) placed in modular armour to provide an active defence for the IFV. StrikeShield defends the vehicle from reactive grenade launcher ammo and guided anti-tank missiles (ATMGS). Simultaneously, the vehicle is protected by the ROSY system; when an enemy anti-tank missile complex's laser is intercepted, the whole vehicle is enveloped in smoke within one to two seconds.
The Hungarian Lynx is outfitted with a Lance 2.0 manned combat module with a MK 30-2/ABM 30 mm automatic cannon that can fire programmable ammunition. A three-barreled RMG 7.62 machine gun is attached to the cannon. However, it is not a rotary machine gun; only one barrel is operating at all times. Overheating will necessitate rotation and barrel replacement. So, the team may continue shooting for an extended period. On the tower, a container with two PTS Spike LR2 may be installed – theoretically on both sides.
The commander's primary sensor is an MSSA (Main Sensor Slaved Armament) rooftop combat module equipped with a 7.62 mm machine gun. The MSSA has a SEOSS-2P optoelectronic sensor head with day, night, and thermal imaging cameras and a laser rangefinder. MSSA has hunter-killer and killer-killer capabilities.
The driver uses day and night cameras for forward driving and at least a day camera for reverse driving. Next to the cannon, the SEOSS-2S sensor head is designed for shooters. The 360-degree camera field for situational awareness SAS has become a standard component (Situational Awareness System). The SAS consists of six daytime/infrared SCM 60 cameras positioned atop the Lance 2.0 tower.
SAS links the vehicle's camera sensors and generates a 360-degree vision of the vehicle's surroundings without distortion. The system employs features of machine learning to identify, track, and target suspicious items and scenarios.