According to BAE Systems, on the evening of December 3, 2022, at the mouth of the Clyde River, the first F 88 Glasgow type 26 frigate of the next generation, which is being constructed at its facilities for the British Navy, was physically launched. The new Type 26 frigate F 88 Glasgow was hauled to the BAE Systems shipyard in Scotstown (Glasgow) for completion.
The ship's hull was transferred from BAE Systems' Govan shipyard in Glasgow to a submerged cargo barge (actually a launching floating dock) on November 25. Then, the barge carrying the ship was hauled down the River Clyde to its mouth, where it was sunk on the night of December 3 at a deep location in the Glennallen region of Loch Long (which is actually a bay). After that, on December 3, the Glasgow frigate was towed to the BAE Systems shipyard at Scotstown, also in Glasgow, for afloat completion.
Now the most likely date for Glasgow to enter service is 2028.
The contract
The UK Department of Defense awarded BAE Systems a 3.7 billion pound contract on July 2, 2017, for building the first three new generation Type 26 frigates for the Royal Navy of Great Britain, formerly classified as Global Combat Ships (GCS). The ships are to be constructed at the shipyards of BAE Systems Maritime – Naval Ships Division in Govan (previously Fairfield's historic shipyard) and Scotstown (formerly Yarrow's flagship historic shipyard) in Glasgow, Scotland.
The shipyard in Govan staged the first steel-cutting ceremony for the F 88 Glasgow, the lead Type 26 frigate, on July 20, 2017, and the ship has since been launched. F 89 Cardiff (first steel cutting on August 14, 2019) and F 90 Belfast (first steel cutting on June 29, 2021, the following two ships of the first series (Batch 1) of this class, are currently under construction.
Follow on Contract
BAE Systems announced on November 15, 2022, that the UK Department of Defence had awarded a £4.2 billion contract to construct the remaining five Type 26 frigates out of the eight originally planned for the British Navy. Birmingham, Sheffield, Newcastle, Edinburgh, and London are the names of these five ships from the second series (Batch 2). It is anticipated that quiet construction will continue through the middle of the 2030s.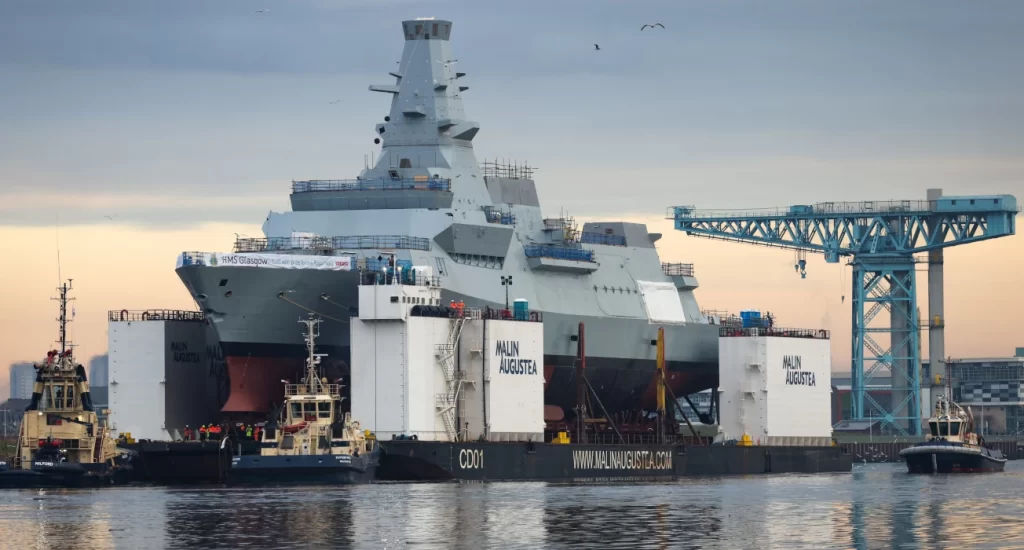 Project 26 Frigate
The development of Project 26 began in 2006, and in 2010 the UK Department of Defense awarded BAE Systems a £127 million contract to construct a preliminary design for the GCS ship. BAE Systems was granted an £859 million contract in February 2015 to prepare the ship's technical design and construction documentation.
Initial plans called for 13 Type 26 frigates to replace the 13 Type 23 vessels at an estimated cost of £11.5 billion. Following the next military policy review agreed upon by the British government in 2015 (National Security Strategy and Strategic Defense and Security Review 2015), the number of Type 26 ships planned was cut to eight. In 2016, instead of developing five Type 26 ships to replace the remaining Type 23 frigates, the Type 31 General Purpose Frigate (GPFF) project was initiated. The Type 31 GPFF is lighter and less expensive. Contracts for designing and constructing five Type 31 frigates (type Inspiration) were awarded to a consortium led by the Babcock International Group in 2019. The launching ceremony for the Type 31 Venturer lead frigate took place on September 23, 2021, at the Babcock Rosyth shipyard in Rosyth (a former naval shipyard).
The Glasgow-led Type 26 frigates (City class) have a standard displacement of more than 6900 tonnes and a total displacement of more than 8000 tonnes. The ship's length is 149.9 metres, and its width is 20.8 metres. The power plant follows the CODLOG (combined diesel-gas turbine-electric) design, is not "totally electric," and consists of one Rolls-Royce MT30 full-speed gas turbine in conjunction with four diesel-MTU generators and two cruising electric motors with a maximum speed of at least 26 knots; range at an economical speed of 7,000 miles.
The Type 26 frigate will carry a 48-round MBDA Sea Captor (CAMM) short and medium-range SAM vertical launcher, a 24-round Mk 41 universal vertical launcher for Tomahawk cruise missiles, and improved FC / ASW (Future Cruise /) cruise and anti-ship missiles. Anti-Ship Weapon), 127 mm / 62 BAE Systems Mk 45 Mod 4 artillery mount, two Raytheon Phalanx Mk 15 20 mm anti-aircraft artillery systems, and two DS30M Mk 2 30 mm artillery mounts. Permanent basing of one large Merlin or two medium-sized Wildcat helicopters and an unmanned aerial vehicle. The electronic arsenal will consist of a 997 Artisan radar, a 2150-type underwing sonar, and a 2087 towed sonar.
To date, project 26 has also been chosen as the foundation for potential frigates slated for construction by the Australian Navy (nine Hunter-class vessels are planned) and the Canadian Navy (15 units are planned).