On 15th August 2021, marking India's 75th Independence Day, 'Varisht Mandal Vidyut Engineer Kurla car shed' presented the 'Most Hard-working Employees Award' to 90 employees out of the total of about 400 employees at the Kurla car shed of the Mumbai Division of the Indian Railways. Senior Divisional Electrical Engineer (TRS) CLA Car shed EMU Electrical, Sunil Kumar Bairwa, presented the award to employees who perform their duties exceptionally and take innovative initiatives for the betterment of the working of the department.
The Flag Hoisting and Award Ceremony was attended by all the Senior Section Engineers, all Senior Divisional Electrical Engineers, Divisional Electrical Engineers, and Assistant Divisional Electrical Engineers.
Among the recipients of this award, presented on Independence Day every year, was Mrs. Chaya Suresh Kumar Armugam, the only female recipient of the award among 90 others. Mrs. Armugam had taken the responsibility as an employee at the CLA Car shed as a replacement after the passing of her husband and she has been working for about 12 years.
As women like Mrs. Armugam break the gender stereotype and gender roles set by society, the idea of women working and earning is gradually but effectively being accepted in even the most backward parts of our nation. Frontier India News Network spoke with Mrs. Armugam about her life, her work, and the award.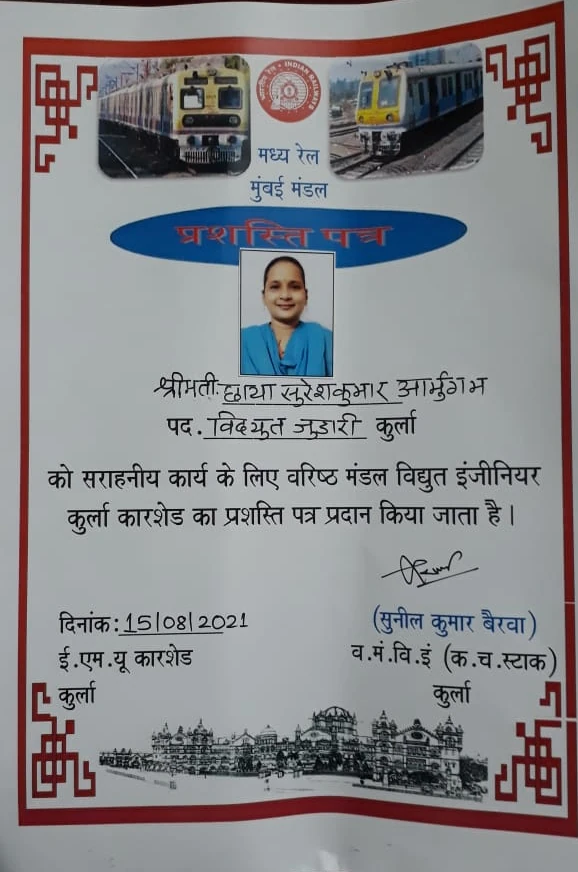 While talking about her work life, Mrs. Armugam said that during her serving tenure in the office, she had gone through three cancer operations. "I had been through three operations for cancer and I have been responsible for my end of office work, like daily office chores, documentation, etc. My kids take equal responsibility for the chores at home so I can peacefully handle my work at the office," she said while talking to FINN.
When we asked Mrs. Armugam about how she felt being one of the most hardworking employees, she said, "I feel really upbeat that my work and efforts are being appreciated. I feel motivated to be among the recipients of this award presented to selected employees out of the approximately 400 people. Not just as a woman but moreover as a hard-working individual for such an important part of the Indian Railways. I feel that I got this award because I was blessed with massive support from my kids, colleagues, and the authorities as well for providing a healthy, employee-friendly working environment."
Upon being asked about how she felt about being the only woman in the list of the recipients of the award and participation of women in the railway working force, Mrs. Armugam told FINN that she believes that in these times, for women to work, be it situational or a personal choice, is becoming a norm and it should be the individual's decision about what role they want to play in the society.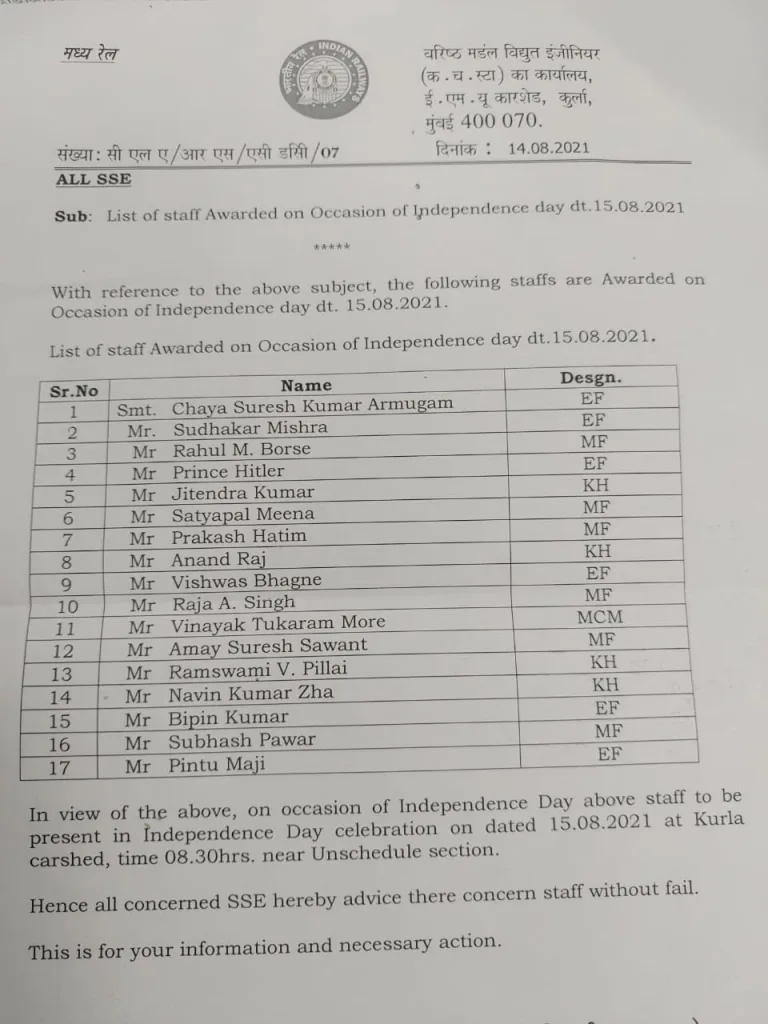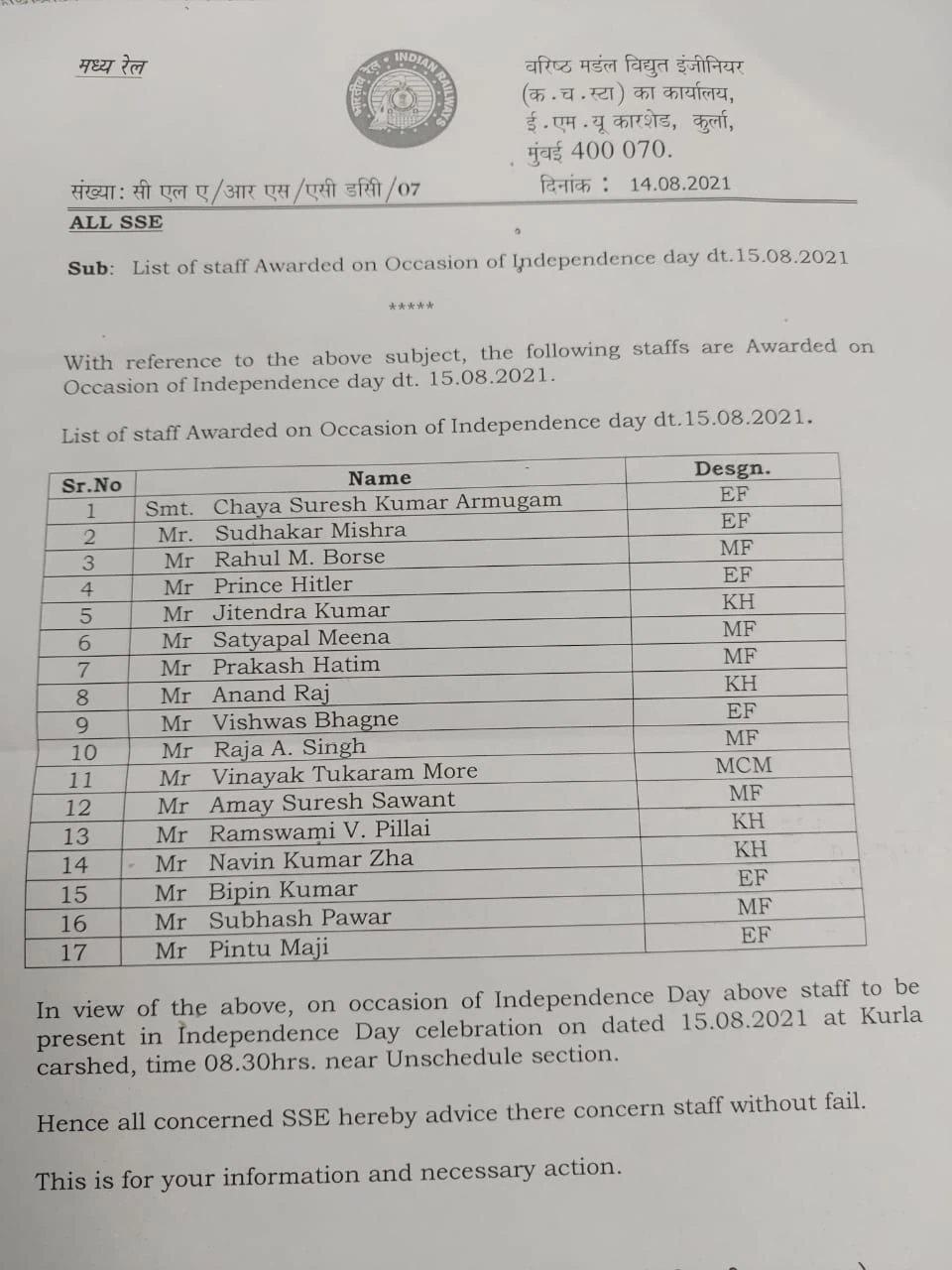 "I feel more women should join the department and be the equal working force they are. But at the same time, the fact that many women are preferring to be housewives and housemakers during this pandemic to take care of their families should also be understandable and equally accepted as essential. I personally took the risk to keep working even during the pandemic, as my kids are very supportive. At the same time, being a single parent, I need to make sure that someone brings home the bread and be an ideal and strong example to my kids, especially for my daughter," Mrs. Armugam said.
On the other hand, she emphasised the issue of some women themselves neglecting the "end number of facilities available for female employees" and not bringing out their full potential as working individuals.
She said, "The Government and the Indian Railways have been taking initiatives to increase the participation of women in the department. There's an end number of facilities available for female employees compared to male employees. But working women are neglecting this privilege. If many such working women choose not to work during the pandemic, or not work to their full potential, it somewhat contributes to developing the stereotype of women being weak and not being able to work under pressure. Hence, I believe that women who have chosen to work should play their roles to the best of their ability to create an ideal image for the future generations." 
Women like Mrs. Armugam, are truly an inspiration to the women of our nation who work towards achieving true equality in society, be it homemaking or working jobs.