Russian Prime Minister Mikhail Mishustin will make his maiden trip to India early next month alongside many Russian Governors, including those from the Russian Far East, to attend the 10th Vibrant Gujarat Global Summit (VGGS). His planned visit follows President Putin's in early December, where the Russian leader clinched dozens of deals with Prime Minister Modi, including the agreement on a whopping 99-paragraph strategic partnership declaration.
Russia envisions India functioning as its primary partner for balancing hemispheric affairs in the increasingly bi-multipolar world order that Sanjaya Baru eloquently articulated. In practice, this can take the form of these two Great Powers coordinating their complementary multi-alignment policies in order to maximize their respective positions vis-à-vis the ongoing New Cold War's American and Chinese superpowers.
If successful, they can inspire other countries to join their efforts, after which Russia and India could jointly lead a new Non-Aligned Movement ("Neo-NAM") aimed at the de facto emergence of the third pole of influence in the emerging bi-multipolar world order. However, to get to that point, they need to prove to others that their recently reaffirmed strategic partnership has impressive heft, especially in the economic dimension that's of interest to so many third parties.
It's this goal that likely inspired Prime Minister Mishustin to plan his maiden trip to India. These two Great Powers already cooperate on a bilateral basis and via third countries like Iran and Azerbaijan through the North-South Transport Corridor (NSTC). However, the most promising vector of their future cooperation in this sphere is arguably the Vladivostok-Chennai Maritime Corridor (VCMC) that Prime Minister Modi and President Putin jointly announced in September 2019.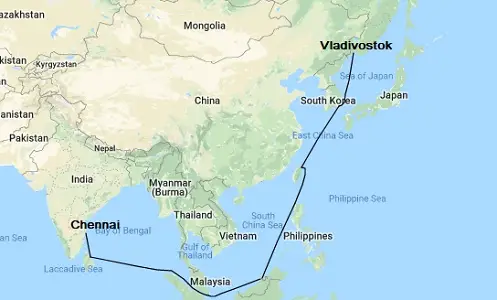 The Indian leader was his Russian host's guest of honour during that year's Eastern Economic Forum (EEF) in the Russian Far Eastern city of Vladivostok. The VCMC's effective implementation was unexpectedly delayed by the global economic consequences of the COVID-19 pandemic, but its resumption will likely begin with a focus on making this an energy corridor. This prediction is premised on the recent energy deals that both sides clinched, including during President Putin's latest trip to India.
Energy can't be the entirety of the VCMC, though, which is why this corridor will inevitably evolve to incorporate the real sector of the economy, most likely first through other Russian resource exports along this route and then through the potential export of Indian-financed industrial and other products. After all, India unprecedentedly extended a $1 billion line of credit to the Russian Far East during Prime Minister Modi's last visit there in September 2019.
This can be put to use to fund promising projects that take advantage of that region's geostrategic location at the confluence of Northeast Asia and the Arctic, which are also priority foci of New Delhi's Indo-Pacific strategy. The VCMC can incorporate investment from other countries like Japan, the Republic of Korea, Vietnam, and Singapore with time. Ultimately, it could serve to connect them with Russia and India and thus create a new Indo-Pacific trade corridor.
Put another way, the VCMC could function as the economic foundation of the envisioned Russian-Indian "Neo-NAM", but it must first prove its viability in order to attract other partners. Prime Minister Mishustin will build upon President Putin's success to help turn this ambitious vision into a reality one step at a time. Step by step and slowly but surely, Russia and India are proving to the world that cooperation with them can help others pragmatically balance between the US and China.