President of the Presidency of Defense Industries, İsmail Demir, said on Twitter that the production of the STM500 submarine, which was designed entirely by Turkish engineers with national resources, will begin with the test production of a durable boat.
Demir wrote that the STM500 submarine would be built with advanced and modern warfare systems, "A historic step in our national submarine adventure. We are starting the production of the STM500 submarine, which was designed by Turkish engineers with national resources, with the test production of a durable boat. The STM500 is designed to be able to serve both in the open sea and in shallow waters. It responds to tactical needs such as reconnaissance and surveillance, special forces operations, and anti-submarine warfare. The STM500 will be equipped with advanced and modern warfare systems."
STM500 Small Size Submarine
Turkish STM500 Small Size Submarine is designed with a displacement of 540 tons submerged (485 on the surface), a length of 42 meters and a range of 4500+ nautical miles. STM 500 is designed according to the class rules to perform submarine warfare, shallow water operations, submarine warfare, special forces operations, mine warfare, intelligence, reconnaissance and surveillance missions.
In addition to its 18-person crew, it can operate at depths in excess of 250 meters for 30 days along with a 6-person Special Forces team, while it has a total of 8 heavy torpedoes and guided-missile firing power with four ready-to-fire torpedo tubes. The waterline length is 4.2 metres, and the max width is 8.5 metres. 
It is speculated that the submarine has an export customer whose identity has not been revealed. Pakistan or Ukraine are suspected to be the launch customer. 
Turkey's own submarine projects
During IDEF 2021, Turkish companies unveiled three submarines of their own design. While STM unveiled the STM 500 and TS17000 submarine designs, Dearsan unveiled a "light submarine" design.
TS1700 submarine
TS1700 is a diesel-electric type submarine with an air independent propulsion (AIP) system equipped with an electric motor and two diesel generators. The TS1700 is designed to dive to a depth of 300 meters. With the aim of minimizing the destructive effects of underwater explosions and impacts, the TS1700, which has a double elastic structure. It can stay at sea for about 90 days with 25+6 personnel. The submarine is capable of firing 16 torpedoes through 8 torpedo tubes.
TS1700s length is 60.14 meters, diameter is 6.50 meters, diving depth is 300 meters, surface displacement is 1517 tons and Submerged displacement is 1740 tons.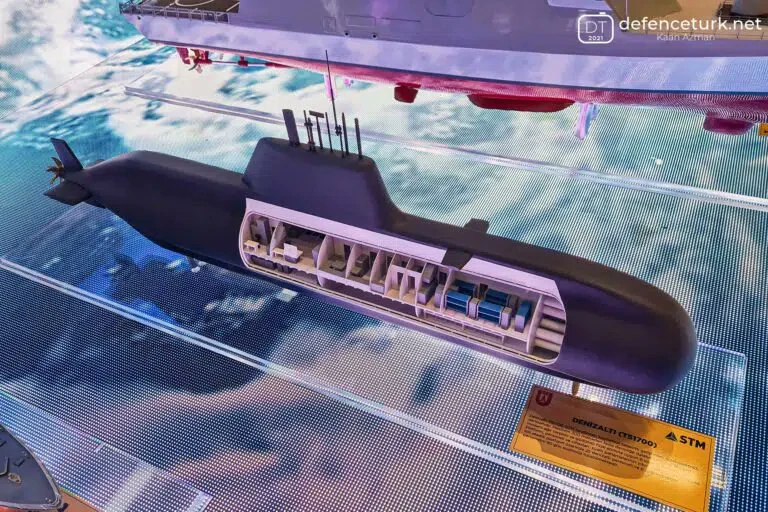 The max speed is 20+ knots and cruising Speed is 4 knots. It can travel a distance of 6000 nautical miles with Diesel Drive, 400 nautical miles on Battery and 7250 miles with Diesel + AIP.
The fuel capacity is 63 tons and clean water capacity is 13 tons.
Sensor and Weapon Systems include LPI Radar, Search and Attack Periscope, Torpedo Countermeasure System and Electronic Support System. Sonar iscludes, CAS, FAS, CTA, PRS, MAS, IDRS, TAS, ONA, Hidrofon and İvmeölçer
It has 8 torpedo tubes, 4 of which are capable of launching guided missiles.
Dearsan Light submarine
Not much is known about the submarine except it is 33.60 meters in length and 3.50 meters in width. The submarine's submerged speed is more than 10 knots,and when surfaced it is 6 knots.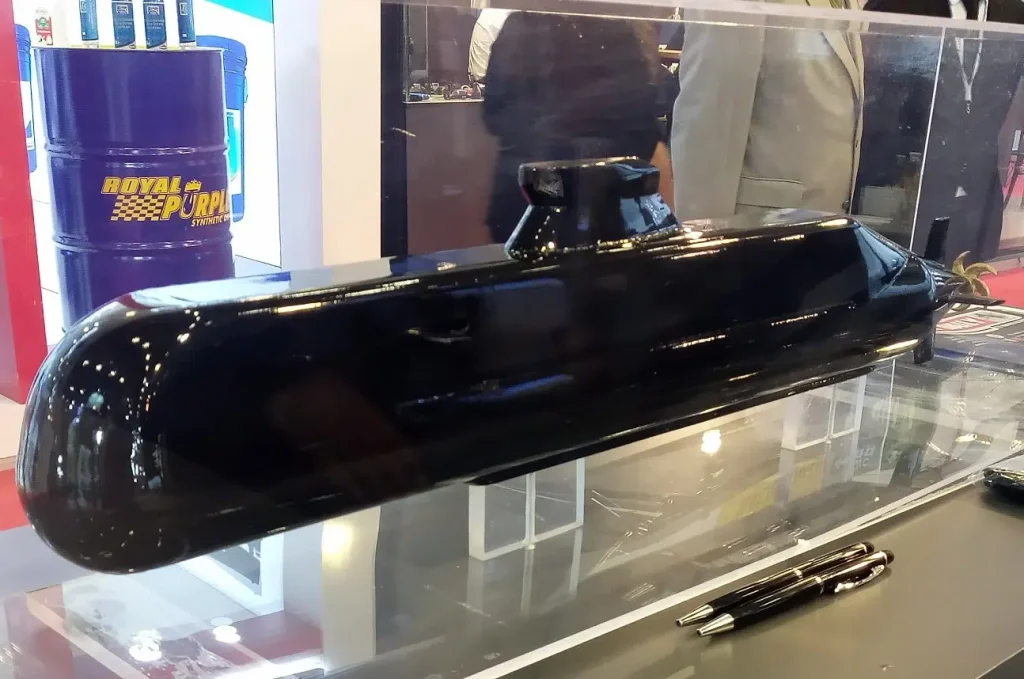 STM's Submarine Projects 
STM profile states that it produces tailor-made and flexible engineering solutions within the scope of design, construction and modernization activities for the surface and submarine platforms of the Turkish Navy and the navies of friendly countries.
Undertaking important tasks in the submarine modernization and construction projects of the Turkish Navy, STM successfully completed the Modernization of 2 AY Class Submarines, of which it is the main contractor, in 2015. STM performs system supply and platform integration activities as a pilot partner in the modernization of 4 Preveze Class Submarines. The company also undertakes critical tasks within the New Type Submarine with Air Independent Propulsion System of Reis Class, which is considered an important step in the realization of Turkey's National Submarine Project. For the first time, in incoordination with STM in 2021, Turkey produced the head part that accommodates submarine torpedo tubes, a feat that only a limited number of countries in the world can produce.
In the export market, STM has been operating as the main contractor since 2016 in the modernization of Pakistan's French-made Agosta 90B Khalid Class submarines. Delivering the first submarine in the Agosta 90B Modernization project, STM continues the modernization works of the other two submarines in Pakistan. STM is also suspected of being involved in the Pakistani X-craft project, a 17-meter submersible.