The Danish Ministry of Defence is in talks with the United States about the possibility of selling surplus Lockheed Martin F16A/B MLU Fighting Falcon fighter-bombers from its Royal Air Force to Colombia and Argentina through U.S. military sales program, the Foreign Military Sales (FMS), at a unit price of 15 million dollars, which would not include weapons or pods.
The offer comprises six planes for Columbia and twelve jets for Argentina. Argentina additionally will require a supply of air-to-air and air-to-surface weapons and at least 1 Boeing KC-135R Stratotanker in-flight refuelling.
F-16's for Colombian Air Force
In the Colombian case, F-16's would solve the permanent delay in acquiring a new combat aircraft. The country has evaluated Eurofighter Typhoon, the Dassault Rafale and the Saab Gripen. Some analysts consider that these models have little chance of sales for economic reasons. It would be better to incorporate second-hand F-16s, complemented by next-generation light attack aircraft like the Leonard M-346. There have even been a possibility that it could receive F-16s operated by the South Korean Air National Guard.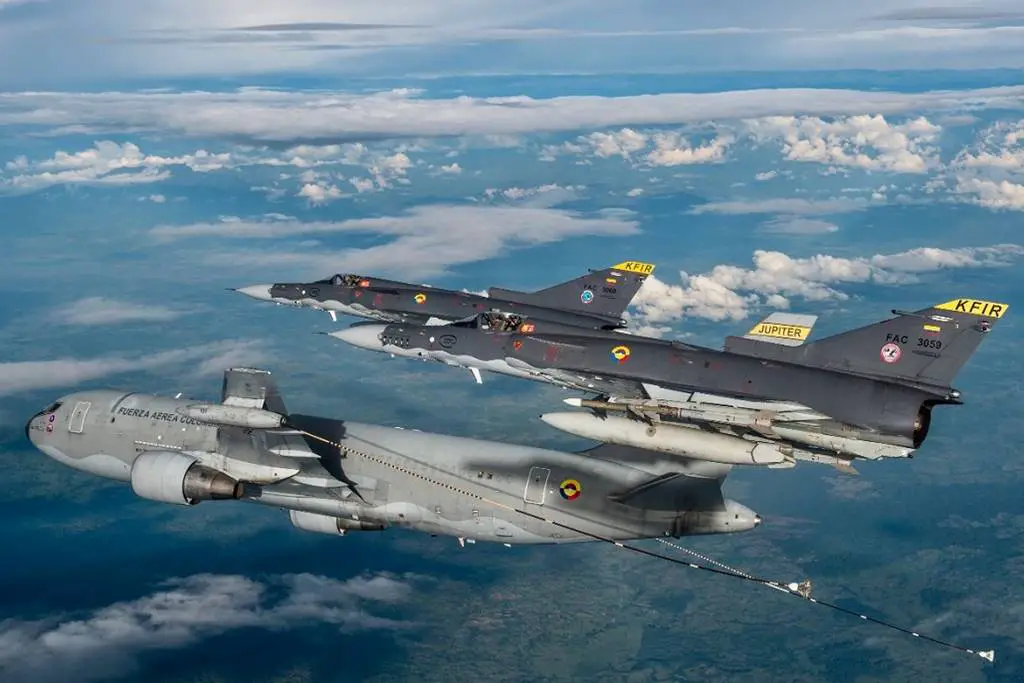 Fuerza Aérea Colombiana (Colombian Air Force) urgently needs to find a replacement for its outdated IAI Kfir of Israeli origin. Another option would be to buy F-16V Block 70 at a later stage. 
The U.S. offered Columbia F-16C / D Block 50 in July 2021, coinciding with the Lightning VI international exercises. 
Despite the announcements by the Colombian government to indefinitely suspend acquiring new aircraft, the companies and governments of various countries that took part in this lengthy process continue to submit their commercial proposals. 
Even with many options, the Colombian government, at least in the short term, has not changed its position on the suspension of the purchase of new aircraft to replace the current fleet of obsolete Israeli Kfir fighters.
The case of Argentinian fighter aircraft acquisition
The Argentine case is more complex since there is pressure from London not to sell combat aircraft as a legacy of the conflict over the Falkland Islands. It has prevented Argentina from closing negotiations concerning the Korean KAI T/A-50. The British exercised a veto over components T/A-50 has onboard. The same is true with India's LCA Tejas pitch, which has installed Martin-Baker ejection seats. The only options left for Argentina is now is Chinese or Russian. To prevent further penetration of Beijing and Moscow in South America, Washington is persuading that London is not opposed to selling second-hand F-16s to Argentina.