Battle of "Iron Swords" and "Flood of Al-Aqsa" in a fresh, yet familiar, flashpoint. Things have reached a critical level in the area. It is fairly well known about the might and capabilities of the Israel Defence Forces (IDF), but far less is known about the Hamas military's collection of weapons and other military hardware. 
Gaza is bounded on three sides by Egypt, Israel, and the Mediterranean Sea. Under the border walls, Hamas has dug a vast network of tunnels. Even with strict Israeli surveillance, weapons entered the Gaza Strip or passed through it. It appears that Egypt and the sea were the primary armament supply routes. Undoubtedly, parts of the armament systems were put together, if not entirely made, in the Gaza Strip.
Iran appears to be the key supplier to Hamas. Abu Ubaida, a military wing member of "Izz ad-Din al-Qassam," thanked the Islamic Republic of Iran for giving them weapons, money, and other supplies at a big event on October 8. Abu Ubaida said Iran has helped Hamas by giving its military wing rockets to destroy Israeli bases and anti-tank missiles.
Qassam Rockets
Qassam rockets, Hamas's signature and most powerful offensive arsenal in the Gaza Strip are frequently fired into Israeli territory. While Qassam rockets were the most common in the past, Palestinians now manufacture and use rockets with diameters ranging from 107 to more than 300 millimetres.
Videos, images and reports suggest that Hamas employs a variety of rocket systems, including mass-produced rockets like the Iranian variants of Chinese Multiple Launch Rocket Systems (MLRS) "Type 63," which have a range of up to 5-8 km and home-built rockets like the Qassam-SH or larger calibre Ayyash-250, which have ranges of up to 80 km or even more than 200 km.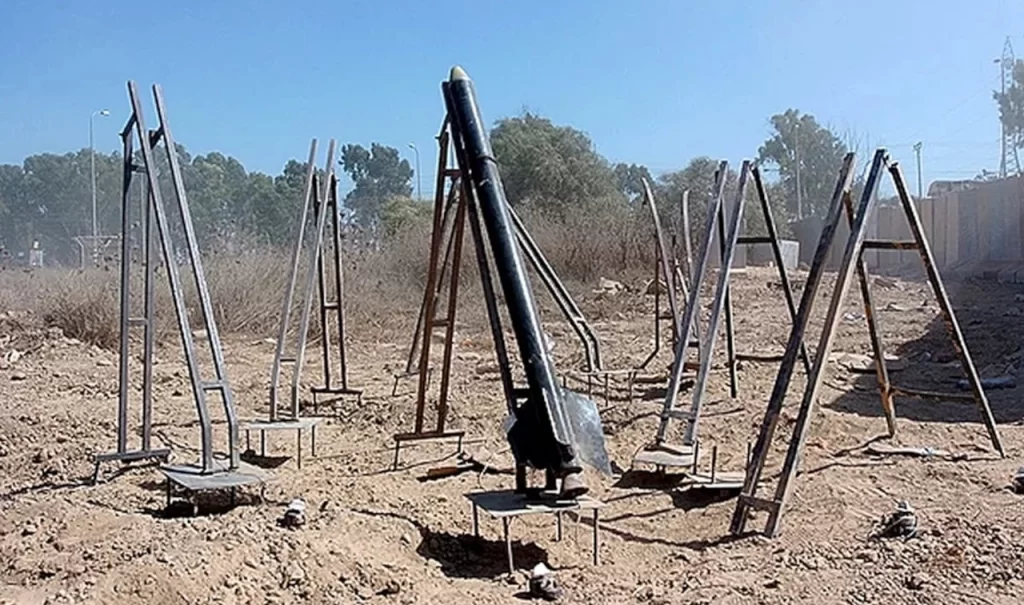 The Palestinians can't mass-produce big rockets, so they make up for it by stockpiling small rockets and using them to attack concentrated regions.
The Israeli Iron Dome missile defence system suffered as a result. During mass attacks, the system can run out of rockets and ammunition. This is especially true when the attack comes from nowhere and strikes weak points.
Not all of Israel's major cities can likely be protected by the Iron Dome. The Iron Dome is not foolproof, and Hamas can use long-range missiles to threaten almost all of Israel.
Anti- Aircraft Systems
Hamas has released footage showing their MANPADS (man-portable air-defence systems) being used against Israeli Apache helicopters, comparable to the Soviet Strela-2 MANPADS. The use of Soviet-era MANPADS has persisted in the region. In addition to widespread use in Syria and Libya, these weapons have been exported to other countries and widely deployed elsewhere. These weapons were first delivered to Hamas in the 1980s from the stockpiles of former Soviet-aligned states.
These systems' continued functionality necessitated installing new power sources and perhaps replacing other components and parts. Although they may not be optimal for opposing cutting-edge helicopters with jamming and thermal emission reduction systems, the obtained portable anti-aircraft weapons are relatively combat-ready. However, these dangerous defensive measures are not completely ineffective against air attacks.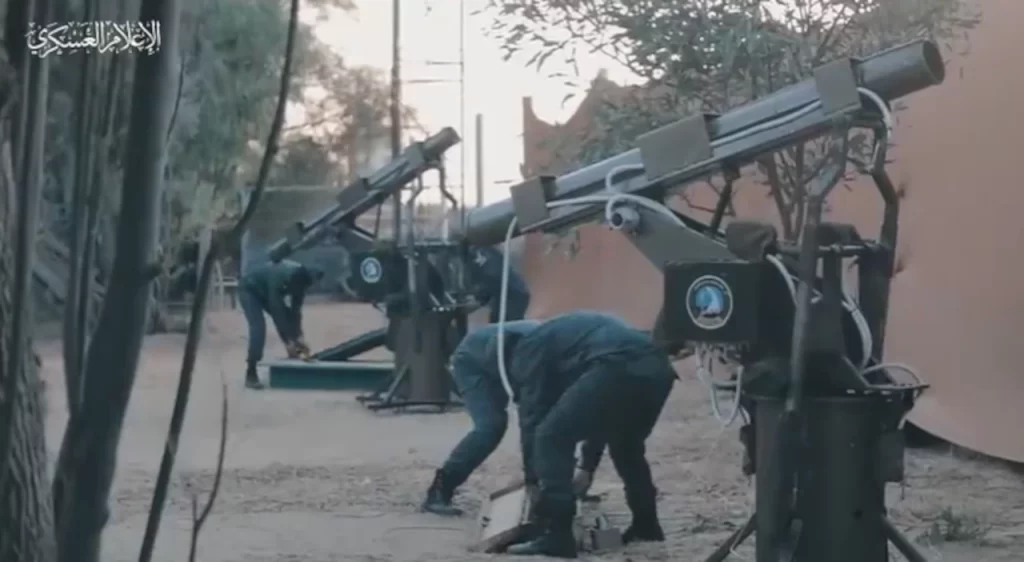 Notable is the Palestinian air defence system Mutabar-1, which debuted in October of this year. Multiple individual launchers, similar to the Grad rocket system, are remote-controlled to fire out unguided rockets. These rockets have fuses that trigger an explosion at a predetermined height. A salvo launch at a predetermined altitude is supposed to produce a shrapnel cloud, and the launchers can be remotely guided in both azimuth and elevation.
Since Hamas lacked access to sophisticated missile guidance technology, its engineers made do with what they had. As a result, they had to improvise an anti-aircraft system using unguided rockets. Although it is not very successful, it is a relatively cheap option that could be dangerous.
Drones
Hamas fighters displayed many "Zuari" kamikaze drones in October, another new development. In the conflict's early days, at least 30 drones were used to attack targets inside Israel.
The "Zuari" drones are fixed-wing UAVs that can be launched from small catapults and have a range of several tens of kilometres. Their intended victims are probably surveillance equipment, light-armoured vehicles, and Iron Dome missile launchers.
These drones require either helicopters or short-range air defence systems for interception, making them highly effective when employed with rockets and mobile battle units.
The Iron Dome system may not be as efficient against these drones as it is against rockets like the Quassam, a major concern. The development of these drones is widely attributed to the help of Iranian engineers working with the Palestinians. The Iranian government has had remarkable success developing multiple families of kamikaze drones.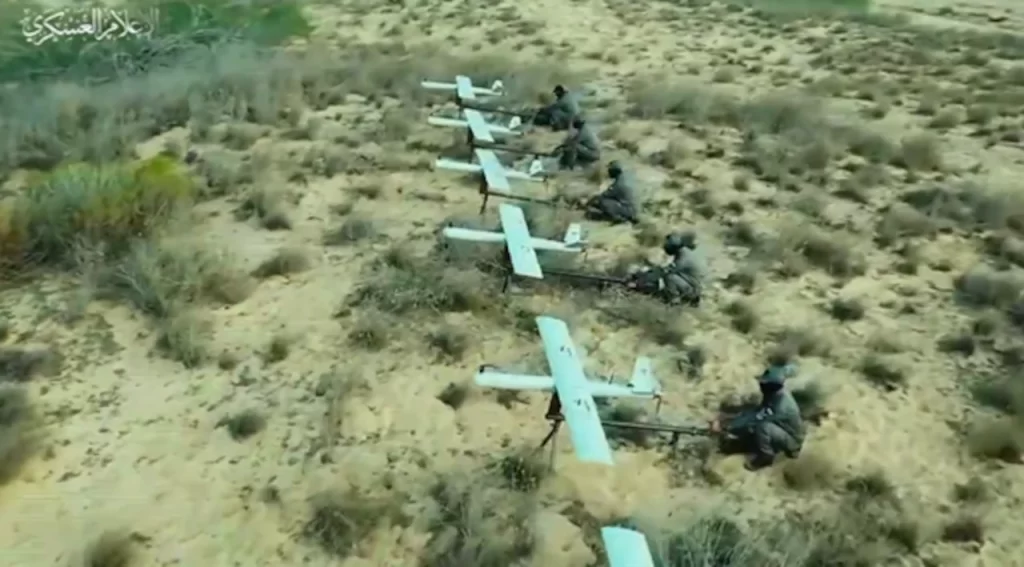 Threatening Israeli defences with a combination of drones, missiles, and mobile warfare tactics is complex and difficult.
These drones were developed by the Palestinian Al-Qassam Brigades in Syria and named after their Tunisian engineer, Mohamed Zuari, who worked on enhancing offensive capabilities. In 2016, he was killed by Israeli secret service agents.
It's possible that Hamas doesn't develop or make cutting-edge weapons. Compared to the best examples in the world, they are vastly inferior. However, they save money and don't need fancy labs and cutting-edge equipment. The coordinated deployment of these improvised innovations can sometimes be highly effective in combating sophisticated Western and Israeli weaponry, which is an important consideration. As a result, they can carry out the lethal functions for which they were intended.