On December 3, 1971, Lt (L) Pramod Chander Bhasin, trained on missiles in Vladivostok in the 1960s, tested the liquid-fueled missiles at Porbandar base before the Osa class boats sailed off to attack Karachi, following CNS Admiral SM Nanda's war plans. Since not one missile failed, Bhasin became the youngest VSM awardee. He finally retired as a Vice Admiral.
Bhasin spent over a decade and a half with the secretive indigenous Advanced Technology Vessel (ATV) project, which was set up in 1983, under a subterfuge to build nuclear submarines backed by Dr Raja Ramana, who was the Chairman of the Department of Atomic Energy (DAE) and Dr V S Arunachalam, Secretary, Defence Research and Development Organisation (DRDO). The funding and support came from Prime Minister Indira Gandhi's Office (PMO) and the DAE. 
In an interview, Bhasin explained how the Navy had followed 'Self Reliance' since the early days to acquire designs, absorb the nuances in shipbuilding and then design platforms in India.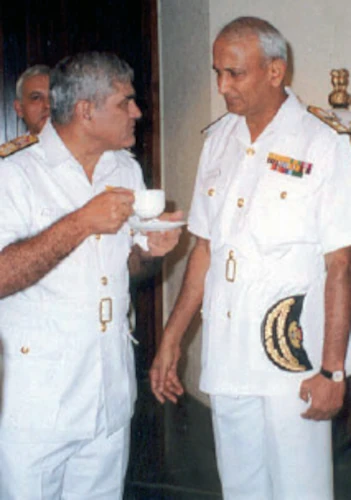 In the 1960s, the Indian Navy set up the Design Directorate and a Naval R&D called Weapons Electrical Engineering Systems Establishment(WEESE). WEESE began with constructing eight 3,100 ton Leander class ships at Mazagon Docks Shipbuilders Ltd (MDSL). The design was acquired from Yarrow Shipyard of Glasgow and Vickers UK. The Navy's designers tweaked the designs to make broad-beamed Leanders. It came as a surprise to the Royal Navy when the First Sea Lord Admiral Sir Michael Pollock sailed on INS Nilgiri off Mumbai in 1973. India acquired Fast Attack Craft (FAC) and Missile ships designs and established an indigenous shipbuilding ecosystem. These efforts contributed to the Navy's successful nuclear submarine programme after the MDSL built INS Shishumar and INS Shalki submarines in the 1990s.
Admiral Sergei Gorshkov was impressed with the Indian Navy's ingenious Termit attacks off Karachi in the 1971 war. Gorshkov consented to train the Indian Navy on a nuclear submarine. The nuclear submarine crews were trained in the Bay of Ulysses and housed their families at Vtoraya, a suburb in Vladivostok. Indira Gandhi negotiated to lease K-43, a 5,000 ton Charlie class Soviet SSN. On January 5 1988, Capt RN Ganesh, who later became Director-General ATV, with the Indian crew commissioned K-43 of project 670 as INS Chakra (S-71) despite U.S. objections. PM Rajiv Gandhi intervened with President Gorbachov for the handover of the submarine. INS Chakra sailed from Vladivostok, mostly underwater. PM Rajiv Gandhi received Chakra off Vishakhapatnam on February 2 1988.
INS Chakra operated with few Soviet Navy safety crew in the waters of the Indian Ocean Region till 1991, covering 133,000km with 430 reactor operation days, and fired five 63 km Amethyst missiles and forty-two Cet/Test torpedoes. A Terenov, INS Chakra's supervising Russian captain wrote, "The Indian Navy's ATV nuclear submarine base at Vishakhapatnam and the crew are as good as any in Russia." He also paid tributes to the professionalism of the Indian Navy's submariners. 
Lt Cdr Prakash Patwardhan, KeDE3, 'Kluch" diving/surfacing system operator, once saved INS Chakra from sinking by blowing the main tanks. INS Chakra had lost power due to a fire in the switchboard. INS Chakra surfaced like a balloon and limped back to Vishakhapatnam base. She was repaired by the Naval Dockyard with Soviet help.
The Indian government advanced funds to India's Bhabha Atomic Research Centre (BARC) at Mumbai to train Indian Navy officers and design a miniature uranium reactor and construct a shore training half submarine (S1) with a shaft, gearbox and a propeller at Kalpakam, South of Chennai at the Indira Gandhi Atomic Research Centre (IGARC). S1 was assembled by MDSL. Anil Anand, a France trained reactor scientist and late Dr Sekhar Basu, who later served as the Chairman of the DAE, along with the naval officers, commissioned the reactor (S1) on September 22 2006. 
The ATV steering committee chose and purchased from Rubin Consultancy the Dmitriyevich Spasskiy 6,500 tonne 83 MW single reactor design and intellectual property rights (IPR) known as Normative (limits) to change the design within restrictions. The Navy pushed for purchasing the S2 design and Russian consultancy for safety after the Leander experience and watching the slow progress of designing the LCA and Arjun Tank. It allowed the Navy to learn how to tweak the designs in the future. Bhasin revealed that ATV had created an SSN design based on the original design in his interview.  
The Navy insisted on a public-private partnership strategy to develop Arihant (S2) (PPP). The ATV's apex management board persuaded the Prime Minister that a PPP model would allow India's private sector, MSMEs (micro, small and medium enterprises), high-technology laboratories, and civil entities to build sub-assemblies to drawings and digital control systems. It chose Larsen & Toubro Ltd (L&T), which had a heavy engineering facility and experience building nuclear plants and small ships, to make sub-assemblies to drawings and digital control systems. From the Navy's huge Naval Dockyard at Vishakhapatnam, L&T leased a dry dock and a covered jetty. With the help of the DRDO, a Ship Building Centre (SBC) and workshops were established to build nuclear submarines with basing and support facilities and a nuclear safety training school modelled after the Soviet model. The INS Varsha, a brand nuclear installation with atomic reactor facilities, is set to open south of Vishakhapatnam.
(Edited by Saisaranyya Menon)