Production of the world's first pure EV hyper GT "Battista" has started at the newly established "Battista Atelier" in Cambiano, Italy. The atelier is located in Piedmont, Italy. Automobili Pininfarina started as an Italian luxury car maker. 
Battista will be produced in a limited edition of 150 by craftsmen in a 2,300-square-meter dedicated atelier. 
Battista owners will be pampered by twenty-five luxury partners participating in Automobili Pininfarina's Global Retailer Network and Automobili Pininfarina's Client Relations specialists.
Battista Production process
The Battista Atelier production is divided into 14 production zones and quality assurance zones. While incorporating modern technology, such as custom-manufacturing several mounting devices, Battista's fine screws are inherited at this location, using the old-fashioned method and tools of ensuring accuracy by tightening with an air driver. 
It takes ten weeks to make Battista, but in the case of "Battista Aniversario", it takes 18 weeks, including a hand-painted finish. Ten craftsmen make one Battista over 1,250 hours. The Battista Aniversario requires custom-designed equipment and finishes and can take up to 1,340 hours.
Battista's rolling chassis is sent to the first zone. This rolling chassis consists of an electric powertrain, a T-shaped battery, a carbon fibre monocoque and the entire electrical system. This zone is evaluated according to the strict quality standards of Automobili Pininfarina, and its condition is recorded. Battista passes through many electronically controlled gates to completion in the Cambiano centre.
The primed white body is combined with the monocoque, and the appearance of Battista begins to take shape. A roof called "Goccia" (Italian for "drop") surrounds the cabin to ensure structural strength and rigidity. The body is mounted on a device manufactured for this process, and all dimensions and parameters are measured and recorded over two days with unprecedented margins of error. For the past 20 years, this place has been doing this and creating famous cars. After the measurement is completed, the body is removed from the chassis and sent to a dedicated painting process.
Painting usually takes 3-4 weeks. With a new paint compound and a multi-layer metallic finish, we will paint one of 28 colours inspired by Piedmont, Italy, the home of Automobili Pininfarina. Each panel is attached to a custom-made device for painting to ensure colour matching. Install dashboard and interior items while finishing the exterior paint.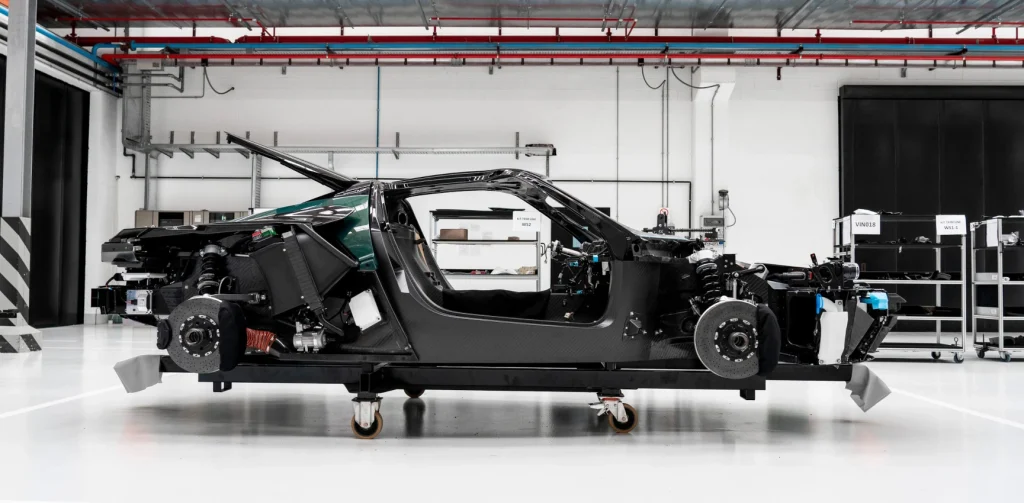 In the fifth zone, it takes two days to assemble up to 80% of the entire vehicle. Artisans use ergonomically designed lifts and custom jigs on the lifts to achieve tight tolerances such as wheel arches and flat underfloors. Intricately shaped butterfly doors are also installed in this process over two days. Sophisticated doors are an integral part of the vehicle structure. The equipment is designed to support the door's weight and allow it to be tilted in multiple directions for reliable alignment.
Next, we will carry out the first end-of-line check and commission. Use custom software and tools to check that all criteria are met with the vehicle in "factory mode". Then switch to "customer mode" and check that the actual functions such as battery charging, infotainment, and the sound "SUONO PURO" originally developed by Automobili Pininfarina are working correctly.
At the final workstation in the atelier, the Battista is lifted to complete wheel and steering alignment over 24 hours. Each vehicle is then sent to the water management area to ensure that water does not enter the vehicle, regardless of strength, before final approval and completion of the digital log.
The quality check of the end of the line is handled by experts who are particular about perfection, and carry out functional tests, thorough appearance evaluations in light tunnels, road tests and so on. The GT test program for Battista evaluates each vehicle on a dedicated route that assumes the various types of roads and surfaces the owner will drive. Each Battista is verified in detail by the same test driver. At the end of the test program, the Battista will be returned to Cambiano, the protective wrap will be removed, and after a final aesthetic inspection, it is delivered to the client.
Bespoke for each owner
Battista owners can visit the Battista Atelier, meet the team that makes their own Battista, work with them to choose their favourite design and see how it's made. This commissioning service is a privilege that only Battista owners can experience.
Next to the production area is a commissioning lounge where the owner can specify various options, such as exterior and interior colour, material, etc. They can also select the "Battista Exterior Jewellery Pack" prepared for the exterior and specify the brake calliper's colour and the wheel's custom finish. There are as many combinations of exterior specifications as "13.9 x 10 to the 18th power.
In addition to colours, the interior has 128 million combinations of materials such as leather, Alcantara, aluminium, and engraving, making it the only Battista in the world.