At an event for financial analysts, AMD not only talked about the innovations and performance levels offered by Zen 4 processors but also looked into its slightly more distant future, which implies the release of Zen 5 processors by the end of 2024. There are many new components, including 3nm technology.
The company's technical director Mark Papermaster revealed an enlarged picture of AMD's plans for developing processor architectures. First of all, the Zen 4 and Zen 5 processor families will also have models with 3D V-Cache memory. Since this slide does not distinguish between client and server processor architectures, the carriers of the Zen 4c and Zen 5c architectures are also placed on a par with the rest. Logically, they should be offered in the server segment, offering processors optimized in terms of specific performance for high-density servers.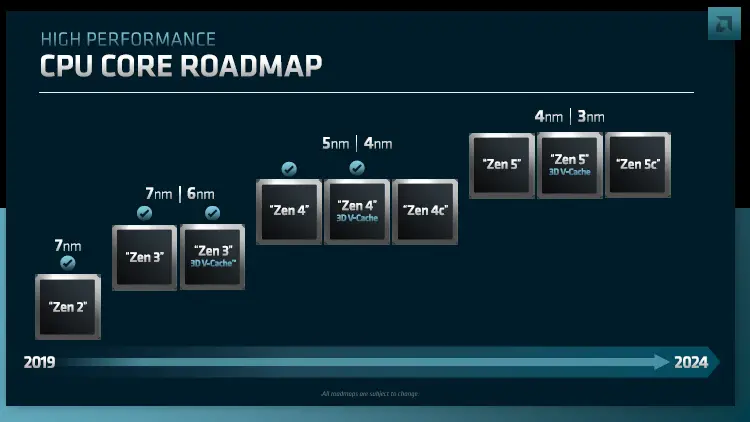 Notably, the Zen 4 generation processors will be produced in both 5nm and 4nm technologies. For the Zen 5 generation, a combination of 4nm and 3nm technologies will be relevant. Whether it will manifest itself in the composition of specific models or the lithography stages will replace each other sequentially throughout the life cycle of processors is not specified. In principle, the chiplet layout allows both options.
The debut of the Zen 5 architecture is tied to 2024. It is reported that this will be a new architecture from an evolutionary point of view, which will offer new optimizations for artificial intelligence and machine learning systems. Both performance and energy efficiency will be improved.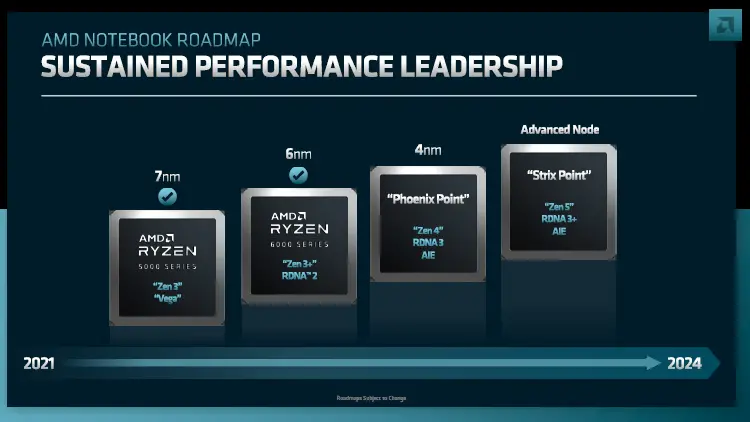 In a press release dedicated to the analyst event, AMD mentions the code names of future generations of processors. So, in the mobile segment in 2023, 4nm Phoenix Point processors will debut, combining the Zen 4 computing architecture and RDNA 3 graphics. In 2024, they should give way to Strix Point processors with Zen 5 architecture and integrated RDNA 3+ graphics. As specified, Phoenix Point processors will use a chiplet layout, which AMD has neglected in the mobile segment. The manufacturing process for Phoenix Point components is not specified, but it is noted that it will be more advanced compared to 4nm.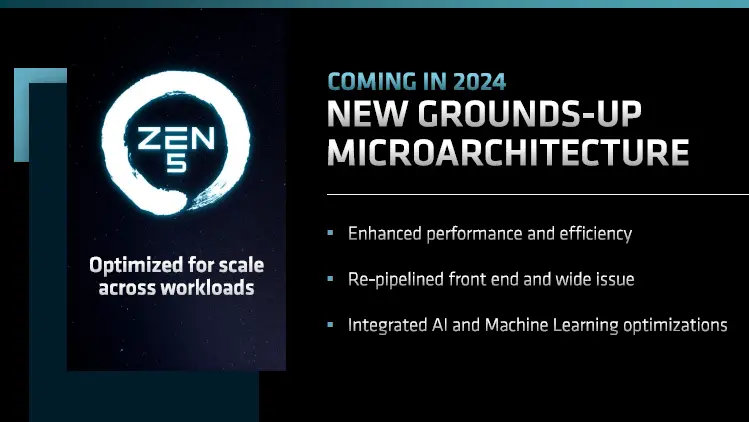 In the desktop segment, the Ryzen 7000 processors with Zen 4 architecture should be replaced by Granite Ridge processors with Zen 5 architecture, but their announcement dates are not specified. It is only clear that they will be released before the end of 2024. As part of the Zen 4 architecture, 5nm processors from the Ryzen Threadripper family will be introduced before that. Moreover, models with 3D V-Cache memory will also appear in the Ryzen 7000 family.