Big Boss OTT has achieved its first winner. After tons of fights, drama, laughs and some amazing memories, Divya Agarwal lifted the trophy as the first winner of Big Boss OTT. Divya won the coveted trophy of Bigg Boss OTT and took home prize money of Rs 25 lakh. The queen of Big Boss OTT was seen celebrating her win with her boyfriend Varun Sood and her Rakhi brother Rannvijay Singh.
Divya won the coveted trophy of Bigg Boss OTT and took home prize money of Rs 25 lakh.
Divya celebrated her victory with Varun Sood and Ranvijay Singh. Ranvijay's brother Harman Singha shared on his Instagram story where the couple can be seen enjoying the victory. Divya still seems in shock, and her boyfriend Varun is proud of her.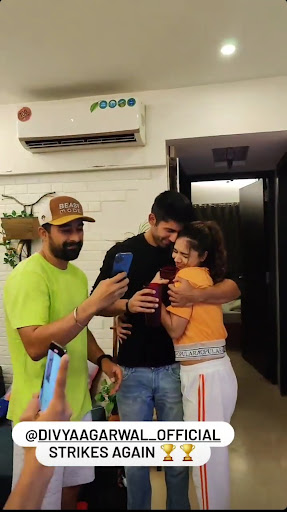 The journey of Divya Agarwal in the Big Boss OTT house was a marvellous one. She entered the house alone with no connection, made some great friends, and had plenty of arguments with Prateek Sehajpal. During the initial stage of the game, Divya connected with Zeeshan but continuing this connection was not in her faith. She was destined to survive alone in the game. After Zeeshan Divya had a tough time getting along with her housemates. There were even times when Divya had to stand alone in front of the entire house. She had a bittersweet relationship with Shamita Shetty. Rakesh Bapat and Divya shared a great bond. Her relationship with Prateek, Moose Jattana, and Nishant also faced many trials, but Divya, being one of a kind, faced all the odds with a gigantic smile. She is indeed one brave girl. A true fighter. Divya proved to be the one and only winner of Bigg Boss OTT. Who cares if she had a good relationship with her co-contestants or not? She indeed had the best relationship with her audience.