My association with naval airfields on the East Coast started in 1981 when I was commanding INS Katchall. One day, when my ship was under refit, FOC-in-C East, VAdm MK Roy, rang up and asked me to join his office, as his NA was going on urgent leave. During those two months, we discussed the lack of naval air stations in ENC, with merely one helicopter flight operating from Naval land just outside Vizag airport.
Soon thereafter, I got transferred to NHQ as DDNAS, where my responsibilities covered all air stations and adjoining lands. This resulted in many meetings with Mr Premnath, DDGCA. Fortunately, he was most understanding and agreed to our flying regularly from Meenambakkam, as also the use of DGCA maintenance facilities and hangar next to OTA. He also mentioned that DGCA could hand over two other airports, but with a proviso that civil operations would continue from them. That is how INS Dega (at Vizag)and INS Utkrosh (At Port Blair) got commissioned. After I moved back to Vizag as COPO in 1982, my discussions with Mr Premnath continued. These ensured that the Eastern Naval Command got enclaves/hangars at Bhuvaneshwar and Kolkatta, as also DGCA's unused airfield at Ramnad. (Now INS Parundu)
However, the take-over and build-up of Arkonam, which was one of many airfields built along the Indian coastline during WW II, remains truly historic! Though I knew some facts about RIAF's operations, because I was looking for authentic data, I could think of no better person than Jagan Pillarisetti, who is an absolute authority, on maintaining excellent data about all flying in India. His inputs included the fact that three pilots, who became Chiefs of Air Staff, AM Aspy Engineer, MIAF Arjan Singh and ACM Moolgavkar all flew from Arkonam.
My inputs about IAF operations include:-
The first presence of aircraft at Arkonam was when No.2 Sqn moved there by rail on 17th May '41, operating Westland Lysanders from presumably a grass strip, for exercises in South India.
During Exercise 'Clive' in July '42, Flt Lt Goyal, narrates his actions of a very unusual incident:-
"My stint with No.2 Squadron was uneventful, except for one incident during a camp at Arkonam. We were flying Lysanders when agitating local freedom fighters lay in front of a military train to stop it. As this started happening often, one day the British Commander came up with a startling request, "Would you fly low over them and frighten them to get out of the way so that the train can move? If necessary, fire on the side of the tracks, but don't hurt anybody." I was shocked! How could I do this to frighten my own patriotic Indians? So I told him," Would you do this in England?" He just put his head down, and said, "No no, it is okay!"
From 08-12 Dec'42, No 1 Sqn under Sqn Ldr Goyal flew ten aircraft to Arkonam to take part in Exercise 'Minx'.
The formal order to raise No 10 Care and Maintenance Party, RAF (CMP) at Arkonam (under 225 Group RAF) was issued on 17 Nov '42, with Pilot Officer N Bhagwandas commanding this CMP and Arkonam. Two years later, this CMP shifted to Bobbili in Andhra Pradesh.
Two concrete runways were constructed around Nov / Dec '42.
After NHQ decided that IL-38s would operate from Arkonam, GOI transferred this airfield to the Navy in 1972 and we took over 2280 acres of land in 1975. (Most under Emergency Clauses). Even though the IL-38 Sqn got commissioned on 01 Oct '77, no follow-up happened at Arkonam, which somehow remained on the back-burner!
During his visit to Chennai in end 1983, FOCinC East, VAdm Roy visited Arkonam in a helicopter, with Cdr KV Vijaygopalan (CWO) and me. We saw a totally barren strip, with no boundary walls and villagers using footpaths across the runways as shortcuts to Arkonam city.
On our return to Vizag, VAdm MK Roy immediately ordered a Board of Officers with me as President, Cdr Vijaygopalan and nine specialists to develop an airbase for TU-142s. We stayed at INS Adyar for over three weeks (27 Aug to 15 Sep '84) and made regular four-hourly road-trips to Arkonam and back. Our final Board Proceedings (BPs) were over 500 pages.
In these, Arkonam was divided into six sectors:-
a) Operational areas, with hangars, dispersals, workshops and airstores and ample scope for expansion.
b) All offices, ATC and hospital in the centre.
c) Officers' Mess and accommodation, with an Institute/golf course within walking distance.
d) Multi-storied flats for 1500 sailors, parks and gardens. (Though the manpower sanctioned was only 580, PMB approved housing for the sanctioned strength Thus, for the first time in IN history sailors chose which house/ floor they wanted!)
e) Accommodation for in-living sailors and DSC personnel.
f) Schools, canteens, cinema and recreational facilities were created at the centre of all residential areas.
Notes.
1. Initially, the Board considered a subway under the runway. However, because of water-logging during heavy rain, this idea was abandoned. The entire operational area was double-fenced for security reasons.
2. Safety zones around armament magazines and fuel dumps were at safe distances from all villages.
3. Many IAF units came to Arkonam for flying. They were impressed with the phased areas and took back ideas!
4. Although the Board realised that there was adequate underground water at the airfield, we strongly felt that this may run short in the long term and had suggested an underground pipeline on government land from Palar River. Fortunately, MOD agreed to a 38 km underground pipeline from Palar River to Tirumalpur, (where two bore-wells were also sanctioned) and then onto Rajali, at a cost of over one Crore. This has ensured that even with future expansions, Rajali will never run out of water.
5. Since land was barren, the airstation got a special sanction of Rs 1 Crore for mangoes, coconuts, tall flowering trees along double roads, and shrubs on road-dividers. (Today, this barren land looks like a forest!)
6. A water-treatment plant. Though planned for drinking, because of personal apprehensions, this water was used only for gardening.
7.  A road, outside the boundary, from the villages to Arkonam. Since this increased the distance by 2 kms, the Govt granted an additional bus route.
8. Even after three decades, very few changes have been made to our original BPs.
Though VAdm Roy retired in March '84 and joined MoD for the nuclear submarine project, his dream to activate Arkonam remained! Then, since he had studied in Tamil Nadu, his command over Tamil helped tremendously, including with President Venkataraman, who was from his college. He was also very close to Shri NN Vohra, Additional Defence Secretary. Thus, with him in Delhi and the three C-in-Cs (East) who succeeding him, Vice Adms JG Nadkarni, SC Chopra and VPS Shekhawat, this project remained on fast-track. CCPA approved it on 19 June 1986 with two Committees (Project Management Board – under Addl Defence Secretary and Project Management Authority – under the Project Officer) and sanctioned Rs 99.24 Crores.
To take my plan further, three additional naval officers were also sanctioned by the MoD. They were Capt KV Vijaygopalan (Project Officer), Cdr DC Joshi DDNAS (for speedy movement of files within MoD) and LCdr AM Thyagarajan, Deputy Project Officer, at Arkonam. Even though not entitled, the first two were given a blanket sanction of twelve air-tickets annually between New Delhi and Chennai, as also financial powers. (Many with ex-post-facto sanction of the Project Management Board -PMB).
To ensure fast completion of all works, the Chief Engineer (Madras), Brig LD Sharma issued directives to CWE Arkonam, Mr Sudesh Dhiman and all MES officers under him. In fact, they got their MES Officers' Mess ready in record time, with the Quarterly PMB meetings being held there, with monthly meetings in Delhi.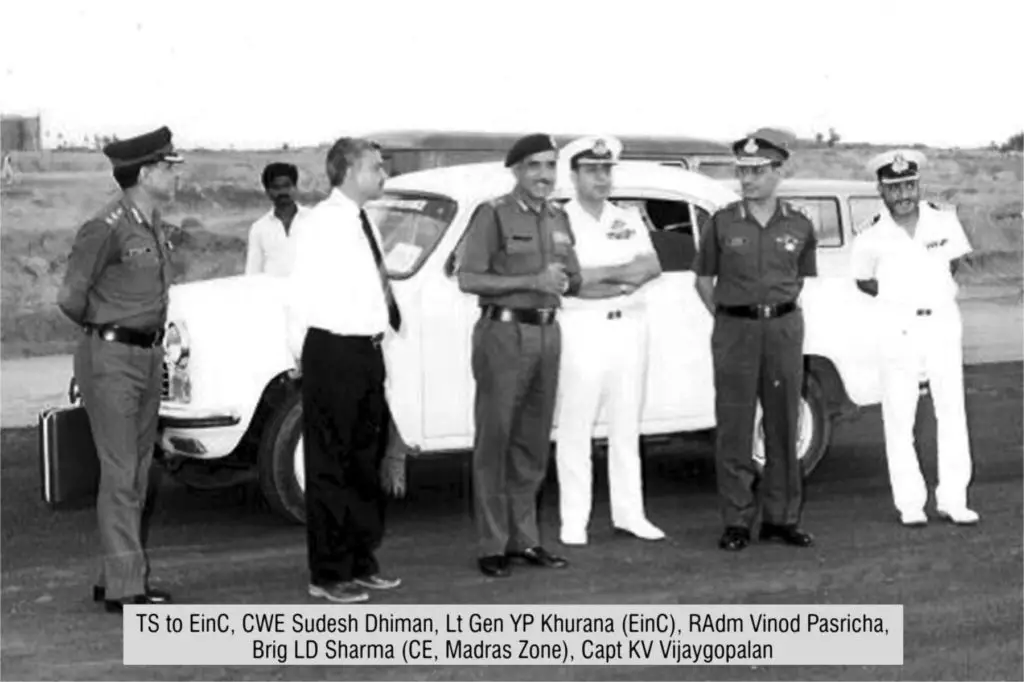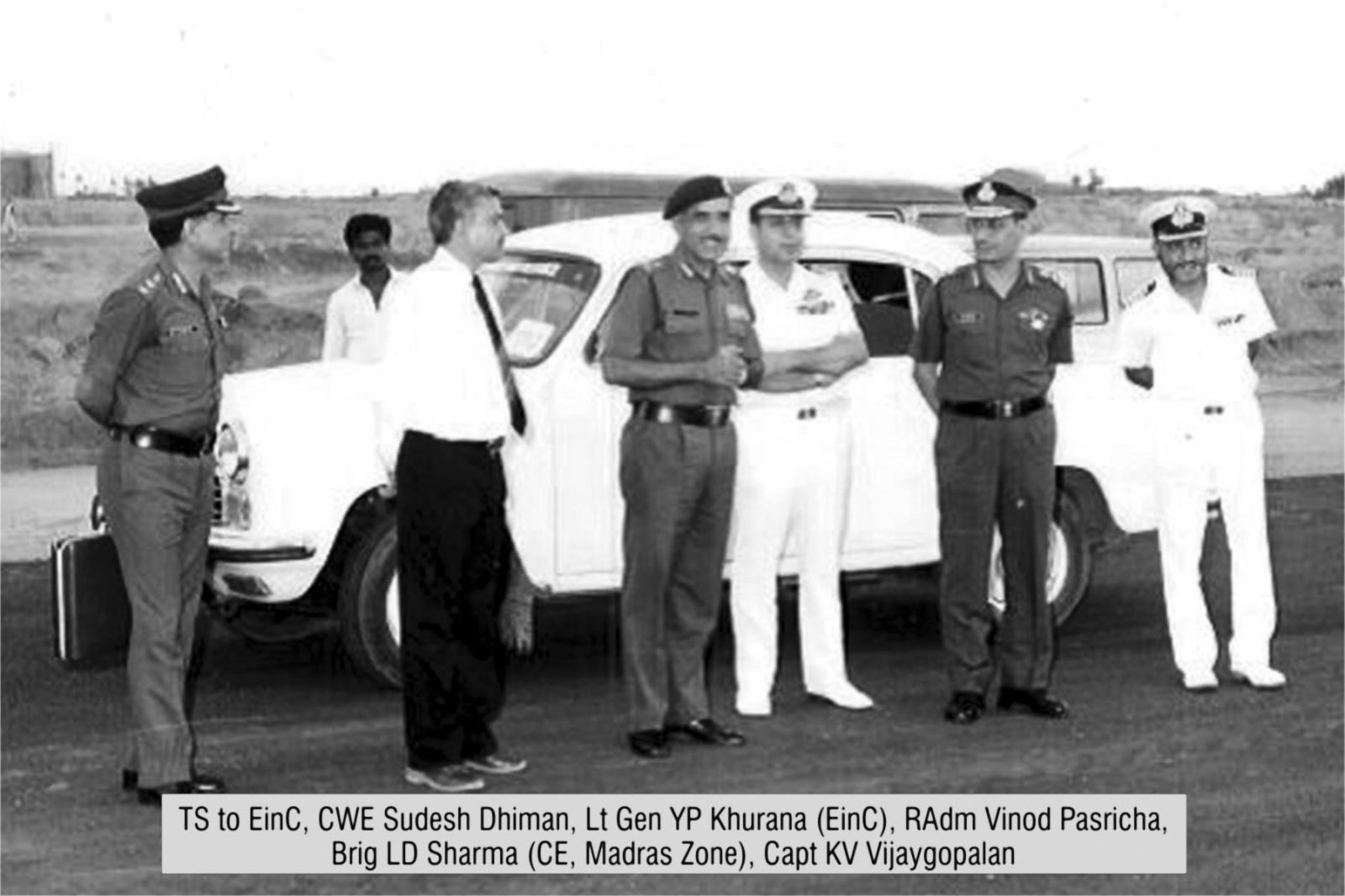 In April '85, I left for Mumbai to command INS Vindhyagiri, commissioned Viraat in England and then did the NDC Course. During this period, Prime Minister Rajiv Gandhi laid the Foundation Stone on 12 Nov '88. Since he had sailed on INS Viraat a year earlier, when I was in command, I had had a long discussion with him on the need for a strong Fleet Air Arm. Thus, during the ceremony of laying the Foundation Stone,  he stressed the importance of this airstation from where our LRMP aircraft would exercise control over the entire Indian Ocean.
The first PMB meeting, held at Chennai on 21 Nov '88 under the Chairmanship of Shri NN Vohra, was attended by IAS officers dealing with land, P&T, water supply and electricity in Tamil Nadu. They all were given time-bound tasks, which they then pursued most vigorously.
In Nov '89, after I was appointed DNAS and later ACNS (Air), I got involved with PMB and PMA. By now, Shri K Nambiar was Addl Defence Secy. Being from the Tamil Nadu cadre, his directives to local authorities ensured that the project continued on fast-track. Since CCPA had specifically directed that additional sanctions were necessary only if the expenditure exceeded the total amount sanctioned, it became possible to complete this major project in a record three years. INS Rajali was thus commissioned on 11 March 1992, by President R Venkataraman.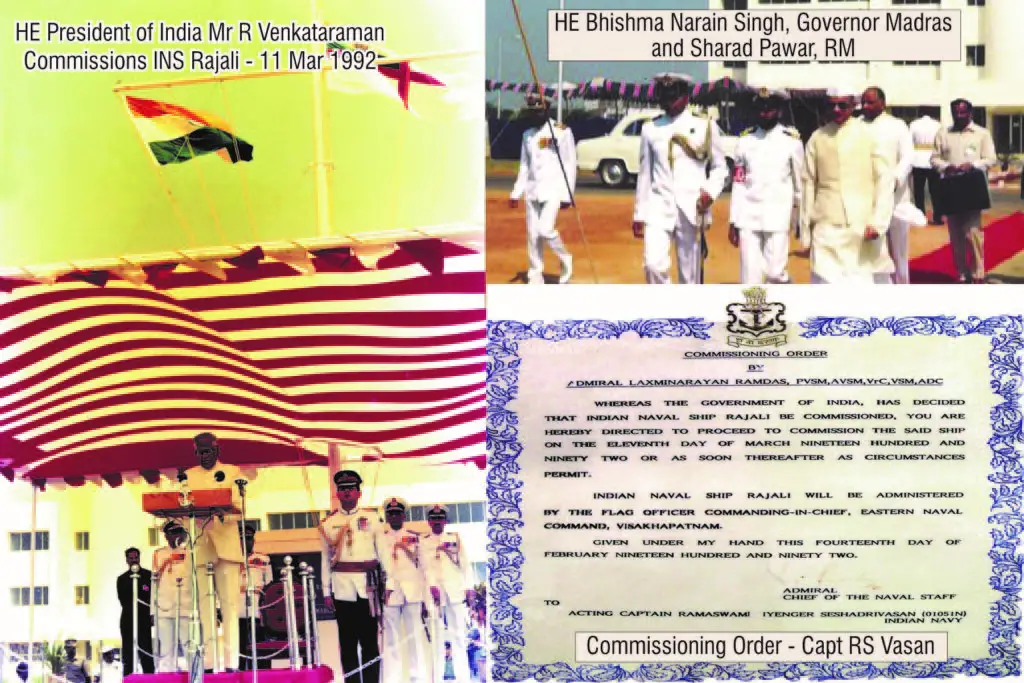 Some decisions/actions that ensured that INS Rajali became excellent are:-
a) On Commissioning Day, the runway was not fully ready, since the contractor left suddenly, without completing his work. It was then handed over to Border Roads, who completed it in four months.
b) Though TU-142s were planned to operate as soon as INS Rajali got commissioned, the non-completion of the main runway delayed their regular operations. However, Cdr SJS Gill (Sqn Cdr 312 Sqn) did a practice landing on 07 Mar '92, with two flypasts on 08th & 09th Mar and the first official landing on Commissioning day.
c) HTS shifted from Kochi to Arkonam before the onset of the monsoon and was temporarily housed in the maintenance hangar, till its own hangar got ready. Thus, the training course completed ahead of schedule.
d) Since civil aircraft doing ILS flew at 3000 ft over Kanchipuram and this was very close to Arkonam, local/ circuit flying was kept below 2000 ft. After detailed discussions with DGCA, we got a small corridor with direct routeing to the Bay of Bengal for all naval aircraft. For all other flying, Arkonam had a hot-line with HAL Bengaluru, since this area was in the local Flight Testing area of HAL.
e) There was continuous interaction between ATC Meenambakkam and ATC Arkonam, with DGCA staff visiting Arkonam on Sundays, as guests.
f) The height of the runway had been designed so that trains, on the railway line just adjacent to the runway, would not interfere with TU-142 landings. Because of recent electrification, which has much higher poles, this track has now been re-routed much further to the West.
g) To set up communications/landing aids, the Navy wanted more land to the West. However, since this area had a lake, which provided water for irrigation, we were allowed to set these up on concrete pedestals, with no transfer of land! Also, in a number of places, our boundary walls had small metal grills at their foundation base for drainage.
h)  As the road journey for women going to MH Chennai and back took over five hours, our sick-bay was immediately sanctioned an AMC lady doctor.
j) Thanks to Min HRD, Shri Arjun Singh, a KV school upto Class VIII started even before Rajali commissioned, with their teachers/staff given Govt accommodation – both perhaps for the first time ever!
k) T1SI of Alouettes started immediately, with sailors going regularly to HAL by train, to collect spares when required.
l) A Bank and the Post Office were set up well before commissioning.
m) Since many officers joined before commissioning, three married flats were converted into a Wardroom/ dining hall and accommodation for bachelors, till the Officer's Mess and cabins got ready after four months.
n) All Commanders were given two storied bungalows, though later this design had to be modified.
p) The name/crest was designed by an MES officer, Major Balakrishnan.
(Rajali is the Tamil name for a Hawk Eagle – Falconiformes on the East Coast)
q) LCdr Thyagarajan was instrumental in ensuring that all land transfers were smooth and very quick.
r) Rajali is one of the few defence projects, which not merely completed in the planned time, but also did not over-run its sanctioned budget.