Sudipta Biswas is a sports journalist and author of Mission Gold: India's Quest for Olympic Glory (2020). Biswas started his career covering grassroots sports in Kolkata and is currently researching and reporting on the Olympic movement in India. Frontier India News Network spoke to Biswas about the book Mission Gold and the Tokyo Olympics.
Here are some extracts from the conversation
Q. What inspired you to write Mission Gold? Could you tell us a little bit about your journey as a sports journalist to becoming a published author writing about India's Olympic History?
It was in 2014 during my stint as a stringer with Ei Samay I fell in for Olympic sports. I was assigned to cover university sports in Kolkata. Initially, I had no idea about what I have to cover. I was a complete blank. But once I began reporting, I got to explore many things in the field. University sports involve many sports and many athletes. I covered events, got to meet coaches, former and emerging athletes. That's the beginning. Gradually I found myself interested in covering Olympic disciplines as most of the athletes come from university level. 
Frankly speaking, I have never thought of writing a book. In 2019, my destiny brought me to Hyderabad, the current hub for Indian badminton and a city which gave Indian multiple Olympians. While spending time at ETV Bharat office library, I explored the idea of writing a book on the Olympics. I found that 2020 is going to be the 100th year of India's participation in the Olympics. Though some people say that India first participated in the Olympics in 1900 and IOC acknowledges Norman Pritchard as India's first Olympic medallist, there is contention regarding his representation.
Many believe that he represented British India. In the 1920 Antwerp Olympics, the initiative was taken for India to participate was made by Indians. So, from this perspective, 2020 Olympics was supposed to be the 100th year of India's participation in the Olympics, and the pandemic postponed Tokyo Olympics is still being called the '2020 Olympics'.
With the Tokyo Olympics marking the 100th year of Indian athletes' participation in the Olympic Games, I decided that I should write about the history of India's participation in the Olympics. And then I started the process of writing the book. I started researching. I started reading everything about the Olympics I could get my hands on. I started looking for ways to get in touch with former Olympians. Players, coaches, champions, anyone, and everyone. A lot happened while writing the book. I learned a lot and even faced some challenges, but it was a pleasure writing about the Olympics.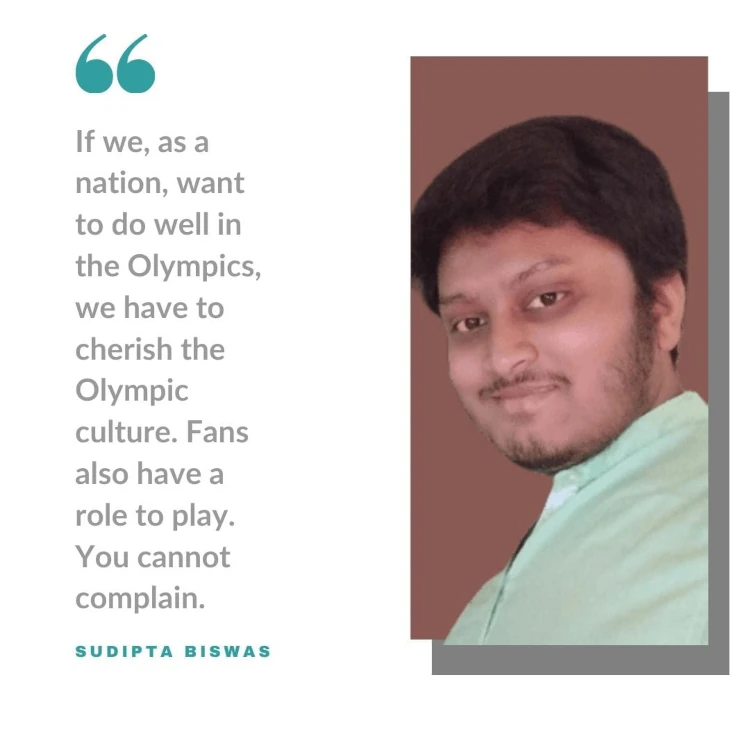 Q. How do you feel reading Mission Gold will empower readers to learn more about the nuances of India's Olympic history and aspirations?
In my book, Mission Gold, I wanted to highlight India's performance in the Olympics in the last 100 years. The book shows the history of the 28 medals we won till Rio 2016, which is not a big number for a country like India with a population of more than a billion. Once upon a time Indian hockey team was invincible. But Hockey has faded away. Shooting appeared as new hope since Rajyavardhan Singh Rathore won silver in 2004 and Abhinav Bindra won gold in 2008. Boxer Vijender Singh won a bronze in Beijing.
And there's a history behind all of it. There are stories of how Indian Boxing produced an Olympic medalist and how India came to stand out in sports like shooting, boxing, wrestling, etc. It's like one big story. And that's what I wanted to convey to the youth of our nation. Because historical moments inspire. They fuel the fire of passion. That's exactly what I think reading Mission gold will do because the book is about the history of Indian Olympians, champions and their stories.
Reading it will also create awareness about what I said about the number of medals India has won in the past 100 years and why we failed to do very well. Because when it comes to facilities and infrastructure and guidance in sports, things on the grass-root level are not good. And that's one of the reasons that we are not among the best when it comes to winning medals. Otherwise, the talent we have here, the kind of prodigies and hard workers we have are exceptional. But natural talent and burning passion needs infrastructure. They need coaches, expert supervisors on the grassroots level.
Q. What is your opinion might be the reason for India to fall behind when it comes to sports and the Olympics?
One of the biggest reasons is that we do not possess that robust kind of infrastructure which is available for sports like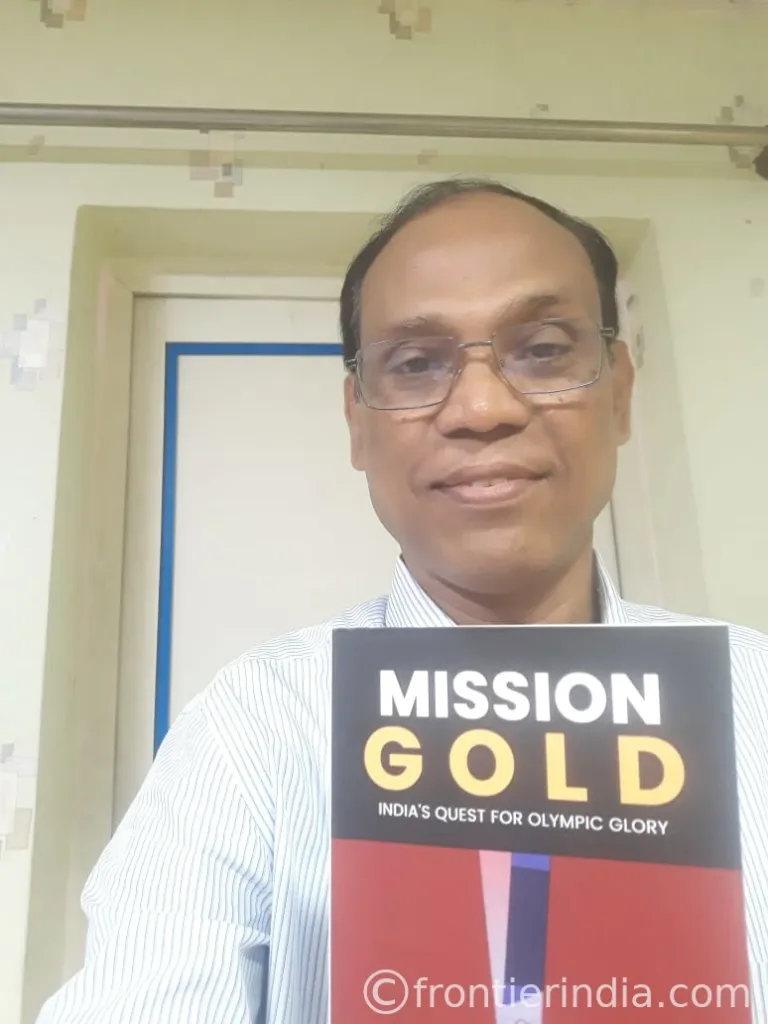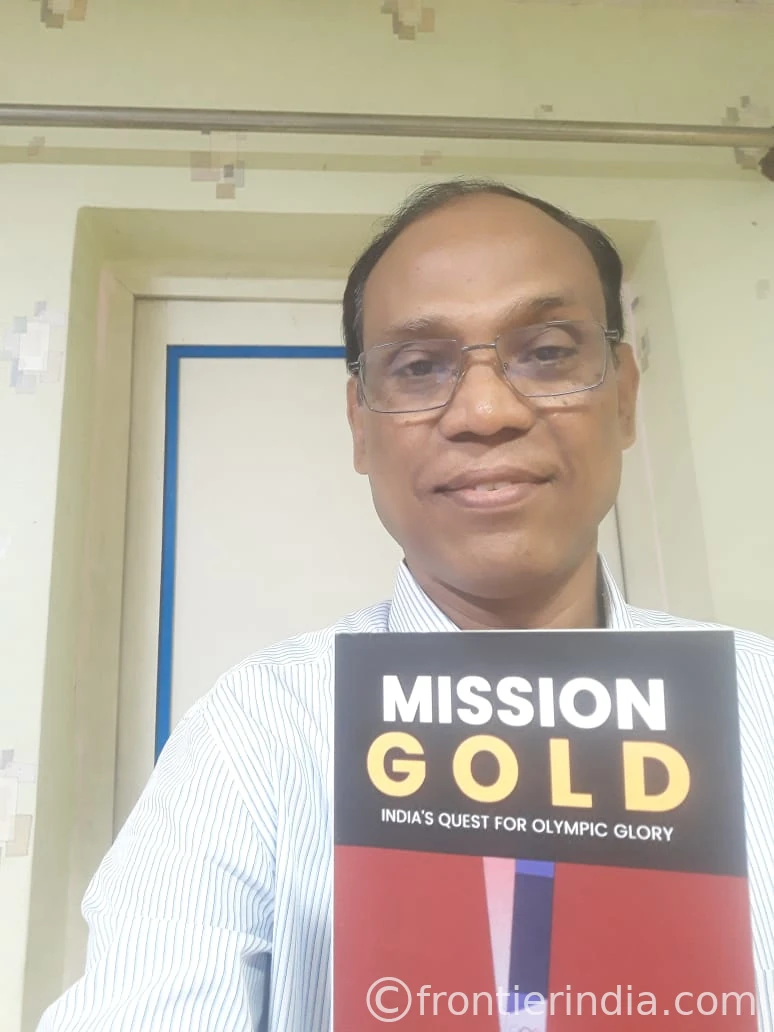 cricket. We have advanced facilities for cricket which we don't have for many other sports. Most of our athletes get into sports from an early age. By the time they realise their potential, they turn 17-18 years and enrol themselves in college. And they expect that their college or university will provide facilities and infrastructure for their disciplines. But most of the colleges in India don't have that and those who have are not of good quality.
This is contrary to countries like the US, where most of the international athletes come from the university level. They're students who study in their colleges and the same students are also athletes who train and practice at their colleges. And what comes out of this is that these young sport spersons represent their countries at the Olympics at the same time they graduate. In the US, France, Germany, etc. Sports and education go hand in hand. But this is rarely seen in India.
And that's the reason for many of our athletes to be in quite a shabby condition. They're confused because they're uncertain about their future in sports which are not much celebrated in our country. They're not sure whether this is what they can set as a prime career. Some players are taught and organised from a young age, and they understand what they're going to do. But a vast majority of Indian athletes, very talented athletes, don't have that kind of supervision and guidance. Which ultimately results in the straying away of a potential Olympic champion, from the environment of the very sport. And that is exactly the reason why a lot of talent just fade away.
Q. Who in your mind are the core readers for the books? And how do you feel that they further add to the discourse on the subject?
When I was writing the book, I only had one thing in mind, the Olympics. And if you know about the Olympics, it's for the Youth. So, the potential readers I had in mind were athletes. Sports people, people who know about the Olympics or are interested in knowing and learning about the Olympics and those who follow the developments in the Olympics.
I'd also urge the youth of our nation to read Mission Gold. Because there's this misconception in India that people who're good at sports are generally bad at academics and studying. But it's false and I think those who aim at getting better at their sport, should read Mission Gold and other literature available about sports. Because reading and learning about the sport and the history of the sport, the life of iconic athletes and sports persons, these things inspire.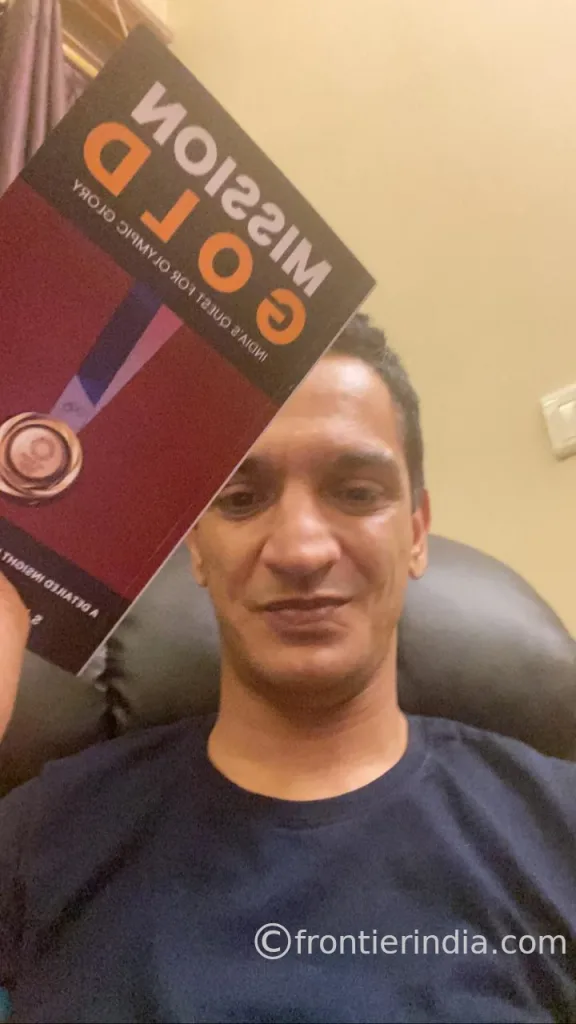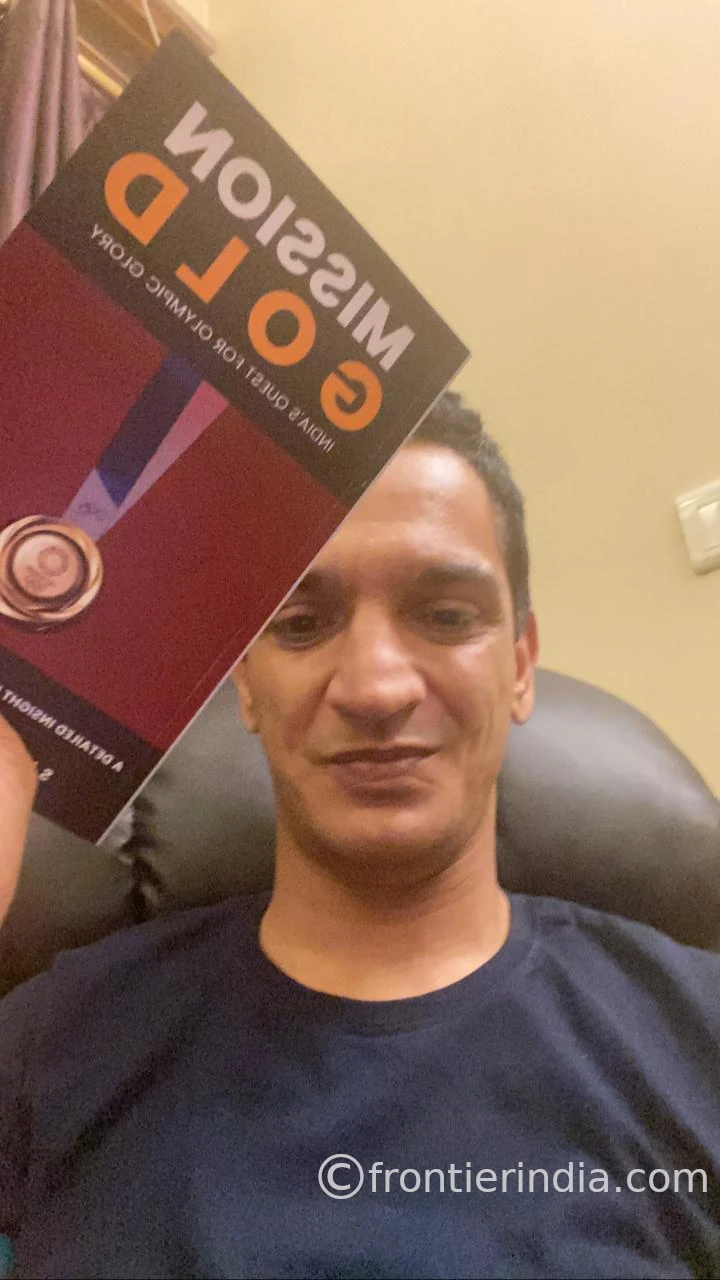 The greatest athletes which India has had went on to play on international levels without having any proper facilities or exposure of any sort.
Dhyanchand, for example, did not have any sort of sports facility in his early years in life. And he did not know that he had that tremendous potential. He used to play hockey for pleasure. But he got recognised by the Indian army and later went on to play for the national team! A story from the early 20th century.
And this is still the story of potential Indian athletes in the 21st century. There are potential future Olympic champions. Some can win medals in wrestling, boxing, badminton, and many other sports. What they need is recognition, encouragement, backing and support. They need someone to take them under their wing and train them, look over them and bring out the Olympic champions.
I want the youth of our nation to read Mission Gold and understand these so the young generation, the athletes and sports enthusiasts of future India will raise a voice for the betterment of sports in our country and bring about a change for the better.
Q. Could you tell our readers about the research which went into writing Mission Gold? What was your process and how did the sources approached for the books respond to the finished product?
The Olympics is something untold and unheard of in our country. There are sources with information about Hockey in the Olympics. But unlike cricket and football about which vast amounts of verified information is available, lots of unverified and even misinformation is there. When I started writing this book, I became aware of two big issues. The first one being that it is a subject rarely covered and hence there is not as much information available about it. Second, the information available is difficult to verify.
I had to read up a lot and talk to a lot of people to make sure that the information I'm absorbing to put in the book is true and verified. And this was a big challenge I had to face while writing the book. But at the end of the day, writing a book about the Olympics was very pleasurable and worth all the hard work. The book has verified information. I have cited newspapers, official websites, former Olympians and champions and people who are connected to the Olympics.
And after Mission Gold was published, a lot of people contacted me. People who I had talked to for information verification and others who had found my book through friends and colleagues. They praised the concept and the book because it was novel. And also, the way the information was spread out in the book. Because lucidly presenting the information is an important part of writing a book. And many people appreciated that too about Mission Gold.
Another reassuring thing is that till now, I haven't received any complaints or requests to change anything due to misinformation or wrong quotations.
Q. Could you tell us about some of the key challenges you faced when writing the books? Did you experience writers' block, if so, how did you overcome it?
As I mentioned earlier, it was a tough job to gather, verify and absorb the right information. But I did not find myself in a block throughout the process. I did not go through days where in my mind it was like, "I don't feel like writing today."
The reason for it is that writing gives me pleasure, it's my passion. It's what I do and love to do. And secondly, sports are deeply ingrained in me, and I love exploring new things about sports and the Olympics for this matter. I love everything about sports. I have been writing about sports only because I love sports and the Olympics.
But I did get tired at times. Everyone gets tired and it's normal. What I did was I took occasional breaks. But I knew that I was encouraged, and I will write. So, I did not face a writer's block.
Q. What can you share about your books that are not written in the blurb or synopsis? Is there any particular chapter from your books which you would like to share or highlight? If so, what does the chapter specifically deal with and why does it stand out for you?
One very important thing that I did not mention in the book is the contribution of the Indian Army to Olympic Movement in India. 
Even while writing about Dhyan Chand, I did not mention the name of the Indian Army even though he got recognition from the Army. But their contribution to the Olympics movement in India isn't mentioned in my book. I have a wish to write a discrete book on Army's contribution to sports in India.
The Indian army has contributed a lot in bringing out Indian Athletes. Even this year, for the Tokyo Olympics, more than 14 Athletes of Indian athletes are from the Armed Forces. And people should know about this and the tremendous contribution the Indian Army has made over the past years.
When people join the Army, they train and practise daily and the Army has the kind of infrastructure and facilities for that. And that's where the Army recognises exceptional athletes, supports them, and brings out athletes of international calibre.
That's how Indian athletes went on to represent the nation in the Olympics, Asian Games or Commonwealth Games, etc. And even when the National Sports Federations was not in good economical shape and our country was going through a bad patch. Back then too, the army was making efforts to build our athletes.
And these athletes do not directly serve the Indian Army or the Armed Forces but rather have been taken on board as the Ambassadors of the Indian Armed Forces. One thing I remember is that when Rajyavardhan Rathod, who was in the Indian Army, had won the silver medal in the 2004 Athens Olympics, the Indian Army used Rajya Vardhan's portrait in hoardings to attract and invite the nation's youth to join the Indian Army and serve the nation. So, there's also this factor that the Armed Forces encourage youths to take up sports.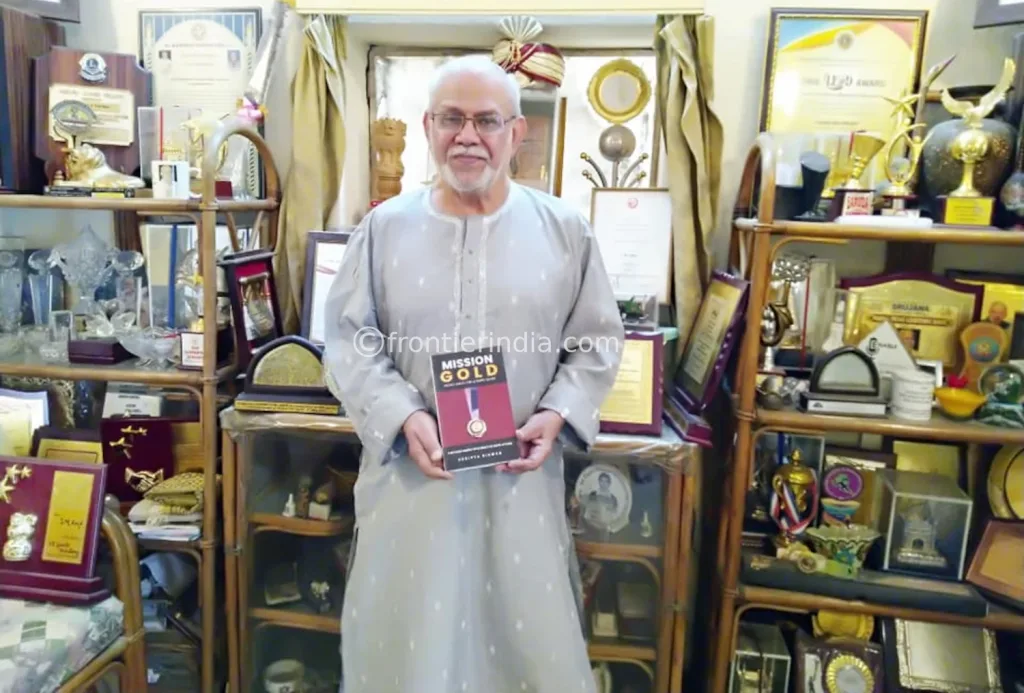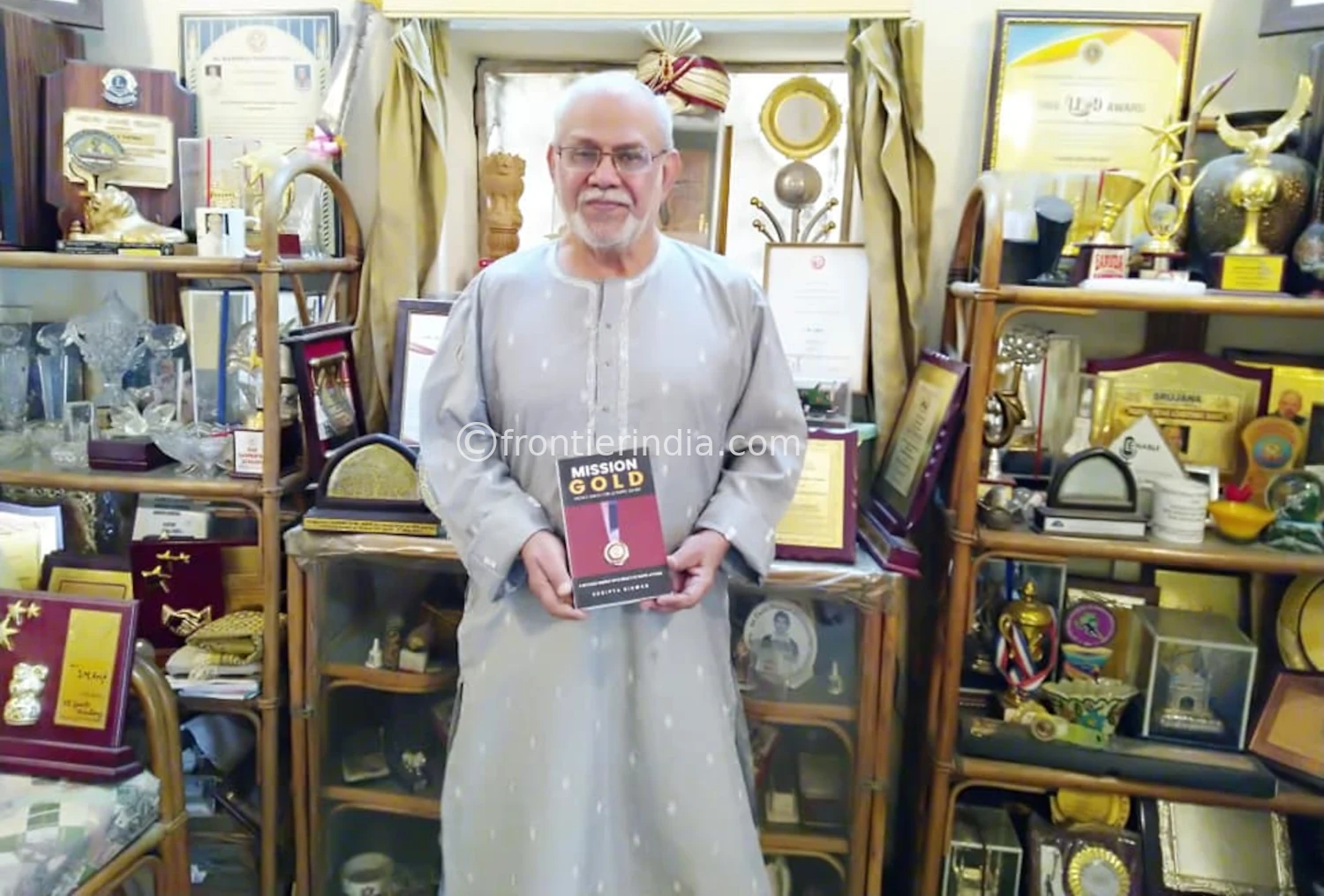 Q. Other than your book are there any other pieces of literary work on the subject you would recommend being added to a sports enthusiast reading list?
One book I'd strongly recommend is the autobiography of Dhyanchand, "Goal". That book needs to be read. Because not only does it tell us about his sports career and achievements. It also gives us an insight into his social life and the struggles he had. 
Hockey is one strict sport. And it's also risky because it's a contact sport and then you also play with a hockey stick. Dhyan Chand had said that Hockey is a brilliant sport where you have to play with speed and at the same time you have to maintain your calm and keep your head cool, to make sure that something unexpected or unfortunate does not happen on the field. For that, you need skills.
Another book I'd recommend is The Final Whistle: Life and Times of K D Singh 'Babu'. K D Babu was the captain of the Indian Hockey Team in 1952  Helsinki Olympics. There are also a couple of books written by Boria Majumdar, he is a pioneer of Olympic sports at this moment. He has written about the history of Sports in India. One can read his book as well.
These types of books are a major source of information and inspiration. If you play sports, then you also develop a better morale in life. Because sports are not only about winning but also about commitment. So, I'd urge people to read sports literature and play sports.
Q. What is next in your writing journey?
After Mission Gold got published, I took up two projects. Both of them are biographies. One is the life of S. M. Arif. He is based out of Hyderabad, and he was the National Chief Badminton Coach for seven years. A Badminton coach who shaped India's Badminton game. When this one man strengthened Hyderabad as a Badminton powerhouse, it ultimately boosted India's Badminton game. Unlike today, badminton was not a famous sport back then. But there is a history about how the sport gained fame. Someone sacrificed personal life and a lot of time for it.
The other one is about the legendary footballer Tulsidas Balram. An Asian Games Gold Medalist now in his 80s. He is now living in Kolkata.
If I ask someone, "Who was Tulsidas Balaram?" almost everyone will fail to answer. But when Tulsidas Balaram played, India was a powerhouse of sort in Asian football. Back in 1962, India had defeated South Korea, a country that regularly plays in the FIFA World Cup now. Later on, India defeated Japan, Thailand and South Korea and became the Asian Games Champions in Jakarta. His life is very inspiring. Just like Dhyan Chand, he did not have any facilities or financial support, still he made it to the highest level.
Nowadays if a player plays well, they're sure that they'll get a sponsor or at least a job. But back then Dhyan Chand and Tulsidas and other players didn't have that guaranteed economic backing. But when they were asked to play for their nation, they did that without thinking about what they would get out of it. 
So, this book will be the story of someone who, even without a meal day, never backed down from football, a highly physically demanding sport. The book will not only be about his sporting achievements but also underline his social life, his family, and his struggles post retirement.
Q. Any views or predictions for the Tokyo Olympics?
I cannot predict any victories. Not just me, no one can predict what exactly will happen, given the pandemic situation. But I'm sure that India is not coming back empty-handed. We're going to win medals this year. I think India will perform even better than the London Olympics when India won six medals. Statisticians predicted that India would win more than 17 medals, but I am not sure about this. You have to keep in mind that how pandemic affected our athletes' preparations for over one year.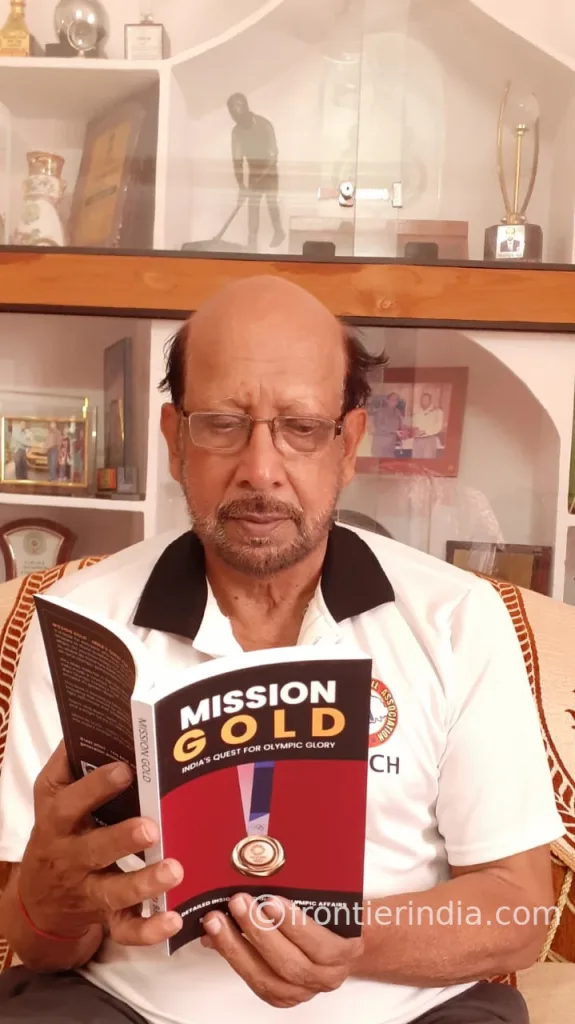 We had high hope from shooting, but shooters failed miserably in the Olympics. We're expecting medals from our shooters because shooters had been consistently giving us medals in the last couple of years. It's disappointing to see them not even making it to the medal rounds.
However, Neeraj Chopra, ranked fourth in javelin throw in 2021, is someone from whom we can expect a medal. He could win independent India's first athletics medal. Wrestling too has been giving us medals since 2008. This time too, India has sent a seven-member wrestling team and it's a big thing. Boxer Mary Kom, wrestlers Vinesh Phogat, Bajrang Punia and shuttler PV Sindhu will also be in the reckoning for medals in Tokyo. There could be some surprises as well.
Q. What message would you like to convey to the readers and fans?
I would again urge everyone to read and know about Olympics and help the idea of Olympism taking shape in this great nation.
Every four years when the Olympics is around, people talk about how our athletes fail and then they forget them for the next four years. People should become more aware about the Olympics, the Olympic movement in India and Olympic disciplines. If we as a nation want to do well in the Olympics, we have to cherish the culture of Olympic sports. We cannot complain. The fans also have a role that they have to play. Performance graph will change, it may take many years. But until we build a roboust culture for Olympic sports in India, we don't have the right to complain about our athletes' poor performance in the Olympics. It's not only about athletes and officials who should do the work, it's also about how Indians support their athletes.
(featured Image: Badminton coach SM Arif)