Iran's leading carmaker, Iran Khodro Company (IKCO), has expressed a desire to re-export to the Russian market for the first time in years, which is also subject to Western sanctions. The company's president and CEO, Mehdi Khatibi, said his company would pay special attention to the Russian market, and it will start exporting to Russia this year. He said it during the presentation of the new multi-segment car "Rira", whose production will begin next year. 
Iranian Khordo produces foreign cars such as the Peugeot 206, 405, and 406 under license. It also assembles trucks and buses under license, in addition to the 100% Iranian cars it manufactures, namely the Peykan, the Runna sedans, and Samand sedans.
Mehdi Khatibi noted that fruitful negotiations were held with Moscow and that the Russian market will be one of the priority markets of Iran Khodro. The head of the enterprise added that partnerships with Russian investors are being considered. Russian President Vladimir Putin visited Tehran in mid-July, meeting with Iranian counterpart Ebrahim Raisi and Supreme Leader Ayatollah Seyed Ali Khamenei. To offset Western sanctions, the two nations agreed to expand bilateral cooperation in a variety of vital areas to access their respective markets and sustain international commerce.
The idea of Iran exporting cars to Russia is not unsolicited. This summer, during the St. Petersburg Economic Forum (SPIEF), the idea of enlisting Iranian automakers in industrial development initiatives in Russia was suggested. Moreover, it was not just about automobile supply but also about developing collaborative platforms for producing cars for different markets. 
Iran is actively developing exports and supplies its cars to many countries in Africa and Asia, including Kazakhstan, Georgia, Belarus, Turkmenistan, and Azerbaijan. The volume of exports, in this case, can reach 1 million cars. Not surprisingly, the Iranian government is closely following the development of the situation in Russia and proposing several joint projects.
This is not Iran Khordo's first attempt to settle in Russia – the previous ones were not so successful. But there are still chances – after all, these are somewhat outdated "fawns" with electronic bells and whistles, which Russia lacks today. Once Russia had about 12 thousand Iran Khodro Samand sedans, some of which are still on the roads. Deliveries of Samands in 2010 were terminated due to the non-compliance of their engines with the introduced Euro-4 standards, but today, as you know, the Russians are not up to the environment. Later, the anti-Iranian sanctions of the West interfered.
Iran's vice president for research and development, Kianush Pourmojib, told AFP that more than 500,000 vehicles would be produced this year. He added that the goal is to export 100,000 cars annually within three years, compared to less than 20,000 at the moment.
Iranian Car makers
The auto industry is quite developed in Iran. After introducing another package of sanctions in 2010-2012, the production of cars in this country fell from 1,648,000 units per year to 743,600. However, it has recently gained momentum and almost returned to its previous mark. Iranians produce cars, trucks, and buses. However, all these are either licensed models or their derivatives. It would seem that isolation should contribute to originality, but no.
Many prominent local players in the country, such as IKCO, SAIPA, Pars Khodro, Kerman and Bahman, manufacture various models.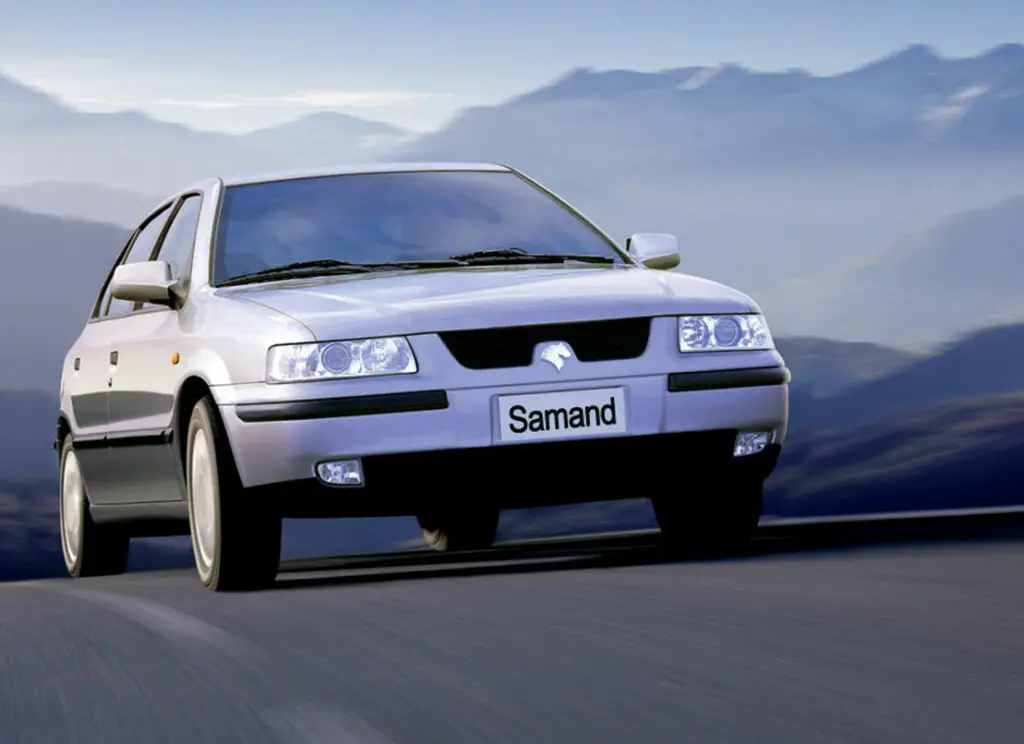 The largest automaker in Iran is Iran Khodro. Initially, it was a private company, but now a lot of state capital has been poured into it. The company's iconic model was called the Paykan. This is a licensed copy of the British Hillman Hunter, which the Persians produced from 1967 to 2004. They say that they abandoned it only under pressure from the government.
Right now, Samand has become Iran Khodro's new bestseller. It is a licensed Peugeot 405 with a slightly modified appearance. It was a simple car with a robust suspension and unpretentious engine. By 2005, it was already outdated in driving performance by world standards, but it had two key advantages. Firstly, it did not cause much trouble even on runs under 200,000 km. Secondly, it costs from 12 to 14 thousand dollars. These factors made Samand famous in Iran and many Asian countries.
Therefore the manufacturer did not spend resources on creating something fundamentally new and once again changed the face of Samand, releasing a variant in 2011 called Dena. 
It comes with a three-engine option: 105 hp, 115 hp and supercharged with 150 hp (this is now a premium version of Dena +), and the working volume is the same – 1.7 litres. And the gearbox is manual. But there is ABS.
Iran Khodro also has Tara for export – a creatively reimagined Peugeot 301, a budget sedan for third world countries, and Runna – a scary relative of the Peugeot 207. But the most original model is the Arisun passenger pickup truck with a Peugeot 405 front end, but with rear-wheel drive and a longitudinally mounted engine from the old Paykan.
Another major Iranian car company is Saipa. Like Iran Khodro, it is partly state-owned and also makes licensed models, mainly Citroën and  Renault. For export, it has a converted version of the Kia Pride, a compact car with an 80-horsepower engine. It's called Saipa Tiba. They exported it to Ukraine. It's also a treasure, and they've been producing it since 2009.