Marathi movie industry has scaled up from receiving revenue of a few lakhs to Rs 40 crores in the past two decades, said Sanjay Chhabria, Managing Director, Everest Entertainment, in an exclusive interview with Frontier India. He spoke about the changing nature of the industry and its possible future. Here are the key takeaways from the Interview. 
What was the size of the Marathi movie market when you entered the industry, and how is it now the size of the Marathi market?
I entered the industry in 2003, and now it's 2022, almost 19 years. So when I entered the market, there used to be about 25 to 30 films produced on average in a year, and the highest box office gross I remember at that point in time was about, you know if a film touches a box office of Rs 50 lakhs or 75 lakhs, that was like a big ticket big hit. This was way back in 2003. And now, in 2022, I mean, everybody knows about Sairat (Movie, Ed). Coming back to the box office, you know off a big ticket film which is a hit can range and anywhere between Rs 10 crores to 40 to 50 crores. Also this year there was a film Pawankhind, which we have the electronic media rights of the broadcast and media rights of, clocked about 40 crores. That's the box office potential. I mean, every film doesn't turn out to be a sellout, but yeah, if there is a good film and if it's commercially successful, you know the box office goes about Rs 10 crores, and it can range anywhere between you know Rs 10 to 25 to 30 to 40 crores. It can go in that range that's like you can call them the regular benchmarks between Rs 10 to 25 to 30 – 40 is the box office potential of a Marathi commercial film.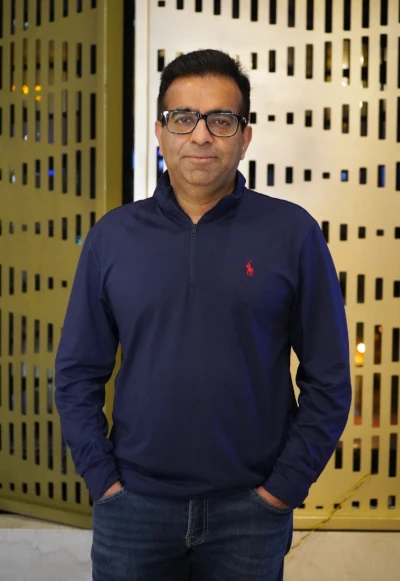 The broadcast rights business, as well as you, know digital, has started. Amazon was launched, I think, in December 2016, and that is one of the companies which aggressively showed Marathi films on their platforms. 
In 2003, when I first sold my films in Lakhs of rupees, you know we got some 2-3 Lakhs for the first film we sold our broadcast rights. The figures have now gone into multiple lakhs and crores of rupees. So the business has definitely scaled up; we have come a long.
I think in 2019, the theatrical box office was in excess of 200 crores for the Marathi films in the theatres. This year, my guess is in 2022, we will cross that figure because, you know, some other films have done really well. We see some good numbers here.
How do you see the trajectory going up the scale in the coming decade?
So I see the trajectory going up because you know there are more and more filmmakers, studios like us who are scaling up the production activity that we are making big budget films and you know which have a wider appeal. We are aiming for the box office.
 So I see that happening not only with our studio but with others as well, and this is a healthy trend, you know. I think everybody has learned from the South (movie industry, Ed.) and seeing what 'scale' can do box office-wise. If you make a movie with conviction on a larger scale, I mean, you know when K.G.F (Kannada movie series, Ed.) was made, I think it was the first probably film it was the first in in the Kannada history to spend about 50 crores on production or movie correct. So I mean, we're not going, we're not getting there yet, and we're not spending 50 crores on a film yet in Marathi. But yeah, there are some projects that I know of, producers are spending about Rs 8 crores, Rs 10 crores, Rs 15 crores. You know that that kind of money is being invested in the cost of production, which I'm sure will bring out bigger numbers at the box office because Cinema now, especially with the OTT and post-pandemic, you have to promise a certain experience to people. You don't promise that experience to people; it's very difficult to get Rs 150 out of their pockets and expect them to come and see a film at the first weekend in numbers to multiplex. So one has to scale up one has to make bigger larger-than-life subjects. I see that happening in the Marathi space, and if it continues to happen, then yes, the trajectory will go higher and is on the right path.
Everest Entertainment Pvt. Ltd
Everest Entertainment is currently in the production and distribution of Marathi Cinema. Along with Mahesh Manjrekar's ambitiously written, the company produced 'Mee Shivajiraje Bhosale Boltoy', which became the highest-grossing Marathi film of all time. Subsequently, it has made classics such as Shikshanachya Aaicha Gho', Moraya' & 'Tukaram', which followed, and met with equal applause, both critically and commercially. 
Everest Entertainment distributes and showcases films globally across all formats – Cinema, Home Entertainment, Television and New Media. The company has an impressive film library with over 200 titles, categorically establishing itself as one of the prime content owners in the business so far.