I first time visited Ranikhet in 1958, as my late brother Capt PN Bhatia (later Maj and VrC of 1962 Sino-Indian War) was posted there and met Narindra Singh (4 Kumaon) s/o Late Lt Col Ram Singh, and we became friends forever. I served in Ranikhet for two tenures- the first one in 1973-76 in the Regimental Centre and in continuation the other with my Battalion 13 Kumaon, moved to Ghinghari Khal near Ranikhet Golf Course for the peace tenure. During our long stay in Ranikhet and our daughter Neerja's schooling in the St Mary's School Nainital, we made many military and civilian friends. For proceeding on every leave, we four of the family commuted to and fro from Ranikhet to Delhi and Gurgaon on our Vespa scooter on the Ranikhet- Kathgodam- Haldwani- Rudrapur- Bilaspur- Rampur-Moradabad- Delhi highway. I had the fortune to attend many Reunions during my tenure in the Regimental Centre and Paltan in Ranikhet, as CO and later, but for a couple of Reunions, all in my post-retirement, travelling the same route.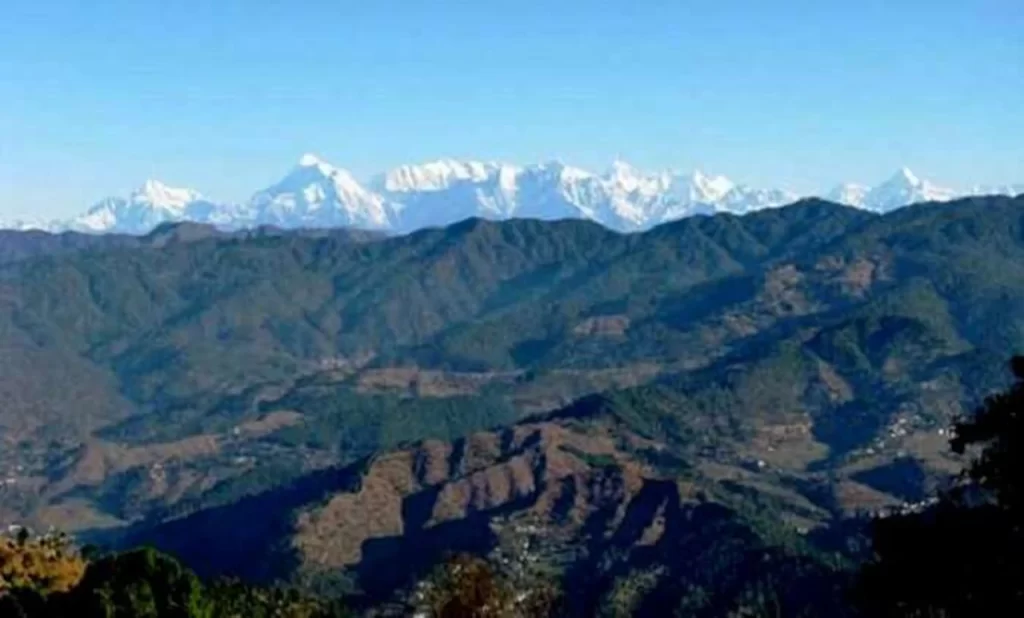 Last visit to Ranikhet and the Regimental Reunion 2-4 Oct 2023
Regimental Reunions are held every four years at Regimental Centres whereas the word stands, serving, retired veterans, widows, and Veer Naris are invited to rekindle nostalgic memories, see changes and progress in the Regimental Centres/military stations, new training concepts, and reconnect with each other. I had planned to attend the last Reunion alone and arranged an invitation for Maj Partap Singh Yadav (Perty), who had served under me as a youngster and, after his short service contract, joined the corporate world and is now the senior executive with Anil Ambani's Reliance Group. Meanwhile, our daughter, who was the Chief Coordinator of B20 fixtures in our country, after its very successful execution, desired a break to a nearby hill station around mid-August 2023. Since I was going to Ranikhet on October 2 for the Reunion, we ruled out going to Ranikhet and decided to visit Nainital. Sadly, I could not arrange accommodation in Holiday Home in Nainital, and she was quite upset and decided we all three would go to Ranikhet provided I didn't insist Neerja and her mother attend the Reunion functions. We left for Ranikhet on September 30 2023, while Maj & Mrs Perty, living in Indirapuram, joined us at Ranikhet the next day. I confirmed with Lt Gen MC Bhandari (Retd) and Mrs Sabrina Singh the route, and both confirmed to travel via the traditional Moradabad- Rampur- Bilaspur- Rudrapur- Haldwani- Kathgodam road, which I explained to our daughter on the wheels. With a break at McDonald's for breakfast, we commenced our onward journey. As we reached Moradabad, my daughter suddenly swerved the car onto Kashipur highway as her Google settings said that was the shortest route to Ranikhet.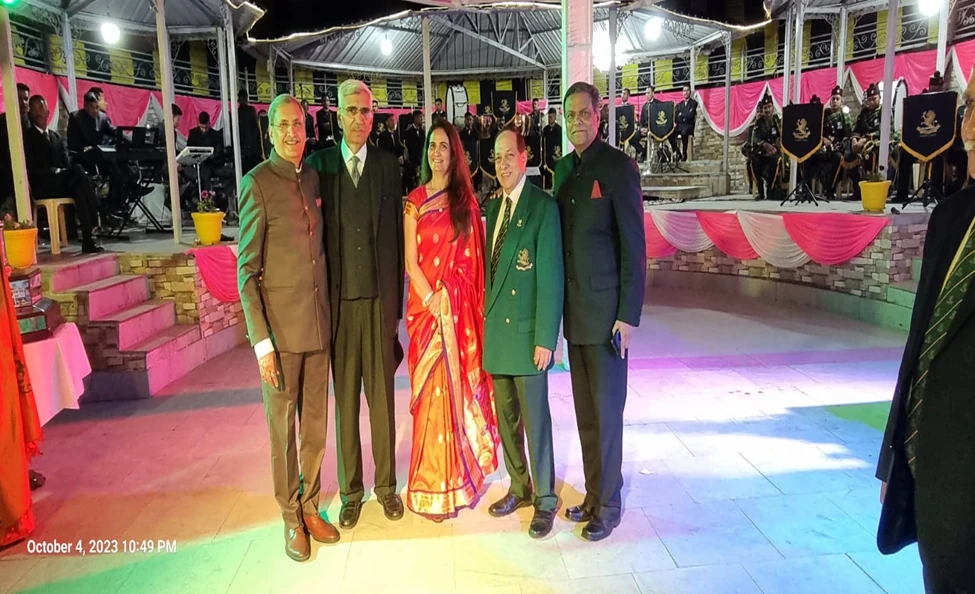 Since the younger generation is the slave of Google, AI & IT, she did not heed my protests and continued Google's uncle's way. Needless to say, the onward road was in terrible shape due to recent rains and heavy floods in the Tarai region. After lunch break beyond Ram Nagar in Jim Corbett Complex, I forgot to take an Avomine tablet as I have lately been suffering from nausea while commuting in the hills. The distance between Ram Nagar to Bhikiyasain is 78 Km by road en route to Ranikhet; passing through worst damaged narrow road with chemist shop only at Bhikiyasain was the longest in my life with endless vomiting, dehydration and weakness till we reached our homestay destination 'Valley View Villa' owned by Mrs Sabrina Singh wife of my dear Regimental decorated Officer friend late Brig Jasbir Singh, SM, renowned second generation officer of the Regiment. The view of snow-capped mountains from Vila is superb but if you love dogs and puppies as our daughter Neerja does, a company of platoon of dogs of numerous sizes and breeds would make your stay memorable, notwithstanding the personal care, hospitality and warmth of Mrs Sabrina Singh. Incidentally, this Reunion was different in many ways. Firstly, all those invited, as per the new governmental policy, were not to be provided free accommodation, lodging, boarding and transport. We were told that accommodation in guest houses and hotels ranging between Rs 2500 to Rs 5000 a day, besides the cost of meals, could be arranged along with cabs on prevalent transport charges per km commuted. Mostly, the senior serving and retired officers were accommodated in the MES buildings within the cantonment area with minimal governmental rent and benefitted while living for other retired officers and their families in hotels and guest houses was expensive. Also, many veteran officers in numerous regimental WhatsApp groups complained about not being invited to the Reunion while there may be budgetary and administrative constraints on the number of people to be invited.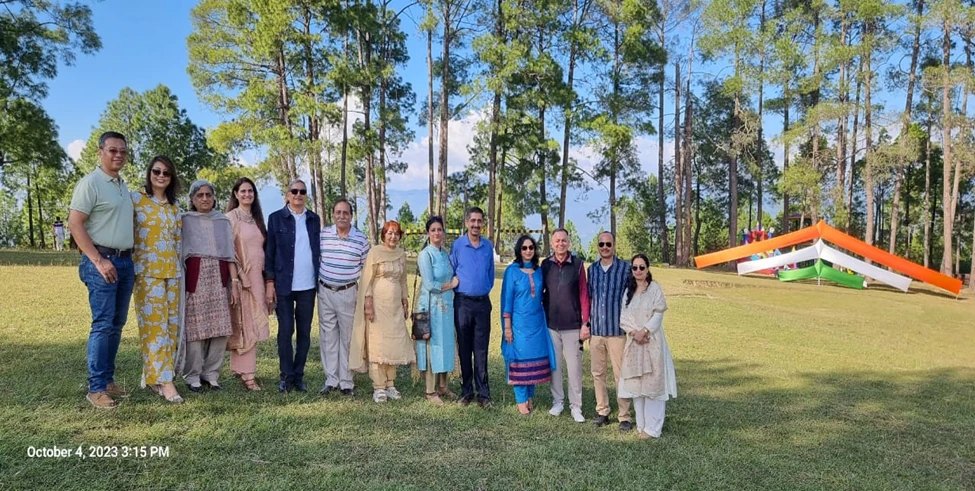 On October 2, 2023, was the Social Evening in the Ranikhet Club that gave us opportunities to meet many serving and retired officers and their families of our Great Regimental. With fading memories, impaired vision and hearing, I regret forgetting the names of many. It was good to learn their kids and grandkids were doing so well in their careers and lives. Ranikhet Club has been totally renovated, and I nostalgically remember the British Barra Sahib culture gradually vanishing. It is said that a little of what you enjoy serves you well. I love sipping brandy with hot water in colder hills, and I suppose I was doing the right thing as, amazingly, this popular drink in one's hand has several health benefits, too. Brandy is derived from a Dutch word meaning' burnt wine,' related to the extraction process with high alcohol in content. The snacks and food had so much variety, leaving a symphony of flavours in our mouths and nostalgic memories of the good old days in our hearts, minds and souls. It was good to meet old friend Lt Gen & Mrs Bhandari, who lives in a palatial cottage with panoramic views of the snowcapped Himalayan peaks.
The next day, after the Mandir, a beneficial talk for veterans by Col Mundolia in the Diwan Singh Hall on pensionary benefits, SPARSH and how to resolve issues related to pension, ECHS or CSD (I) cards etc of veterans/families was given. The COR, Lt Gen RP Kalita, due to his commitments, arrived well before the Barakhana in Shaitan Singh Ground, where we interacted with veteran JCOs, Other Ranks and their families. I met some of the old veterans of the Berari and Rezang La Paltans, and I had the privilege to serve with them. They say 'beer is made by men and wine by God' and 'it is good to have a beer before lunch'. So I enjoyed a glass of chilled beer in the Barakhana that followed the JCOs Mess Party in the evening, repeated with sumptuous snacks, drinks, and food as our JCOs are known for their hospitality.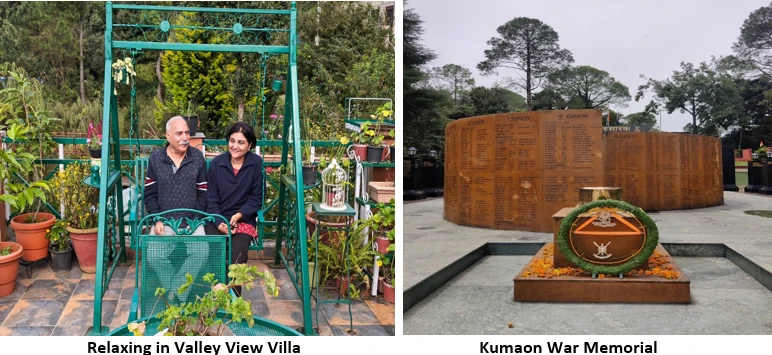 Sadly, due to the Sikkim tragedy of the Glacial Lake Outburst Flooding of Lhonak Lake and the Teesta River basin, causing huge floods and deaths of military and civilian personnel and losses of property in the early hours of October 4, 2023, Lt Gen Kalita, the COR and his Kumaoni Corps Commander left the Reunion to supervise disaster management in their areas of operational responsibilities. So, the rest of the Reunion, to be followed by the Biennial Battalion Commander Conference, was conducted without the Head of the Kumaoni fraternity.
On 4 Oct 2023, I missed the wreath-laying ceremony at the War Memorial, which was organised too early for veterans like me with no official transport facilities. There was the usual picnic lunch at Golf Ground, followed by the regimental dinner in the Regimental Centre Officers Mess in the evening.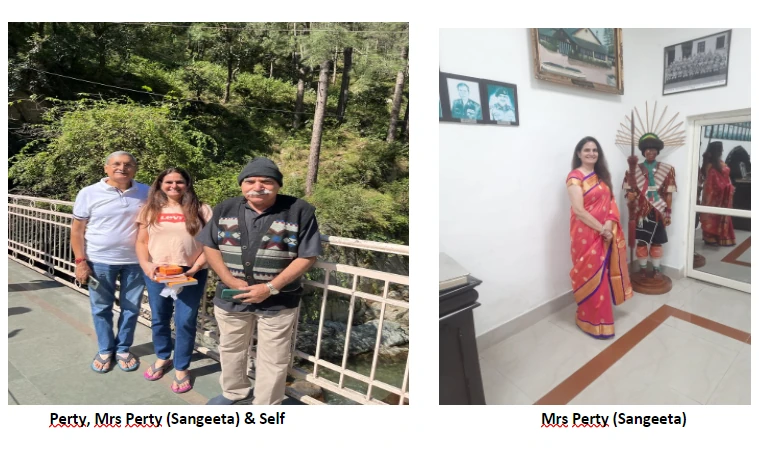 Officers Mess was well decorated, and the regimental string band played haunting tunes. While the gents were dressed well in their formal suits, elegantly and formally dressed ladies in chiffon and silk sarees with the fragrance of exotic perfumes were a sight to behold. The soft and delicate texture of chiffon and silk sarees in various colours, designs, shades and intricate embroidery draped accentuates their beauty, adding a touch of sophistication with glittering jewellery worn by them most elegantly. The exotic perfumes added a layer of mystery and allure to their looks while dancing rhythmically to the regimental tunes of 'Beru Pako Barra Massa' and 'Nainitalo Nainitalo', which were like a timeless classic that never goes out of style. Drinks, snacks, food and a variety of puddings that had a holy trinity of aromatics leaving a delicate haunting aftertaste when we reluctantly parted short of midnight.
Unlike in the past, in this Reunion, perhaps the first time COR's presence was felt, there was neither the Beating the Retreat ceremony nor the Sainik Sammelan. Also, the presentation of customary Reunion souvenirs- a pair of beer or coffee mugs, was done away with for reasons of economy, I suppose. Also, the Cantonment Board's neglect was apparent as the road from Shaitan Singh Ground to Diwan Singh Hall via Nar Singh Ground was broken at many stretches. Sadly, the environment, with the influx of large numbers of tourists, construction of big multi-storey buildings and massive road construction, felling of jungles, and survival battle between the humans and wild animals whose natural jungle habitat is adversely on decline due to human greed is ruining the fragile co-system on faster space. Kumaon Hills, once the cleanest, is sadly littered by heavy tourist influx from the plains, throwing plastic waste and empty liquor bottles all along the roads and open near habituated areas. Also, with the population explosion and large-scale construction activities, there is an acute shortage of tap water contrary to governmental claims, and entire hill roads are mushroomed with posh guest houses to the most economical ones, as depicted below.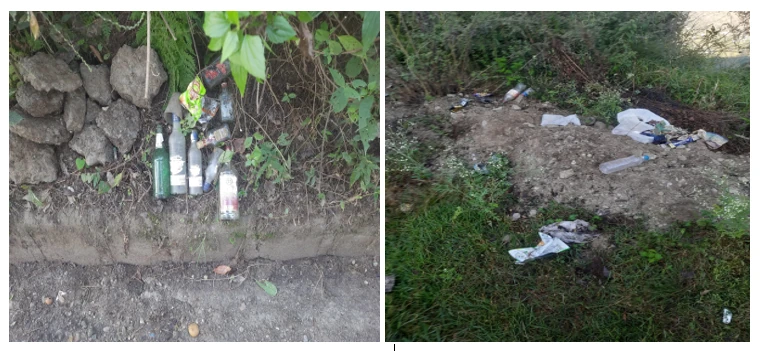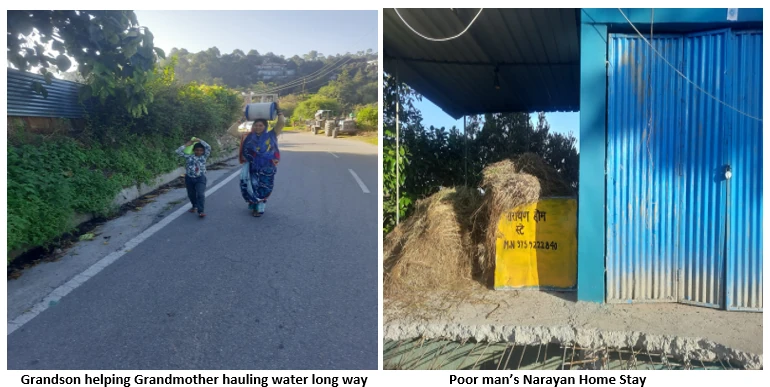 Neem Karoli Baba's Kainchi Dham
The next day, around 0720 hours, we packed and left by our cars for our homeward journey, whispering a fond adieu to Reunion and Ranikhet with dreams to come again. Neerja, our daughter on wheels, dutifully gave me the Avomine tablet. We had a short break at Neem Karoli Baba's Kainchi Dham for Darshan. The first time I crossed this holy place was twice in 1958, visiting my brother, as explained earlier. It was from 1973 onwards, when posted in the KRC, Neem Karoli Baba, considered the incarnation of Lord Hanuman, had attained Moksha by then, that I frequently started visiting this mystic place, now expanded and highly commercialised. Visits to the Ashram have changed many lives, including the well-known Baba's disciples Virat Kohli and his wife Anushka Sharma, Mark Zuckerberg, Steve Jobs, spiritual teacher Ma Jaya, Ram Dass, the author of 'Be Here Now', teacher performer Bhagwan Das, Lama Surya Das and the musicians Jai Uttal and Krishna Das and many more.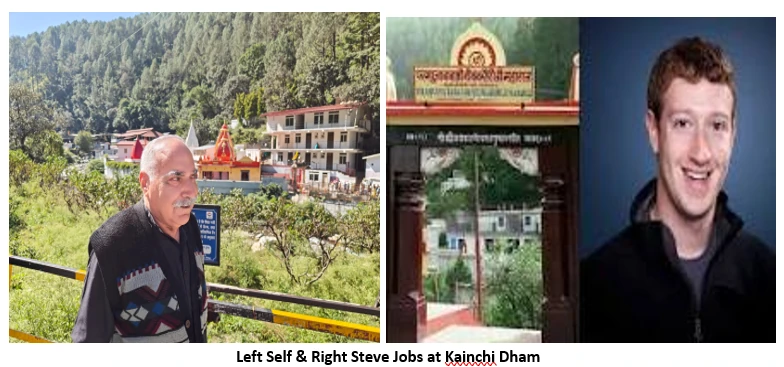 Almost all Kumaoni military veterans and civilians stopped passing through Kainchi Dham as it fell en route Kathgodam- Bhowali- Ranikhet road. My daughter Neerja was very keen to visit the temple, and so were Major & Mrs Perty accompanying us. The only thing that shocked me was paying Rs 120 for parking each car that wasn't there in my endless visits in the last 65 years, visiting Ashram to seek Baba's blessings.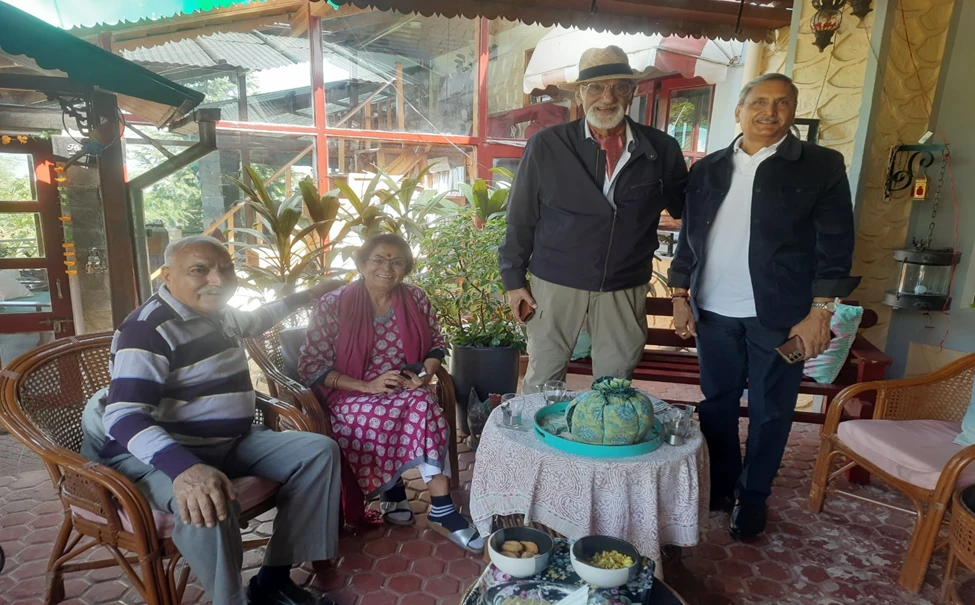 We reached Kathgodam around 1200 hrs. While Perty's had planned to travel via Nainital, they parted on the way to Nainital. At the KRC Rest Camp, we had a cup of tea and left for our onward journey to Noida with a lunch break across Moradabad with a bagful of nostalgic memories, reaching our Noida home dead tired around 7 pm, adding fresh memories of regimental Reunion and Ranikhet sojourn. The road from Rudrapur to Moradabad has been nicely developed into multi-lanes, which in the past six decades was a driver's nightmare to drive. I am glad both Perty and his charming lady wife, Sangeeta, enjoyed the trip and our company as much as we did theirs, while I long for the next trip to 13 Kumaon to attend the Rezang La Day celebrations on 18 Nov 2023.