Brian Greene, the discoverer of Super String Theory, once said, "When kids look up to great scientists the way they do musicians, actors and sports figures, civilisation will jump to the next level."
Rocket Boys, a thrilling OTT series aired on Sony live and directed by Abhay Pannu on 4th February 2022, is a significant step in this direction. It captures the personal/professional lives of two illustrious sons of India: Homi Jehangir Bhabha and Vikram Ambalal Sarabhai. Fascinating narration in 8 episodes keeps the viewers on their toes and is indeed a welcome beginning to present scientists as heroes in the league of warriors, entrepreneurs, freedom fighters and sportspeople. Siddharth Roy Kapur, Monisha Advani and Madhu Bhojwani need to be complimented for choosing a rare but long awaited subject for their production. 
Apart from the script, the choice of cast has been simply excellent. Jim Sarbh as Homi Bhabha, Ishwak Singh as Vikram Sarabhai and Regina Cassandra as Mrinalini Sarabhai has done great justice to their characters.
Nikkhil Advani as creator and Abhay Pannu as Director and screenplay writer have done a marvellous job in bringing to life nuances of the personal lives of the two heroes, which includes their relations with parents and their spouse/women friends. The strains in the relations between Vikram and Mrinalini have been portrayed elegantly. 
The scene of an empty VIP chair in the auditorium till the end of a special dance performance of Mrinalini speaks everything about the vastly different worlds of the couple. Both were deeply committed to their worlds, but not as much to each other. Challenges of labour union in ATIRA and drift in marital relations took the toll out on Vikram, who found solace in the company of Kamla Chaudhary, the HRD Head of ATIRA as the mistress. 
Similarly, the numerous scenes where Parvana Irani expresses her intense love for Homi (who fails to reciprocate her feelings) were so deftly presented.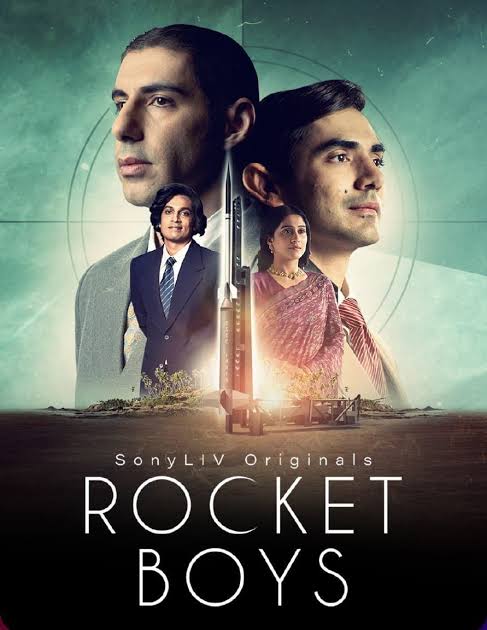 However, there is a flip side too. I feel that the creative liberty of Abhay Pannu and his team has gone too far, and it has raised serious issues about the misrepresentation of history as well as science. My primary concern is that millions of viewers will not distinguish between fact and fiction. 
There is a scene where PM has arrived for the inauguration of India's first reactor APSARA at Atomic Energy Establishment Trombay( AEET), but there is a last minute glitch of malfunctioning of sensors which indicate the power level of the reactor. Dr Bhabha jumps like a PHANTOM hero in the swimming pool surrounding the reactor core (without wearing any safety guards) with a screwdriver to fix the sensors. No technician and least of all, the Chairman Atomic Energy Commission (AEC) will ever venture to fix the sensors in this way. The radiation level in the pool may vary from mR/H to thousands of R/H, depending on the power level of the reactor. Though the reactor was not operating at that moment, still there will be significant radioactivity/radiation dose in the pool as several test runs must have been done to keep it ready for the inauguration ceremony.
This act shows nuclear establishment in a very poor light regarding safety procedures that regulators in the real world never compromise. 
In one scene, Dr Bhabha is shown pressurising the Maharaja of Travancore diplomatically to accede to the sovereignty of India over monazite reserves in his state and declares that these reserves will bring electricity to every Indian home. 
It is a far stretched application of monazite. The truth is that monazite is only a rich source of light rare earth, 55-60% (La, Ce, Nd, Sm, Gd and Pr), 5-10% Thorium, and a minimal concentration (0.2-0.4%) of Uranium. Rare earths have become very strategic elements for several high technology applications today but not for nuclear energy. Though Th in principle can be used as a source of atomic power by conversion to fissile U-233 in a nuclear reactor, it has not been commercially exploited till today. It is hard to believe that a visionary, Dr Bhabha, will ever make a case for nuclear power based on monazite reserves. 
Some other glaring distortions of history are:
Was it really necessary to introduce a fictitious character of Mehdi Raza, a nuclear Physicist / Politician who even tries to hobnob with foreign intelligence agencies out of envy for Homi Bhabha? This character has an uncanny resemblance to an actual character, viz. Kolkata based renowned Nuclear Physicist, Dr Meghnad Saha. Dr Saha wanted to involve the masses in developing scientific institutions in the country and was elected to the Lok Sabha in 1951 as an independent candidate. The latter did not see eye to eye with PM Nehru for the country's science policy. He also had significant differences with Dr Homi Bhabha on the country's Atomic Energy Program. However, his contribution to nation building has been recognised as Saha Institute of Nuclear Physics today, a prestigious aided Institute of Dept. of Atomic Energy. Thus, trying to project Mehdi Raza as a villainous character is a great injustice to the great son of India.
There was never any meeting of Dr Kalam with PM Nehru. Of course, as Dr Kalam writes in his biography "Wings of Fire", he did meet PM Indira Gandhi on a few occasions. 
Prof. C.V. Raman was a brilliant scientist and a non conformist who followed his principles to run the institution. His laid-back demeanour portrayed in the OTT is, in a way, deceptive.