Since the T-62s were pushed in the conflict, the Russian Ministry of Defense continues to utilise Soviet arsenals. A train of T-54 (and T-55) tanks, which were in use until the middle of the twentieth century, was seen in the vastness of Russia. Less than a month ago, witnesses captured an image of BTR-50P armoured personnel carriers with comparable manufacturing dates.
Earlier, it was discovered that a sizeable quantity of multipurpose lightly armoured tractors MT-LB equipped with ship turrets had been sent to the area of hostilities. These weapons, despite their ungainly appearance, can be used on the front line.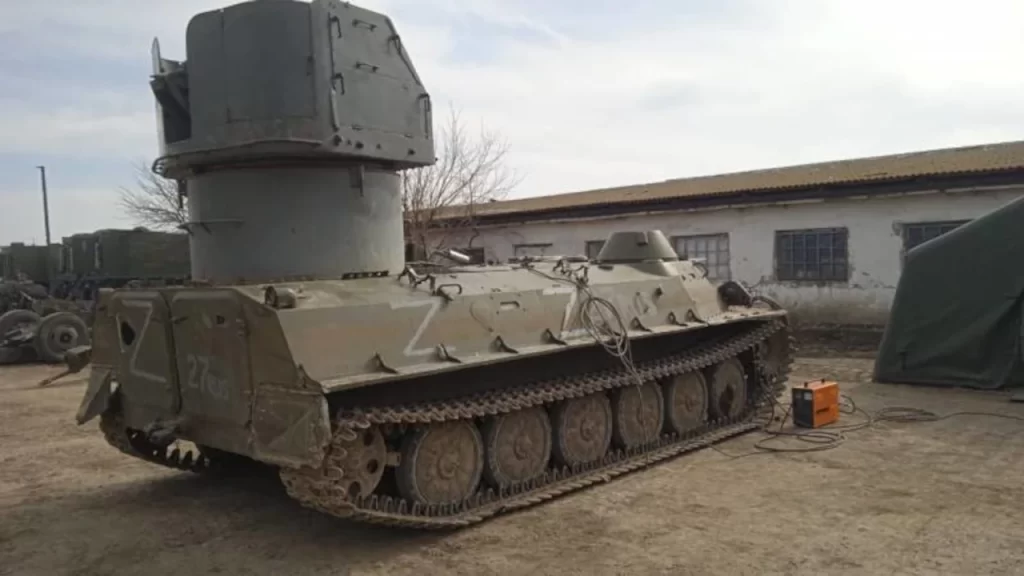 There is no evidence of MT-LB or BTR-50 use in the fighting zone. Perhaps they were stationed far in the rear to prevent accidents like the enemy DRG's raid in the Bryansk region. The presence of reactivated equipment from the previous century in the second year of the special operation of echelons is unexpected.
The 36-ton T-54s are unlikely to reach the front lines in the Special Operations zone. These tanks have virtually no chance of surviving against Javelins and NLAW. They can be utilised as fire support weapons from stationary positions. This will allow less intense use of the modern T-90 tanks as artillery support.
T-54s were transported by rail from the 1295th tank maintenance and storage base in Primori Krai, which is located in the Russian Far East. The T-62s that were previously sent to Ukraine came from this location.
According to analysts from the Conflict Intelligence Team (CIT), an independent Russian organisation, two models of the T-54 have been destocked. These models are the T-54-3, which was produced between 1952 and 1953 and equipped with a new turret, as well as the TSh-2-22 telescopic sight, and the T-54B, which was released in 1957 and featured a 100 mm D-10T2S rifled gun, an STP-2 Tsiklone stabiliser and an infrared sight.
Destocking outdated tanks would prove valuable in the future; otherwise, the Russian Army would not do it. The T-54s, on the other hand, suffer from several deficiencies, including inadequate armour protection, a lack of fire control, and an absence of a ballistic computer. In addition to that, the gun stabilisation mechanism that they have is not very good. Not to mention the 100 mm ammunition they utilise or their mechanical state.
However, it should be noted that the Ukrainian Army also employs tanks of such an outdated design, specifically the M55S supplied by Slovenia, which includes 1958-era Soviet T-55 variants. In contrast to the Russian T-54/55, they were upgraded in the 1990s with a 105 mm L7/M68 cannon [instead of 100 mm], a fire control computer, and a new engine.
Medium tank T-54
This was the first post-war mass-produced tank in the Soviet Union. It was developed in 1945 and 1946 at KB-520 of plant No. 183 (Nizhny Tagil) using the T-44's hull, transmission, and other technical solutions. During the design process, performance standards were initially set higher than those of the T-34 and T-44, and the lessons of World War II were also considered. The tank was adopted in 1947 by the Soviet Army. Since 1947, serial production has occurred in plants No. 183 (Nizhny Tagil) and No. 75 (Kharkov).
T-54 tanks were the backbone of the Soviet Army's tank fleet during the 1950s and the first half of the 1960s. According to Western data, Soviet factories produced 35,000 tanks of all modifications during serial production. In addition, the T-54A was manufactured in Poland (1956–1964) and Czechoslovakia (1956–1964) under Soviet licence. (1958-1964). 5.500 units were manufactured in these nations. Since 1957, China has manufactured the T-54A (more than 16,000 were produced in 1992) under the designations T-59, T-69-I, T-69-II, T-79, and T-80. The USSR produced command tanks T-54K, T-54AK, T-54BK, and T-54MK, which were distinguished from linear tanks by the presence of a second radio station, navigation equipment, and a charger, in addition to the MTU-12 bridge layer, armoured tractor BTS-2, self-propelled crane SPK-12G, and self-propelled unit SU-122.
Both Soviet and foreign T-54 tanks were actively exported. Albania (15 T-54 and 15 T-59 in 1995), Algeria, Angola (66 T-54B in 1995), Afghanistan (T-54B), Bangladesh, Bulgaria, Hungary, Vietnam (T-54M), Guinea (8 T-54 in 1992), East Germany, Egypt, Zaire (16 T-59 in 1995), Zambia (16 T-59 in 1995).), Israel (Egyptian trophy), Iraq, Iran, Yemen, Cambodia, China, Congo, Cuba, Laos, Libya (1000 T-54 (T-54B).
Local wars and military conflicts, including those in the Middle East and Indochina, saw the use of T-54 tanks in several variants. As members of the Soviet Army, they did not engage in combat. Soviet tank units utilised them during the 1956 and 1968 invasions of Hungary and Czechoslovakia. According to information provided by the Soviet Union at the Vienna talks on the limitation of conventional weapons in Europe, there were 1,379 T-54B, T-54M, and T-54MK tanks in the European part of the USSR and among troops stationed in Eastern Europe in 1990. These tanks were removed from service with the Russian Army in 1994. In 2010, the last of these tanks were retired from service. Official statistics indicate that there are 2,800 of these tanks at storage bases.