This year's Met Gala witnessed some glamorous costumes and stunning dresses. From, Kendall Jenner to Gigi Hadid, everyone stepped out in style. TikToker Nikkie de Jager was one of several dozen celebrities who attended the 47th annual Met Gala on Monday, September 13, at the Metropolitan Museum of Art in New York City.
For her first-ever Met Gala, of which the theme was "In America: A Lexicon of Fashion" Nikkie paid homage to the Black Trans icon, Marsha P. Johnson.
Nikkie de Jager is known by her YouTube channel name NikkieTutorials. She is a Dutch makeup artist and beauty vlogger. Nikkie came into the spotlight with her YouTube video titled 'The Power of Makeup', which went viral and inspired many other people to show their faces with and without makeup.
For her first Met Gala Nikkie wore an aquamarine tulle gown by Edwin Oudshoorn with floral accents. The dress included a floral headpiece with mirrors that were reminiscent of Johnson's signature flower crowns. The lower half of the ensemble also featured a sash that read, "Pay it no mind," which was Johnson's motto and what she often said the "P." in her name stood for. Nikkie used her gala debut to honour activist Marsha "Pay It No Mind" Johnson.
In an Instagram post, the Youtuber- TikToker shared her happiness and honour. She wrote, PAY IT NO MIND.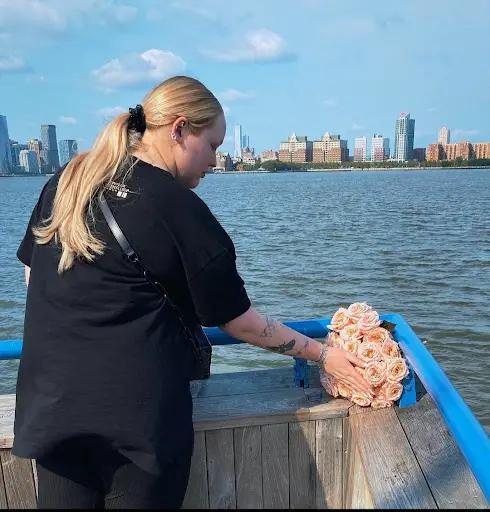 When I got asked to join the Met Gala(!!!!!) I knew I wanted to pay homage to a trans icon who was at the forefront of the Stonewall Riots… Marsha P. Johnson paved the way for so many of us, and I hope I made my community proud tonight. This night has been so incredibly surreal… I can't wait to tell you EVERYTHING!!!!!! WE DID IT GUYS!!!!!!!!! thank you so much @youtube & @derekblasberg for this insane night.. I'll forever be so grateful!
"Pay it no mind" is reported to have been Johnson's go-to response to those who questioned her gender and way of life. Her legacy of activism and frontline work in New York's LGBTQ community earned her the title "The Saint of Christopher Street."
Her body was tragically discovered in the Hudson River on July 2, 1992. Marsha P. Johnson was 46 at the time of her death.
Nikkie de Jager also went to the place where Marsha Johnson died to pay her respects. She shared a post on Instagram and wrote, "the morning of the Met Gala I wanted to lay flowers and pay my respects to Marsha this was the place she was found… I hope I made you proud."