The Ukrainian Ministry of Defense has shared the first video of an encounter between a Russian cruise missile and a German built Gepard anti-aircraft gun system. 
On December 5, Ukrainian troops used German Gepard self-propelled anti-aircraft weaponry to fend off the mass missile strikes launched at their land. The video shows how the German complex intercepts and destroys a cruise missile, although it was not built to protect against such missiles. It is not known which missile was intercepted.
The Ukrainian military successfully intercepted a cruise missile flying over Ukrainian land, as seen in footage acquired by the Ukrainian army. The explosion of the cruise missile demonstrates that it was effectively brought down by 20 rounds, even though the distance to the target was many kilometres. This is the first time the German Gepard gun has been documented as being utilised in Ukraine to defend against cruise missiles.
German Gepard system
Oleksiy Reznikov, the minister of defence of Ukraine, announced on July 25 that the first three Gepards that Germany had delivered had been put into action. He also said the country had received tens of thousands of cartridges for the system. In June, German authorities publicly registered Germany's support for Ukraine's armed forces for the first time. On the list were about sixty thousand rounds of ammo and thirty Gepard SPAAGs.
The Flugabwehrkanonenpanzer Gepard, also popularly known as the Flakpanzer Gepard, has been in service with the Bundeswehr for more than three decades before retiring. This high-precision weapon protects troops from air assaults in a reliable manner, which is why it continues to have a lot of support among both active and former German officers. After the Gepard was retired from service by the Bundeswehr in 2010, only a few shells were left in Germany for its Oerlikon guns, which were manufactured in Switzerland.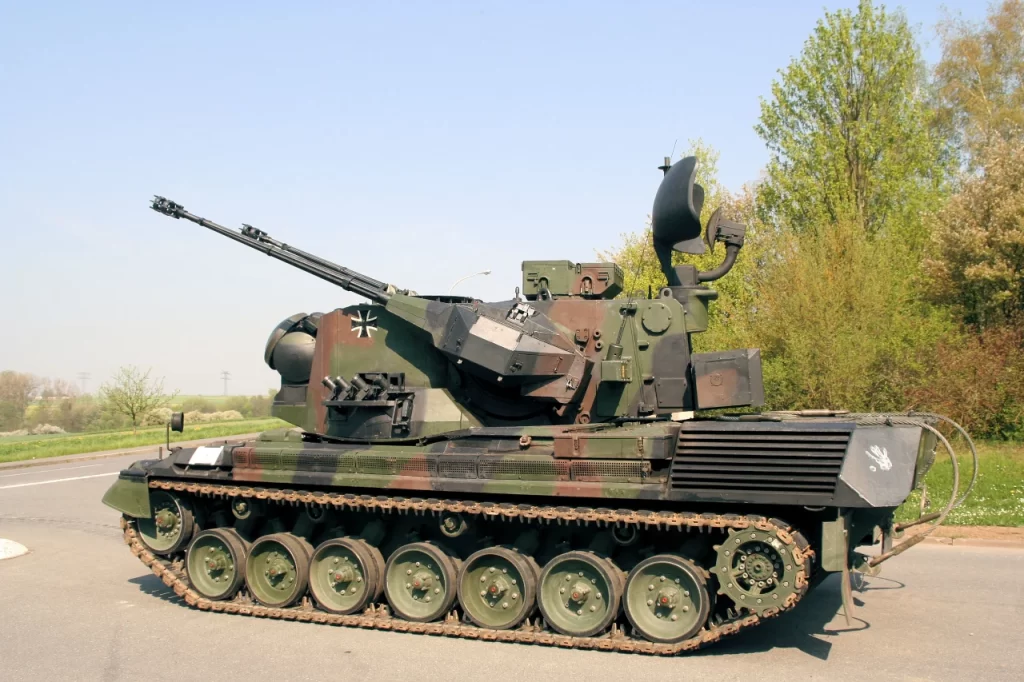 Supplying the Gepard with ammunition became a problem, as fewer than 60,000 35mm rounds were available. Switzerland is a neutral country in this conflict and has denied sale of its shells to Ukraine.
The German authorities attempted to arrange assistance for Ukraine with Gepard-armed Qatar and Brazil, but they were unsuccessful. The North Atlantic Treaty Organization (NATO) subsequently started a European hunt, and a Norwegian company agreed to supply 35-millimetre shells.
Ammunition was transported to Ukraine, where it was determined that the German-Swiss anti-aircraft guns could not use the Norwegian rounds because the automated weapons could not recognise them. This rendered the Norwegian rounds incompatible with the German-Swiss anti-aircraft guns. Subsequently, Germany committed to adapting the new ammunition to the system, and their testing was slated to take place in August. By September 20, thirty Gepards and six thousand rounds had been delivered. 
The all-weather anti-aircraft self-propelled gun was developed on the chassis of the Leopard I tank. It features two rapid-fire cannons with radar guidance. One Gepard anti-aircraft gun can weigh as much as 47 tonnes. It can fire two 35 mm cannons at a rate of over one thousand rounds per minute against targets up to 3.5 kilometres in the air and up to 6 kilometres on the ground. Gepard has two radars with a maximum range of about 15 kilometres. The radar installation is different in the Dutch model. According to the Bundeswehr, the weapon can annihilate an entire column within minutes.
Redeye and later Stinger MANPADS teams have accompanied Gepard units since the 1980s to take advantage of their long-range scanning capability. To integrate this capability into a single unit, a missile system modification was designed to mount the Stingers in twin packs to the autocannons. Due to budgetary constraints, the German Bundeswehr evaluated the system but did not purchase it. For the three Airborne Brigades, the Ozelot Light Air Defense System (LeFlaSys) was instead deployed.
Gepard in the Ukrainian conflict
According to a Ukrainian defence attaché in the United States, the Gepard has been utilised to "great effect" against the "quite rudimentary" loitering weapon believed to be of Iranian origin. The Conflict Intelligence Team believes that on October 18, 2022, a Gepard destroyed a Russian Kh-101 cruise missile targeting a power station in Kyiv. According to Ukrainian claims, a single unit destroyed over ten Shahed-136 drones and two cruise missiles. These systems are more effective and, hence, more cost-efficient than more advanced and costly air defence systems such as NASAMS or IRIS-T missiles, while being less politically sensitive due to their restricted effective range. Ukrainians also claim that the Gepard is effective against Shahed-136 drones. The radar can identify them from 16 kilometres away, and it takes approximately six shots to destroy them.