Western media reports that Iran has handed over Shahed-129 drones to Russia, based on the Israeli Hermes 450 UAV and the American MQ-1 Predator.
It is noted that a batch of Iranian drones was sent to Russia by the Caspian Sea.
Shahed-129 is capable of performing both combat and reconnaissance missions. It can remain in the air for up to 24 hours. In terms of size, shape and purpose, the Shahed-129 is considered one of the most efficient drones in Iran's inventory.
These reconnaissance drones carry multiple missiles and are known for their "combat experience" in Syria.
Iran has repeatedly used Shahed-129 and Shahed Saegheh or Shahed-191 drone models during armed conflicts. These UAVs are used for intelligence gathering. Also, the army of the Islamic Republic has recently adopted a new product called Fotros.
Whitehouse warned of the Iranian drone supply
A week back, the White House said that Iran was preparing to supply drones to Russia. On July 10, Frontier India analysed that Russia is low on drones but effectively uses them. 
The United States intelligence agencies indicate that the Iranian government is preparing to deliver to Russia several hundred drones, including combat aircraft, in a very short time, White House National Security Adviser Jake Sullivan told a briefing.
He also indicated that Iran is preparing to train Russian forces in using these drones, and the first training sessions were to begin in July. He stressed that he did not know if Tehran had already delivered drones.
Shahed-129 – reconnaissance drone 
Iranian Shahed-129 drones have been combat tested in Syria and Iraq, having made thousands of sorties. Iranian media calls this drone "one of the best drones made in Iran" and adds that it was developed based on the French WK450 UAV.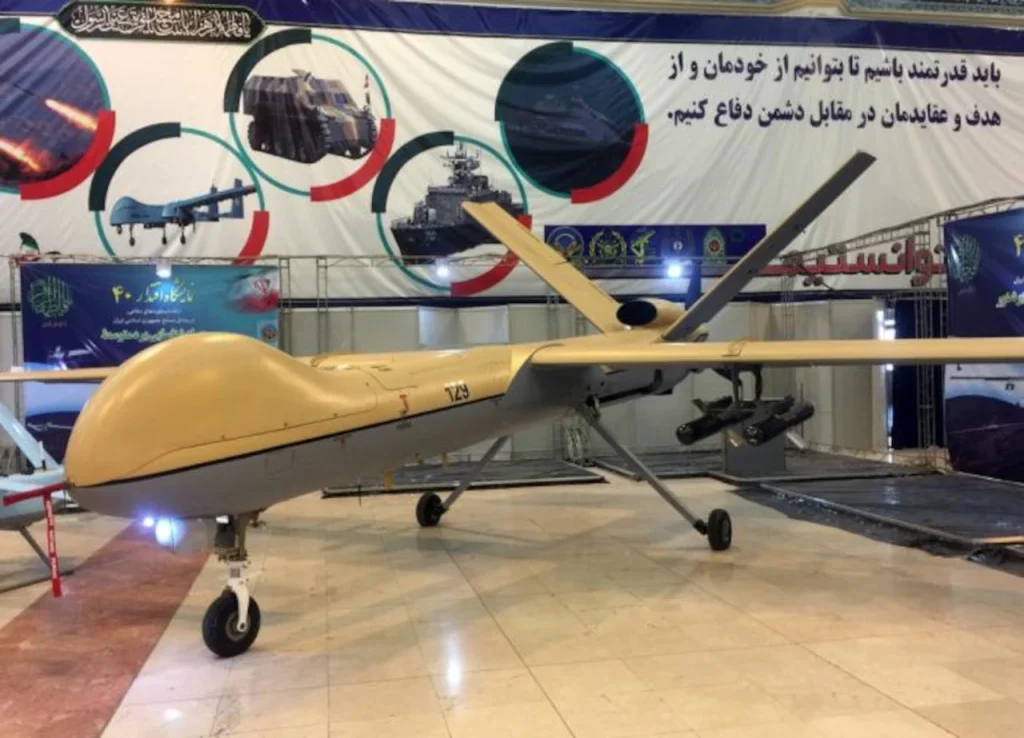 The drone's characteristics include a payload mass of 400 kg, a speed of 150 km/h, a flight range of 3,400 km, and an altitude ceiling of 7.3 km.
The drone is 8 meters long with a height of 3.1 meters and a wingspan of 16 meters. It takes off using a runway and fires Sadid-345 precision-guided bombs. But, it is to be noted that the drone specifications available from the open source are contradictory as Iran deliberately obfuscates the information to confuse its enemies. 
In March 2010, the first Shahed 129 prototype took flight at Isfahan Badr Airport. It could not carry weapons and had fixed landing gear. The next-generation prototype, which could carry a payload, was given retractable landing gear and was first flown in June 2013.
Shahid-129 is positioned as a reconnaissance and combat drone. It is made of composite materials and has an aluminium structure, an advanced Rotax 914 four-cylinder piston engine, a satellite guidance system, and can carry 4 Sadid 345 smart missiles.
As per some sources, Shahed-129 outperforms Shahed-191 (similar or a copy of the American drone RQ-170 Sentinel) in some respects. It can carry up to 8 Sadid-1 missiles, a TV-guided anti-tank missile based on Iranian Toophan missiles. Many sources describe it as a missile similar in design to the Israeli Spike-ER missile.
The flight altitude, which is 7.62 km, puts the UAV within reach of most short-range anti-aircraft systems. The Shahed 129 UAV can be controlled and guided remotely. The UAV's optical system "sees" within a radius of 211 km and can provide the military with a clear image of the terrain at night, during the day and in all weather conditions.
According to some sources, this drone is a copy of the Israeli Hermes 450 UAV that crashed in Iran. According to other sources, it is a copy of the American Predator UAV or the Chinese Wing Loong II.
Why are Iranian drones dangerous?
Although Iran is under sanctions and does not have access to many technologies, this does not mean that its projects in developing unmanned aerial vehicles have not been successful. 
In 2011, the Iranians successfully attacked a Lockheed Martin RQ-170 Sentinel operated by the Central Intelligence Agency. As a result, the drone was disassembled, studied and then served as a prototype for creating a whole series of drones, such as the Saegheh "reconnaissance" and the Shahed 171 "attack aircraft". The Israeli military repeatedly tried to shoot down the Saegheh using the American Patriot anti-aircraft missile system. Finally, it was shot down by artillery fire at a close range when it ceased to be "invisible" to the ground detection systems.
It is generally believed that the Iranian drone fleet is comparable to the fleets of the United States and China, and if these devices are transferred to Russia, then the Russian-Ukrainian war may come to a "tipping point".