On April 20, INS Vagsheer, the last of the Scorpene-class submarines, will be launched by Defence Secretary Ajay Kumar. Mazagon Dock Shipbuilders Limited (MDL) is responsible for constructing six submarines under the Project-75 programme. 
INS Kalvari and INS Khanderi, the first two under Project-75, were commissioned back in 2017 and 2019, respectively, while INS Karanj and INS Vela were commissioned in the previous year. Officials said that the fifth submarine of this project, INS Vagir, is undergoing mandatory sea trials before its scheduled delivery. 
Scorpene-class Submarines 
These Scorpene-class subs are built for carrying out offensive and defensive operations, including anti-submarine warfare, minelaying, intelligence gathering, anti-surface warfare and surveillance. These boats are equipped with 360 battery cells, four MTU 12V 396 SE84 diesel engines and a silent Permanently Magnetized Propulsion Motor.  
S-CUBE, the integrated and modular submarine sonar suite developed by Thales, offers enhanced safety against various threats. It comprises sonar arrays, including intercept, distributed, planar flank, bow, stern, towed and active, and self-noise-monitoring hydrophones and mine and obstacle avoidance sonar. 
All equipment inside the pressure hull is mounted on shock-absorbing cradles for enhanced stealth, while the hull, fin and hydroplanes are designed for minimum underwater resistance. The Scorpene-class subs are designed and developed by a collaboration of French defence major Naval Group, formerly DCNS and Spanish state-owned entity Navantia. Primarily being a 'hunter-killer' type, these submarines are designed to target and sink adversary naval vessels.
Project-75 and 75I
In 1999, the Cabinet Committee on Security (CCS) approved a 30-year indigenous submarine building plan which aimed at constructing 24 submarines indigenously in two phases, of which Phase-1 was further divided into two parts, i.e. Project-75 and Project-75I. 
Six submarines of a western-oriented design were to be built under Project-75. The construction was to be carried out at MDL. Simultaneously, six submarines of an Eastern-oriented design were to be built at a second construction line, P-75I. 
The six Scorpene-class submarines have been constructed under P-75 with M/s. Naval Group of France as collaborator and MDL as the builder. 
INS Vagsheer
This SSK is said to have the highest percentage of indigenization (40%) among all the six submarines built under Project-75. "We have taken great efforts for indigenization of equipment like Main Batteries, Gas analyzers, Intercoms, AC plants, RO plants, and thereby achieving maximum indigenization in SM6.", says MDL
According to officials, it is a single-deck submarine with a top speed of around 20 knots when submerged and 11 knots when it surfaces on water. Although there is no confirmation from MDL on how deep the sub can dive, some media reports speculate that it can dive to about 350 feet and remain under the water surface for about 50 days. 
Vagsheer is equipped with six torpedo tubes of 533 mm while it can stock another 18 during a major operation. On the other hand, it can carry SM39 anti-ship missiles and is also capable of laying around 30 mines simultaneously.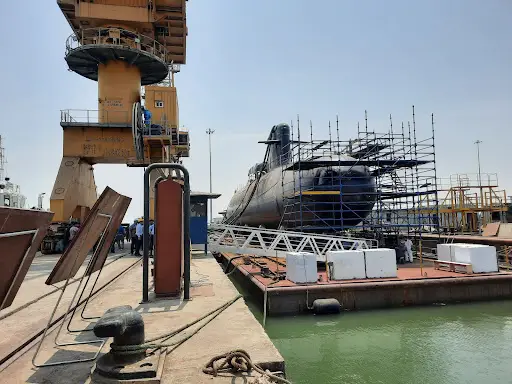 The submarine's stealth technology makes it safe from being detected by the enemy radar or sonar and has modern navigation and tracking systems and two advanced periscopes. 
The 221 feet long and 40 feet tall boat can is manned by six officers and 35 sailors at a time. The working hours of the crew onboard are fixed. Each crew member has to carry out three hours of duty, after which he can take a break of six hours. Small compartments are made in the submarine for the officers to rest. 
Rationale behind the names of P-75 Subs
During an interaction with Pramit Kumar (Deputy Manager) of the project, Frontier India learned that the name 'Vagsheer' was inspired by a lethal fish known to be a silent killer. In the Navy and Coast Guard in India, the ships belonging to a particular class are named in a specific manner.
Several times the names have the same first letters, similar meanings, prefixes, or simply belong to a specific type of word, for example, names of persons, animals, rivers, weapons, mythological concepts, cities etc. 
Submarines under Project-75 
INS Kalvari – a name inspired by Tiger Shark
INS Vagir – named after a Sand Fish
INS Khanderi – the name inspired by an Island Fort built by Chhatrapati Shivaji
INS Karanj – named after an Island located South of Mumbai
INS Vela – Named after Stingray
Once INS Vagsheer gets launched, crucial machinery such as the main motor and the main engine would undergo harbour trials, and sea trials would commence from the following year, culminating in its delivery by March 2024.