A United States Army medical evacuation helicopter that recently took part in a joint exercise in Romania was spotted with a nose-mounted tool that aids pilots in seeing through dust clouds to land safely and find injured soldiers on the ground.
The Army HH-60M helicopter is equipped with the Degraded Visual Environment Pilotage System, or DVEPS, which is the top forward-facing sensor on the nose of the aircraft. A forward-looking infrared (FLIR) sensor turret known as the MEDEVAC Mission Sensor is located beneath that in a black gimbal. 
It is a part of Degraded Visual Environment Mitigation (DVE-M), similar to the previous night vision technology deployment. DVE-M pertains to 11 diverse settings, including two aircraft-induced DVEs and nine ambient and artificial DVEs. By giving the aircrew the tools to precisely manage aircraft attitude and precisely navigate objects and terrain throughout the operational flight profile, DVE may be reduced.
There have been 108 fatalities and more than $880 million in material losses due to 87 rotorcraft accidents during the previous ten years caused by poor visibility conditions. To improve aircrew safety and survivability and to provide them with an operational edge, the U.S. Army's Combat Development Command (DEVCOM) Aviation and Missile Center(AvMC) DVE Mitigation programme was created. DVEPS has been adopted by the U.S. Navy too.
According to the information from the DEVCOM AvMC, the DVEPS sensors are intended to work together to assist pilots when flying through clouds of dust, sand, snow, and fog; called degraded visual environments.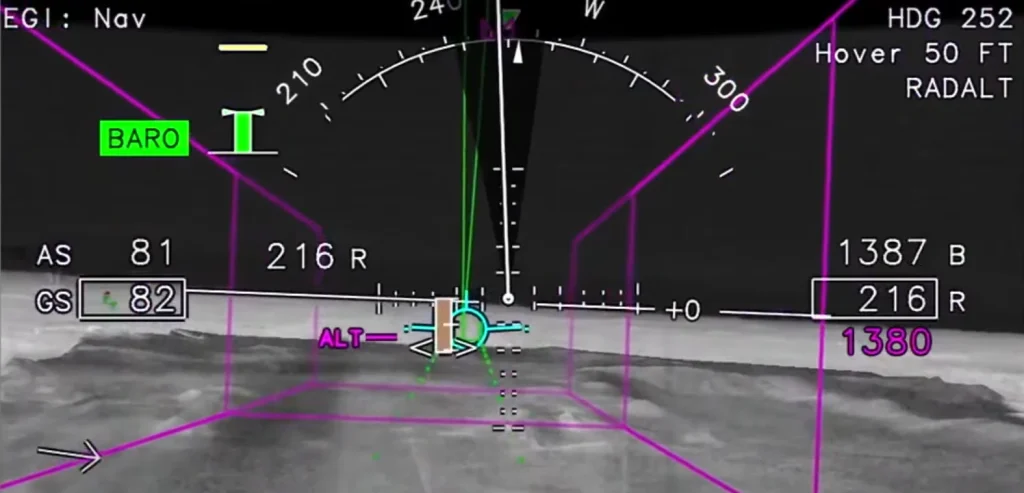 With the help of a long-wave infrared camera, light detection and ranging (LIDAR) sensor, and a terrain database, the situational awareness system DVEPS gives pilots an artificial view of the world outside the aircraft on their helmet-mounted displays and cockpit screens. 
DVEPS solves Brownouts
Through the dust and sand that are frequently blown up by a helicopter's rotor downwash when landing, it provides 3D imagery of the ground and surrounding area. Brownouts, which make it difficult for pilots to see their altitude above the ground and their attitude and potentially dangerous nearby objects like structures, power lines, and moving vehicles, can make flying difficult.
When landing in remote, occasionally congested areas between buildings, forests, or uneven terrain, rotorcraft pilots must correctly gauge their height above the ground and keep an eye out for potential hazards. These situations are known as Degraded Visual Environments (DVE). 
Helicopters used for medical evacuation frequently fly into dangerous terrain to rescue injured soldiers. They rarely have the luxury of delaying the launch until the weather improves or picking the best, least congested landing zones. DVE conditions for a helicopter crew also obstruct the visibility of enemy soldiers near a landing zone.
Aircraft or the environment may cause DVE. Among other environmental factors, smoke from nearby fires, fog, snow, rain, and smog can create DVE conditions, making flying riskier and more complex.
15 Army HH-60M helicopters sent forward to assist with contingency operations
15 Army HH-60Ms with DVEPS installed in 2021 are now being deployed forward to support contingency operations. The Defense Visual Information Distribution Service (DVIDS) portal captions for the released photos noted that the helicopter observed in Romania on July 12 was participating in personnel recovery exercises with the U.K. 140th Expeditionary Air Wing.
Fortunately, the crew in Romania is practising recovering wounded soldiers on a bright, sunny day in eastern Europe, when the DVEPS sensor suite is less immediately useful. Having spent more than 20 years landing in the deserts of Afghanistan and Iraq, Army rotorcraft pilots discovered the hard way that is not always the case.
To provide pilots with a multi-sensor suite to aid them in maintaining spatial awareness in DVE conditions, Sierra Nevada Corp. was given a contract by the Army and U.S. Special Operations Command (USSOCOM or SOCOM) , which led to the development of the DVEPS system. For both military and commercial aircraft, brownout and other situations where pilots lose visual contact with their surroundings are a major cause of accidents. SNC's DVE technology offers terrain and obstacle awareness in low visibility situations, including cable and wire detection.
According to Greg Cox, executive vice president for SNC's Electronic and Information Systems business area, DVEPS significantly improves the current enhanced situational awareness and lays the groundwork for a gradual path to much more advanced capabilities like pilotage or supervised autonomy.
Beginning in 2013, Rockwell Collins, now Collins Aerospace, also developed a DVE pilotage system for SOCOM that is compatible with the current common avionics architecture system and the MH-47G and MH-60M helicopters. A synthetic vision avionics backbone (SVAB) system, which combines 3D imagery with portable DVE sensors like millimetre wave radar or LIDAR, is integrated into that system.
In 2020 at Fort Campbell, Kentucky, SOCOM's 160th Special Operations Aviation Regiment (SOAR), also known as the Night Stalkers, performed the first DVEPS system demonstration on an MH-60M. With improved pilotage symbology and fused 3D imagery, Rockwell's system, like other companies' DVEPS, provides visual flight guidance en-route, approach, and hover phases of flight, as well as an overall view for pilots.
Brightnite is a comparable DVE system made by Elbit Systems. The system's advantages for aircrews flying at night or in environments with limited spatial awareness. 
The Sierra Nevada Corp. specifically highlights how its system can be used with the Army's upcoming, faster vertical-lift aircraft.
When the Army introduces the Future Vertical Lift (FVL) family of sophisticated rotorcraft, having the ability to see outside the aircraft and identify obstacles will become even more crucial. 
FARA: The Future Attack Recon Aircraft 
The Future Long-Range Assault Aircraft (FLRAA) and the Future Attack Recon Aircraft (FARA) will perform an armed scout mission and at least partly replace the UH-60 Black Hawks in the inventory, will be flown low and swiftly in disputed locations to escape enemy air defenses. Obstacle and terrain detection equipment will be highly relevant for rotorcraft designed to fly at or above 200 knots at very low altitudes.